Spring Time Beet and Burrata Salad
Backstory: Growing up I honestly hated beets. I never understood why my mother served them. That is until I became a mother and realized while reading can labels, that beets are surprisingly nutritious. They are seriously packed with fiber, folic acid and Vitamin C. Who wouldn't want that in their family's diet? However, knowing my kids are just like me, I knew I would have to be sneaky about how to get them into my children's stomachs. A quick garlic and dijon vinaigrette, arugula, burrata cheese, a hefty sprinkle of fresh shallots and toasted pine nuts, and you have a beautiful salad fit for any meal and any age group.
This is one of my favorite recipes to make for Spring and Summer when I am trying to clear out my pantry and refrigerator. It is the perfect transitional salad from winter into spring as beets are readily available, fresh, and most importantly, cheap! I always have these main ingredients in my house and so I always have to find creative ways to mix it up to get my family to devour them. Just a reminder that when you chop the beets they will bleed and stain so you will want to use a pair of latex or plastic gloves so the juice does not stain your hands.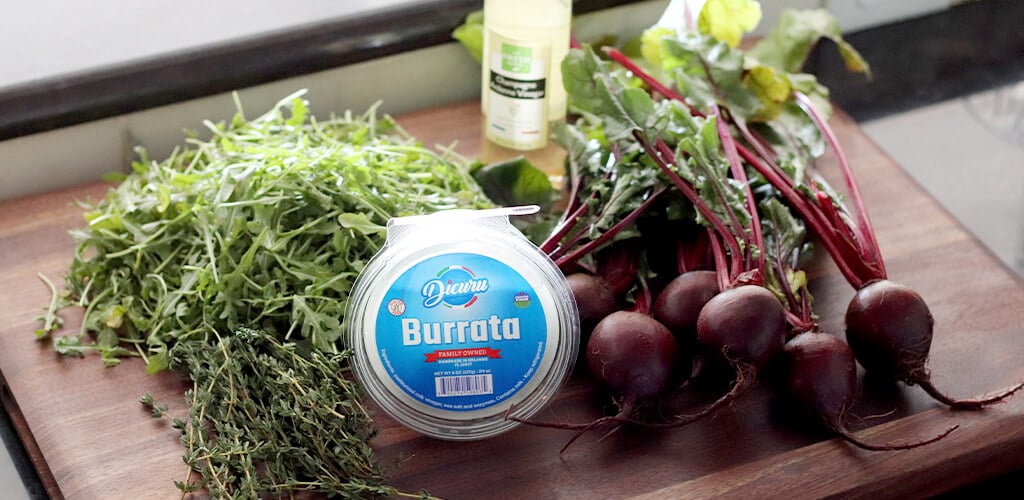 Beet and Burrata Salad
Prep time: 15 minutes
Cook time: 50 minutes
Total time: 65 minutes
What You Will Need
For the beets:
*2 bunches baby beets, scrubbed and trimmed
2 tablespoons champagne vinegar
3 tablespoons water
2 garlic cloves minced
1/2 teaspoon kosher salt
4 sprigs thyme
* Note that if you can't find fresh beets then whole canned beets, just sliced and tossed in the marinade will work as well. If you do this, you will want to reduce the cooking time to only 20 minutes as you want the beets to absorb the marinade, but not become mushy.
For the dressing:
1 teaspoon Dijon mustard
1 tablespoon champagne vinegar
1/2 teaspoon kosher salt
3 tablespoons olive oil
1 garlic clove minced
For the salad:
1 (5ounce box) baby arugula
1 (8ounce) container burrata cheese
1/4 cup toasted pine nuts
1 shallot, chopped and rinsed
What You Will Do
Preheat the oven to 375° F.
Place the scrubbed, trimmed, and chopped beets in an 8-inch baking dish.
Add the vinegar, water, oil, garlic, salt, and thyme sprigs to the beets. Toss well to coat.
Cover the pan with aluminum foil and roast for 50 minutes or until tender all the way through. Remove foil and set aside to cool.
For the dressing, add the garlic, Dijon, oil, vinegar, and salt to a large bowl. Whisk to combine. Add the arugula and beets to the dressing and toss gently to coat.
Place the salad on a large platter and tear the burrata around the sides. Sprinkle with the pine nuts and your freshly chopped shallots.
Now my children still will not eat the arugula as they find it too spicy. However, they will go to town on the burrata, pine nuts, and beets and I honestly couldn't be happier! Now the last thing you have to do as my daughter would say is Eat, Eat.
You may also like
Kale, Pear, and Prosciutto Salad