Almond Flour Pumpkin Pancakes

I am not sure about you but I love adding pumpkin into as many things as I can. Breakfast is one of my favorite ways to incorporate pumpkin flavors as you can see by my previous recipe of Pumpkin Pie Oatmeal.
Pancakes are the essential weekend breakfast, at least in our house, which can be hard if you are trying to limit your carb intake. I struggled with this till I made this Pumpkin Pancake recipe using low-carb almond flour instead of traditional bleached flour. They're the perfect combination of sweet and savory that the family will enjoy and very filling.
I topped my Almond Flour Pumpkin Pancakes with a little cinnamon, sugar, walnuts, and maple syrup. However, feel free to top your pancakes with whatever ingredients you have at home.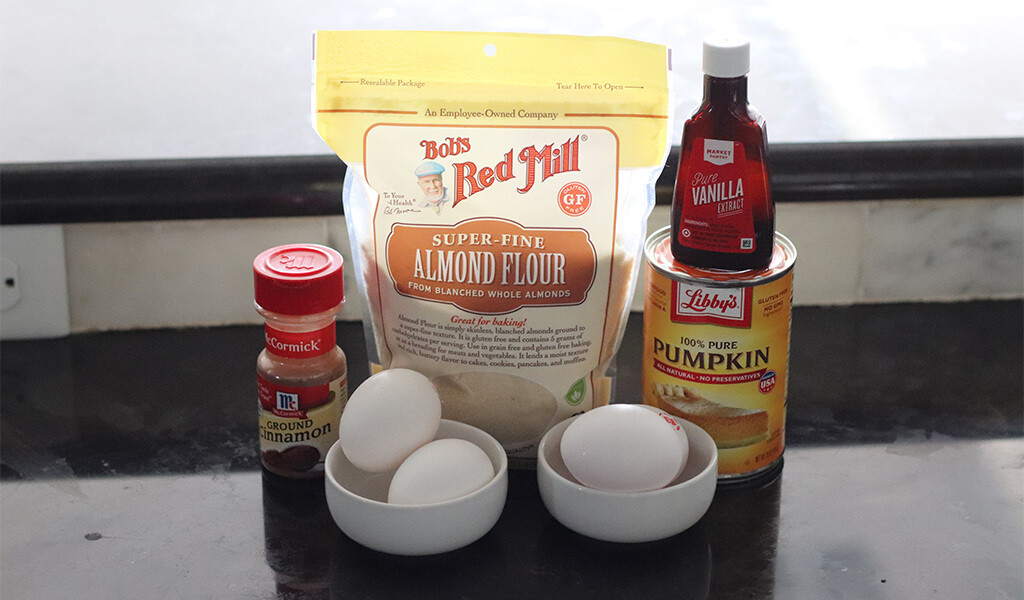 Almond Flour Pumpkin Pancakes
Prep time: 5 minutes
Cook time: 20 minutes
Total time: 25 minutes
What you will need
4 large eggs
1 cup pumpkin puree
1 tablespoon maple syrup
1 tablespoon vanilla extract
1 teaspoon baking powder
1 1/2 cups almond flour
2 tablespoons butter, divided or cooking spray
1 teaspoon cinnamon
What you will do
In a medium sized bowl or large mixing cup, whisk the 4 eggs.
Once the eggs are whisked smooth add in the pumpkin puree, vanilla extract and maple syrup. Whisk to combine again until smooth.
Add in the almond flour and whisk until smooth.
Now, add in the cinnamon and baking powder, stir until smooth one last time.
Heat a large skillet to medium heat. Spray the pan with cooking spray or one divided tab of butter.
Spoon 1/8th of the batter onto the skillet and use your spoon to spread the batter so that everything is even.
Cook the first side for about 3 minutes (you may need to cook the first pancake longer, so that the pan can heat up all the way), or until cooked enough to flip. I find that when I notice the sides to the pancake start to look solid it is ready to flip.
Use a spatula to carefully flip the pancake. Let the other side cook for 2-3 minutes or until cooked all the way through.
Plate and top your pancakes as you wish!
Recipe Tips:
You may use 100% maple syrup or imitation. This is totally up to you and your flavor preference.
I personally like to use butter to coat my pan as I also love the little bit of flavor it gives each pancake.
I find that this recipe makes 6-8 medium sized pancakes.
The only issue I have with this recipe is that anytime my daughter smells, or eats pumpkin she thinks is Halloween and will do trick or treating later. I'll let her father break that one to her. I cooked breakfast after all. Now the last thing you have to do as my daughter would say is Eat, Eat.
You may also like
How Much Exercise Does It Take to Burn Off One Pumpkin Spice Latte?