Back To School Special: Grandma's Oatmeal Raisin Cookies

In my household it's pretty well known that I do not bake. I wish I had the gene that made me love to bake pies and cookies for family, but that has never been a passion of mine.
However, the one item I do really enjoy baking is Grandma's Oatmeal Raisin Cookies. They are healthy (for a cookie!) and packed with oats and raisins. My kids love them, as do I.
They make the perfect snack or filler for lunchboxes and the perfect no-guilt after dinner treat for the adults in my household!
Grandma's Oatmeal Raisin Cookies
Prep time: 10 minutes
Cook time: 10 minutes per batch
Total time: 20 minutes for one batch
Total time: 40 minutes for 3 batches
What You Need
1 ½ cups raisins
1 cup water
1 cup light brown sugar
½ cup butter
1 teaspoon vanilla
2 teaspoons cinnamon
1 teaspoon nutmeg
2 large eggs
1 ½ cups flour or almond flour
1 ½ cups whole oats
1 teaspoon baking powder
What You Will Do
Preheat the oven to 350° F.
On the stovetop bring 1 cup of water to a rolling bowl, over medium high heat.
Pour in the 1½ cups raisins into the boiling water and allow to simmer for 10 minutes to soften the raisins.
Remove the raisins from the heat and strain and place aside to cool.
In a large mixing bowl: combine the butter, eggs, sugar, cinnamon, nutmeg, and vanilla together. Stir to combine.
Next add in the dry ingredients. First add in the flour or almond flour, followed by the whole oats. Stir until all of the ingredients are moist.
Lastly add in the raisins and 1 teaspoon of baking powder and stir until all of the ingredients are fully combined. Only 2-3 turns with a large wooden spoon is fine.
On a baking sheet that is lined with either parchment paper or sprayed with cooking spray spoon out the batter. Using a tablespoon spoon out 1-inch large portions at a time.
Place the baking sheet into the oven and bake for 8-10 minutes until lightly golden brown.
Remove and allow to cool for 3-5 minutes.
Voila and serve!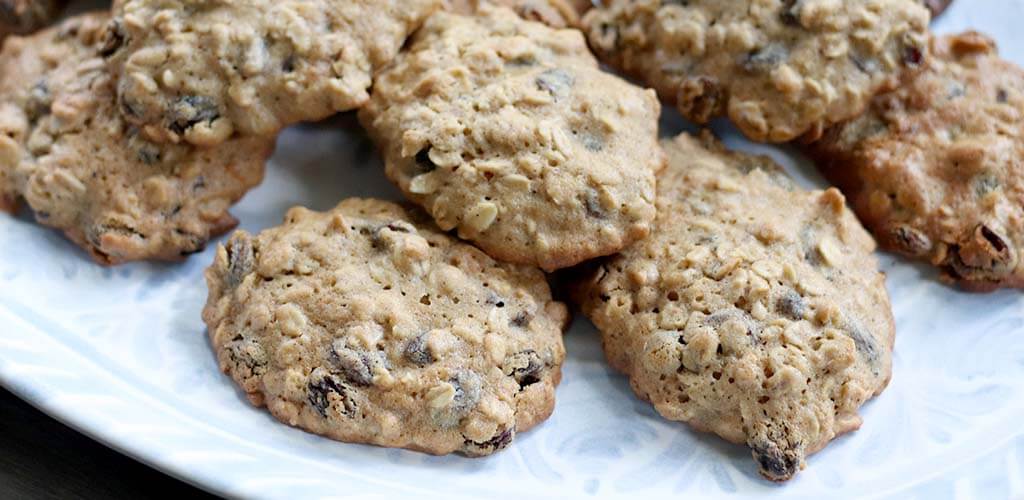 Recipe Tips:
As you will see by my cooking time above this amount of ingredients creates 3 batches of cookies, 8 per baking sheet, so 24 cookies in total.
I personally always use almond flour in my recipes as I like the limited carbs it offers. However, I have tested this recipe with white flour as well and both produce the same result. So, use whatever base you prefer.
I recommend allowing the cookies to cool in layers with parchment paper in between.
These cookies will last for 7 days in an airtight container at either room temperature or in the refrigerator, whatever your preference is.
Now the last thing you have to do as my daughter would say is Eat, Eat.
You may also like
Chocolate Chip Banana Bread