Baby Boy's Black Bean Soup

My son just turned 2 this past November and while his sister started to become a picky eater at this age, my son truly is expanding his palette, which I love. His favorite food item is, shockingly, beans, literally any bean he can find he will devour. But, his favorite type to eat is black beans and he especially loves to eat them in this recipe.
This black bean soup is nutritious, easy to make, and can easily be totally vegetarian by swapping out the chicken stock for vegetable stock. I love that I can make a large batch of this soup and serve it over multiple days for lunches, snacks, and dinners. Also, this soup is extremely cost-effective as all of the ingredients are relatively cheap but still very healthy and good for you! Even better this soup freezes and reheats really well! Most black bean soup recipes have a tendency to turn out bland, but the trick here is to season generously and purée sparingly. The beans should be swimming in liquid, not sitting in sludge. A good tip to remember is that the more the beans are puréed, the more starch is released into the soup making it thicker and more paste-like.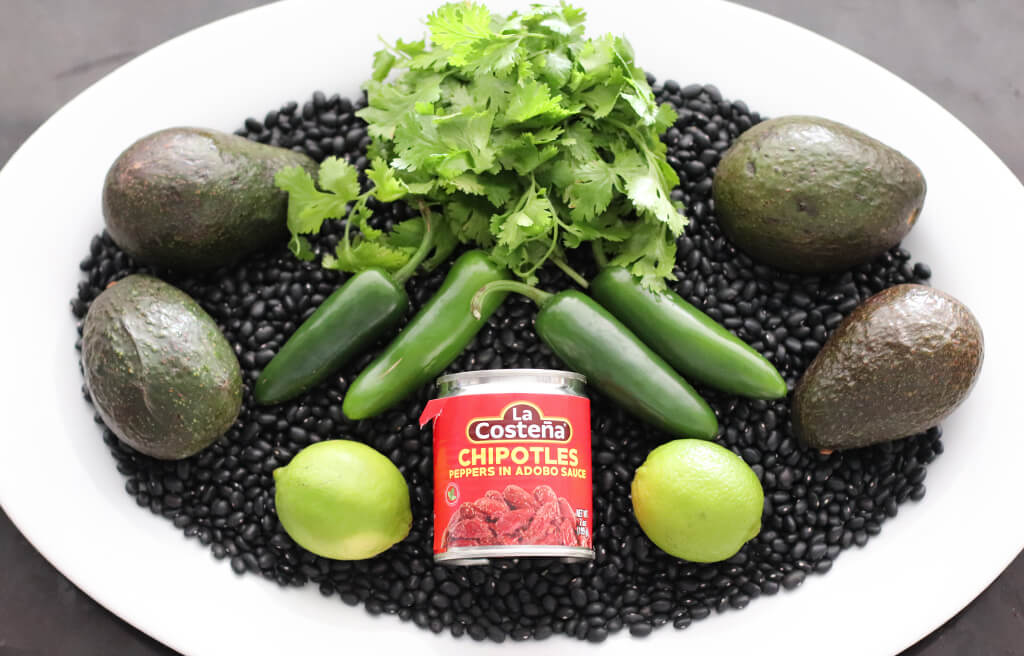 Black Bean Soup
Prep time: 20 minutes
Cook time: 30 minutes
Total time: 50 minutes
What You Will Need
1 small (7-ounce) can chipotle chilies in adobo*
2 tablespoons olive oil
2 carrots, peeled and chopped
2 shallots, peeled and chopped
4 garlic cloves, minced
1 cup red wine**
2 jalapeño peppers, seeded and chopped
1 pound dry black beans (do not soak)
3 quarts vegetable or chicken stock (I use chicken stock)
1 tablespoon dried oregano
3 bay leaves
1 tablespoon kosher salt
1 teaspoon ground black pepper
Red wine vinegar, to taste
* If chipotle chilies are unavailable, or if this is just too spicy for your taste, sub with 1 tablespoon each of ground cumin and ground coriander.
** For the red wine you are welcome to use what you like best, but if you are not sure what to get I recommend a Cabernet Sauvignon. This kind of wine cooks down well and is not as sweet as a Merlot which can change the taste of the dish in the end.
Toppings
Freshly squeezed juice of 2 limes
Salt to taste
Sour cream or Mexican crema
Whole cilantro leaves
Thinly sliced fresh jalapenos
Sliced avocado
Fresh corn
Tortilla chips, for a side
Directions
Empty the can of chiles into a blender or food processor. Purée until smooth, scrape into a container, and set aside.
Put on a pot of chicken broth (1 quart), keep this hot as you will continue to add to your soup throughout the whole process.
In another large pot, heat the olive oil over medium heat until shimmering. Add carrots, shallots, and garlic then cook stirring often until softened but not browned, 5 minutes total.
Add in the red wine and let simmer until the vegetables are coated about 3-5 minutes. Add jalapeños and cook stirring, just until softened, about another 2 minutes. Push the vegetables out to the edges of the pot and dollop 2 teaspoons of chipotle purée in the center. Let fry for a minute and then stir together with the vegetables. (Sub in spices if not using the chipotle puree here)
Add beans, about ½ the chicken or vegetable stock, oregano and bay leaves. Stir, bring to a boil, and let boil 10 to 15 minutes. Reduce the heat to a simmer and cook, uncovered, stirring occasionally and adding more hot broth as needed to keep the soup liquid and runny, not sludgy or stew-like. Continue cooking until beans are just softened and the soup is fragrant, this takes around 1-2 hours. Add salt and pepper and keep cooking until beans are soft (you must taste to test texture and flavor).
Adjust the texture of the soup: The goal here is to combine whole beans, soft chunks and a velvety broth. Some beans release enough starch while cooking to produce a thick broth without puréeing. If the soup seems thin, use an immersion blender or food processor to purée a small amount of the beans until smooth, then stir back in. Continue until the desired texture is reached, keeping in mind that the soup will continue to thicken as it sits.
Heat the soup through, taste and adjust the seasonings with salt, pepper, drops of red wine vinegar and dabs of chipotle purée.
Lastly - serve in deep bowls, garnishing each serving with sour cream or Mexican crema (or in my case - both), fresh corn, cilantro leaves, sliced jalapenos and avocado as desired. I even like to serve with tortilla chips to change it up a little. This helps make it a little different if you have been eating it for a few days. As you may see in a few photos I will sometimes crumble bacon over the soup, for all those diehard meat-eaters out there.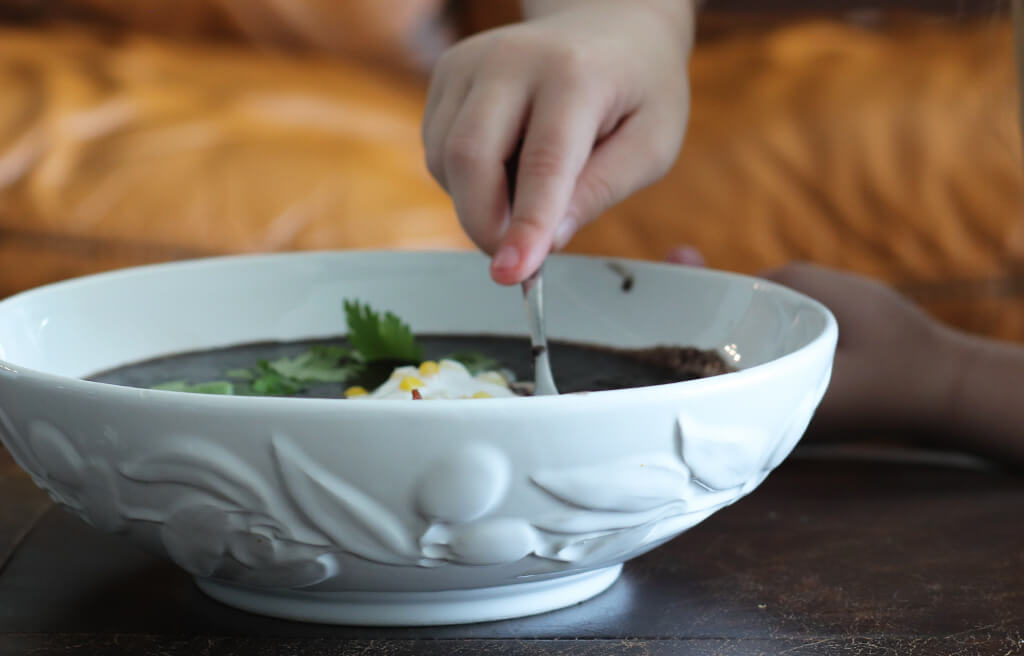 Normally I wrap up my recipes with, as my daughter would say Eat, Eat. However, I make this meal specifically for my son so we have to end it for him. Every time he sees his bowl of Black Bean Soup he yells "TABLE" and we all must get to the dining room table as fast as possible to devour this.
You may also like
Creamy Tomato Soup With Cauliflower Grilled Cheese Bites