Warm Goat Cheese Fall Salad

There is no such thing as a perfect salad, until now that is! I have always loved goat cheese, but I do find the flavor to be overwhelming and so I can only eat a little bit. I knew I had to find a way to tone down the flavor in order to serve it. What I find is that with the breadcrumbs and the balance of the sweet pears, cranberries, and balsamic glaze this dish is filling and satisfying without being too rich or salty. So, as I said, this salad is perfect! Especially for fall!
Goat Cheese Fall Salad
Prep time: 5 minutes
Cook time: 5 Minutes
Total time: 10 Minutes
What You Need
For the Goat Cheese Medallions:
At least 4 oz of fresh goat cheese
1 cup seasoned bread crumbs
1 tsp Italian seasoning
1 tsp herbs de Provence
1 cup grape seed oil, for frying
Salt and black pepper to taste
For the Salad:
¼ cup walnuts
6 oz mixed greens or butter lettuce, I like to do a mix of both
1 cup dried cranberries
2 tablespoons balsamic glaze
2 tablespoons extra virgin olive oil
2 pears, sliced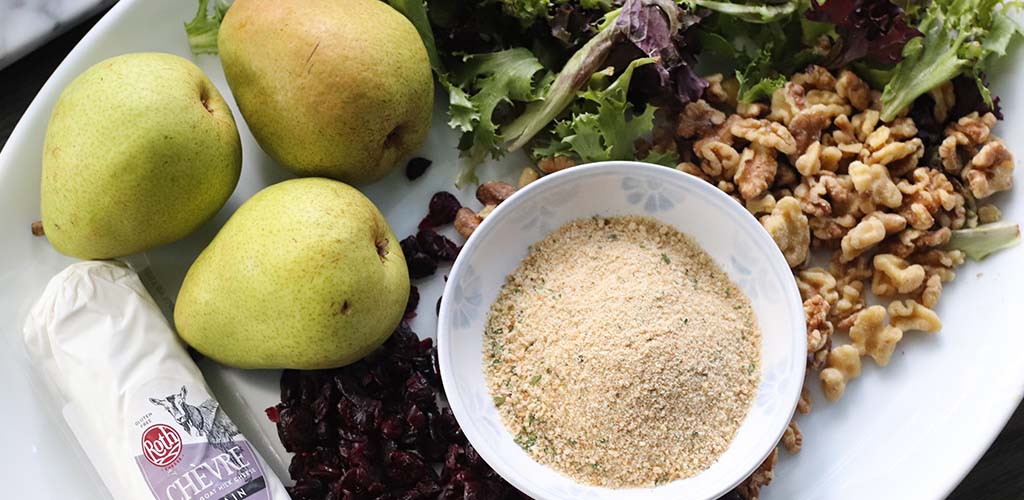 What You Will Do
Slice the goat cheese into four equal medallions, and then cut in half, so you have 8 pieces.
Pour the seasoned bread crumbs onto a plate and toss with the Italian seasoning, Herbs de Provence, and salt and pepper.
Place the 8 pieces of goat cheese onto the plate and toss to ensure they are evenly covered.
Using a spoon, flatten the medallions while they are still in the breadcrumbs.
On the stovetop, use a cast iron skillet and bring to high heat. Pour in the grapeseed oil and allow to heat to a bubble.
Place the goat cheese medallions into the oil and allow to cook for only 1-2 minutes just to warm the cheese through, using a spatula flip the medallions as needed.
Remove immediately and place onto a plate to cool.
Onto a large serving platter place the lettuce and top with the sliced pear and cranberries.
Place the warm goat cheese medallions on the top of the platter.
Drizzle the balsamic glaze and extra virgin olive oil over the top and season with more salt and pepper.
Serve immediately.
Recipe Tips:
If the goat cheese falls apart in the pan do not worry, simply gather and serve, it's still very delicious.
This will stay in the refrigerator for 24 hours in an airtight container.
Now the last thing you have to do, as my daughter would say, is "Eat, Eat."
You may also like:
Easy Greek Pasta Salad