Easy Greek Pasta Salad

A simple pasta salad should be in every mom's recipe arsenal. I love to spice up the flavors a little bit, which is where I came up with a Greek flavor spin to this recipe. I also removed mayonnaise in the dressing as that is a traditional ingredient in pasta salad, which I must admit I am not a fan of. To thicken up the dressing I simply use a little Dijon mustard, which also adds a nice bite to the dressing. Just because I put a flavorful spin on this pasta salad, that does not mean that this is hard at all. As you will see, the hardest steps in this recipe is boiling pasta and whisking together the dressing. That's it!
Greek Pasta Salad
Prep time: 8 minutes
Cook time: 8 minutes
Total time: 16 minutes
What You Need
For the Pasta Salad:
16 ounces rotini, or any pasta you favor
1 cucumber, chopped
1-pint grape tomatoes, whole or halved
2 cups of arugula and spinach mix
¼ cup pine nuts, toasted
8 oz mozzarella balls
1 avocado, cubed
For the Greek Dressing:
¼ cup champagne vinegar
⅓ cup extra virgin olive oil
½ teaspoon garlic powder
1 teaspoon Italian seasoning
½ teaspoon Dijon mustard
3 tablespoons lemon juice, freshly squeezed from 1 lemon
2 ounces feta cheese
salt & pepper to taste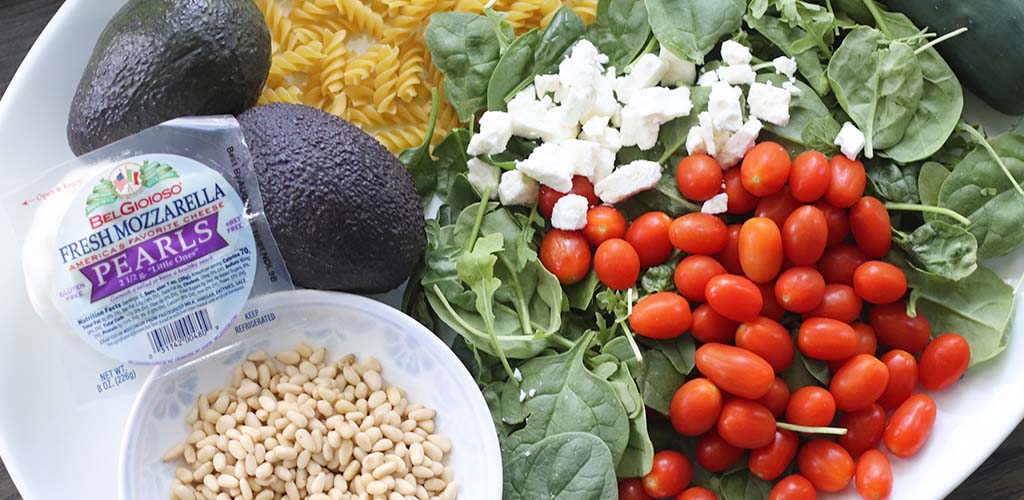 What You Will Do
For the Pesto Dressing:
In a small mixing bowl, whisk together the dressing ingredients and place to the side.
Bring a pot of heavily salted (2 tablespoons) water to a boil and place in the pasta. I recommend cooking past al dente. (This is about 10 minutes long. See Recipe Tips for why.)
Strain the pasta in a colander and place to the side to cool.
Into a large serving bowl, place the pasta, spinach and arugula, chopped cucumber, grape tomatoes, pine nuts, mozzarella and cubed avocado.
Pour the dressing over the salad and toss to combine.
Top with more feta if you like.
Recipe Tips:
I recommend refrigerating for at least 2 hours before serving so all the ingredients are the same temperature.
I recommend cooking the pasta past al dente so that it sufficiently absorbs the dressing. Also, when you refrigerate the pasta, it will harden and so you want it to retain a softer texture. Cooking past al dente will do that!
Now the last thing you have to do, as my daughter would say is, "Eat, Eat."
You may also like:
Pesto Quinoa Summer Salad