Easy Summertime Salad: My Saturday Abundance Salad

I love to call this recipe my Saturday abundance salad, because it really can be made up of any leftover ingredients you may have in your home. A few pieces of bacon here, 1 chicken breast there, some fruit I have leftover that I didn't use in the kid's lunches. Voila! My huge family Saturday Lunch salad.
I love to combine fruit and veggies together in a salad. I find the sweet fruit compliments the crunch of the vegetables perfectly, and doesn't compete in flavor. I feel a great example of this is my 4th of July Salad which is somewhat similar to this one.
Let's dig in, because there is no way to get this one wrong.
Saturday Abundance Salad
Prep time: 15 minutes
Cook time: 15 minutes
Total time: 30 minutes
What You Will Need
For the Salad:
6 slices thick cut bacon
1-pint blueberries, about 1 cup
1 carton strawberries, about 10 strawberries
2 cups mozzarella, cubed
16 oz butter lettuce
3 corns on the cob, with the kernels removed
2 avocados, cubed
For the Chicken:
½ pound boneless chicken breasts
Kosher salt and freshly cracked black pepper
1 tablespoon olive oil
1 tablespoon chopped fresh thyme
1 tablespoon dried oregano
½ teaspoon cumin
1 teaspoon garlic powder
½ teaspoon Herbs de Provence
For the Citrus Champagne Vinaigrette:
2 garlic cloves finely minced
1 tablespoon Dijon Mustard
¼ cup Citrus champagne vinegar
2 tablespoons fresh lemon juice
1 tablespoon Agave
½ teaspoon red pepper flakes
½ teaspoon salt
½ teaspoon freshly ground black pepper
½ cup extra virgin olive oil
1 dash of Worcestershire sauce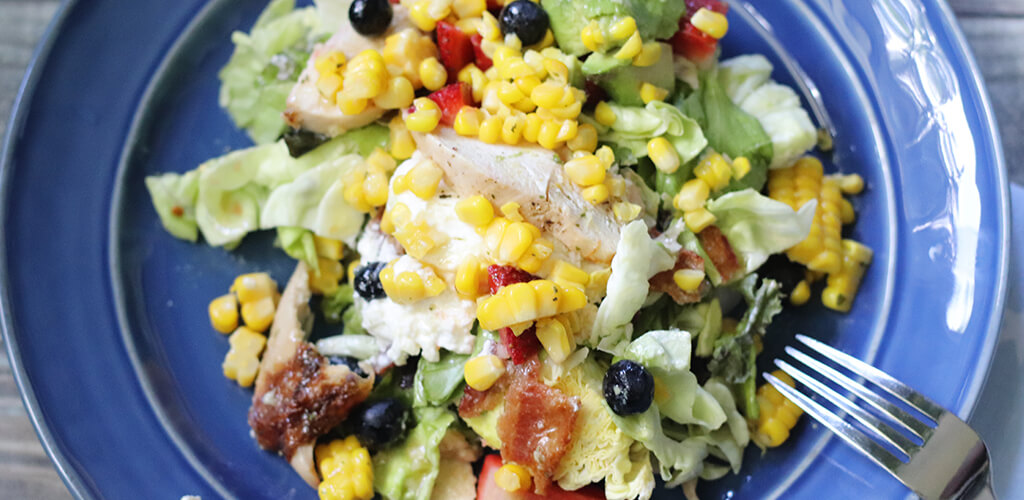 What You Will Do
In a small mixing bowl combine all your vinaigrette ingredients and whisk together until emulsified and place aside till later.
Preheat your oven to 425° F.
Line a baking sheet with tin foil or parchment paper and place bacon onto the baking sheet.
Cook for 10 minutes or until brown and crispy.
Remove bacon from the oven and pat off any excess fat with a paper towel. Allow the bacon to cool and crumble into a small bowl and place aside.
Bring a large pot of heavily salted (2 tablespoons) water to a boil, place in the corn and allow to boil for 3-5 minutes. Simply to soften the corn.
Remove the corn from the pot and allow to cool. Using a pairing knife slice off the kernels from the corn husk and place into a bowl to the side.
Preheat a cast iron skillet to medium high heat and coat the pan with the olive oil.
Season the chicken with salt and pepper and coat with the fresh and dried herbs. In the same skillet, over medium-high heat, add the chicken and cook on both side until browned, about 5 to 6 minutes per side. Remove the chicken and allow to cool, about 5 minutes. Once cool slice against the grain into either large chicken strips or cubes. Cover with tinfoil and place aside.
Lastly chop up the strawberries, cut the avocado and mozzarella and place aside to assemble.
On a large serving platter, assemble the salad.
First lay the bed of butter lettuce, add the chicken, strawberries, blueberries, mozzarella cheese, crumbled bacon, avocado and corn. Drizzle with the vinaigrette and serve immediately.
Recipe Tips:
If you have any leftovers this salad will stay in an airtight container in the refrigerator for 24 hours. After that time the lettuce starts to wilt.
Now the last thing you have to do as my daughter would say is Eat, Eat. Or as my son would say, BACON!!!!!!
You may also like
Herb Crusted Salmon