4th of July Salad

I love a salad that's loaded up with goodies, like fruit and fresh veggies other than lettuce which leads me into this recipe. With cucumbers, blueberries, strawberries, avocado, prosciutto and gorgonzola cheese, it's got a ton of amazing flavor going on.
My daughter instantly called this our Fireworks Salad because I make it for the day people set off Fireworks, or as we adults call it, The 4th of July!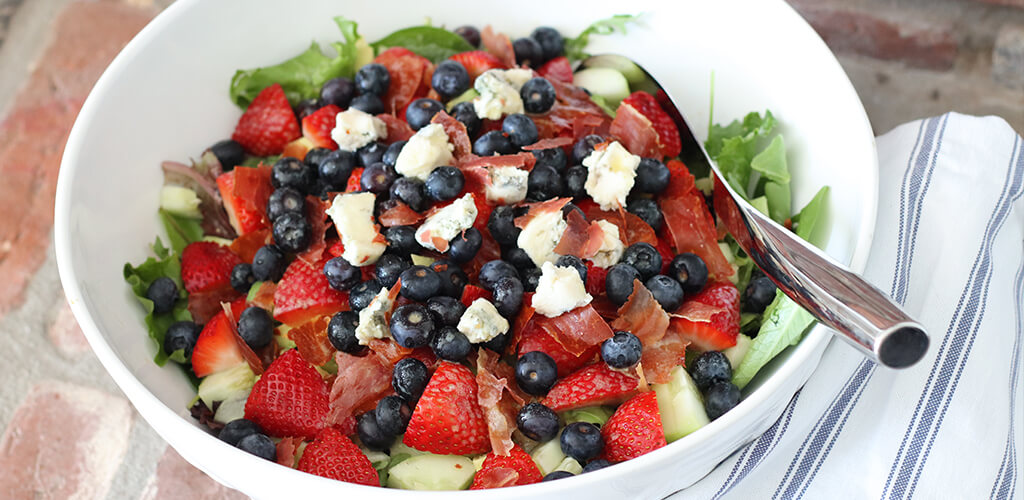 4th of July Salad
Prep time: 30 minutes
Cook time: 5 minutes
Total time: 35 minutes
Ingredients
For the dressing:
1 tablespoon champagne vinegar
1 teaspoon whole grain mustard
3 tablespoons extra virgin olive oil
1/2 teaspoon kosher salt
For the salad:
16oz of any lettuce or greens you want (I used a mix of baby arugula, spinach, radicchio and green lettuce)
1 cucumber, peeled and diced (about 2 cups)
1 cup blueberries
1 cup (about 8 strawberries) cleaned and quartered strawberries
1 avocado cubed
1/2 cup crumbled gorgonzola (or more/less to your taste)
12 slices prosciutto (about 6 ounces total) crisped and crumbled
Directions
Preheat oven to 375° F. Divide prosciutto between baking sheets if need be, laying them flat and not touching on each baking sheet. Bake until fat turns golden and meat is darker, about 10 minutes. Using tongs, carefully transfer prosciutto to paper towels to drain (it will crisp as it cools). Crispy prosciutto can be used like bacon, in whole pieces or crumbled. For this salad I like to crumble it.
Meanwhile in a mixing bowl, whisk together the vinegar, mustard, olive oil and salt.
In a large bowl lay down the bed of greens.
Peel and chop the cucumber and lay on top of the bed of greens.
Halve and cube your avocado and lay on top of the salad.
Clean and quarter the strawberries and lay on top of the salad.
Scatter the washed blueberries on top of the salad.
Take the cooled and crumbled prosciutto and toss on top of salad.
Crumble the Gorgonzola cheese on top as the final step.
Lastly, right before serving. Re-whisk the dressing and pour on top and serve immediately.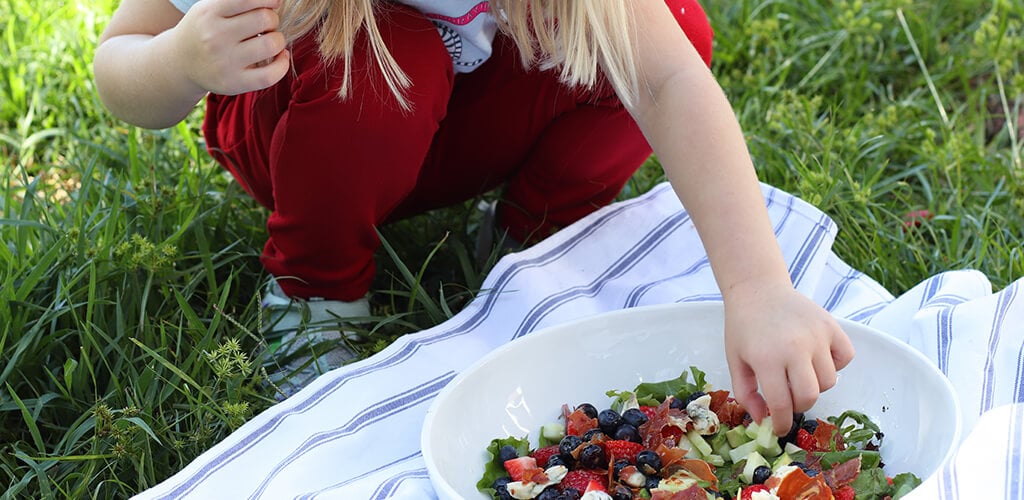 Recipe Tips
This is one of the only salads I don't toss as you lose a lot of the colors and therefore the presentation. If you are traveling simply make the salad a head of time and carry the dressing on the side and pour over the salad right before it is being served.
You do not have to crisp up the prosciutto in the oven, you can easily serve with It torn right out of the package. I like the extra texture and saltiness that a "bacon cooked prosciutto" offers to this salad. This also make it a little more tempting to children.
Now the last thing you have to do as my daughter would say is eat!
You may also like
Healthy Grilling Tips