Herb Crusted Salmon

When I first began cooking, I was really intimated by seafood, specifically salmon. I found through practice, that salmon is surprisingly one of the easiest pieces of fish to cook. It has a very subtle yet rich taste, so you can season it any way you like, as it absorbs other flavors well.
This is my favorite way to cook salmon. My recipe uses a lot of herbs and lemon, giving the dish a light and fresh taste. Though this main course will pair well with a lot of sides, I like to combine this with my Kid-Friendly Caesar Salad. Now to the recipe!
Herb Crusted Salmon
Prep time: 10 minutes
Cook time: 12 minutes
Total time: 22 minutes
What you Need
1 large salmon fillet, about 2 pounds
1 tablespoon butter, room temperature
1 tablespoon olive oil
2 tablespoons minced parsley
2 tablespoons minced dill
2 tablespoons minced chives
1 tablespoon minced tarragon
Salt and freshly ground black pepper to taste
2 lemons cut into wedges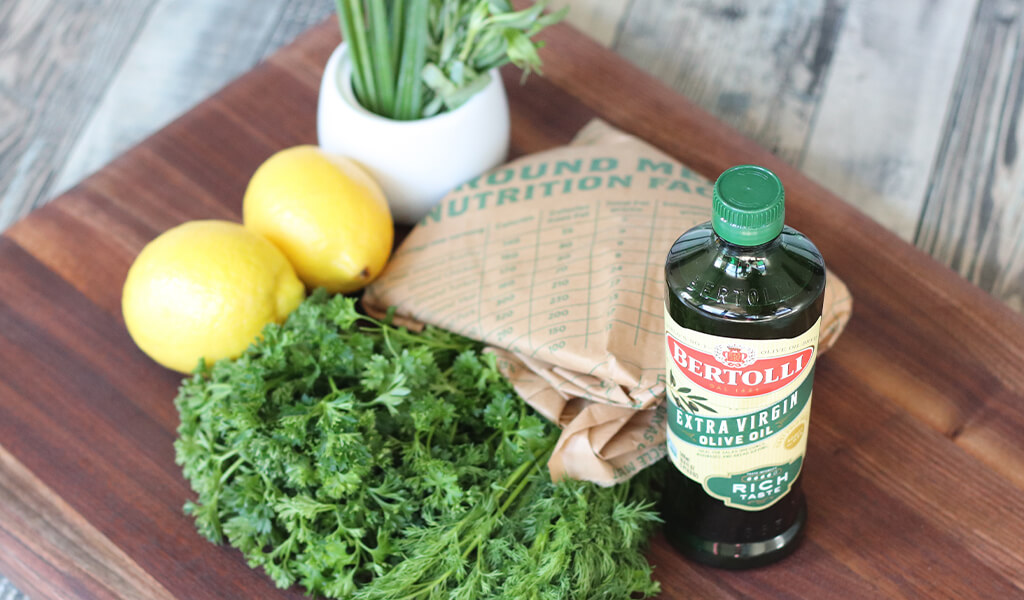 What you will do
Preheat the oven to 475° F.
Line a baking sheet with parchment paper or tin foil. Pour the olive oil onto the parchment paper or tin foil and coat the baking sheet. Place the large salmon filet skin side down onto the baking sheet, then set aside and allow to reach room temperature. This will take about 10 minutes.
Place the tablespoon of butter into a mixing bowl. Mince up all of the herbs and add to the butter. Stir to combine and create the herb marinade for the salmon.
Coat the salmon filet with your butter and herb mixture.
Place the salmon filet in the oven and roast for 6 minutes. Remove from the oven sprinkle with salt and pepper and place back into the oven. This allows you to see how fast the salmon is starting to brown.
Roast 5 to 6 minutes more, until medium.
Remove salmon from the oven and allow to cool for 3 minutes. Once cooled drizzle with the lemon juice of 2 wedges.
Serve the whole salmon filet on a serving plate. You may add more salt and pepper to taste or a little more melted butter on top.
Recipe Tips:
Cook 3-5 minutes more depending on the level of doneness you prefer. As you can see above, I said cook to Medium, this is when the salmon is firm on the outside but a little rarer on the inside. Cooking 3-5 minutes more would allow the entire fillet to be opaque pink throughout.
As you can see, I tell you to remove your salmon from the oven at 6 minutes. During that time, you could remove the salmon skin from the fillet easily by cutting it off with a pairing knife. I personally choose to leave the skin on as the fat from the skin helps to keep the Salmon moist.
Now all you have to do as my daughter would say is Eat, Eat.
You may also like
Oven Roasted Lemon Cod