Steak Salad: Picky Eater Approved

I normally discuss my daughters' favorite foods, it's pretty easy because she has so many. My son however does tend to be a pickier eater. This is why this recipe is such a big deal to me. A few of my son's favorite foods are steak and mozzarella cheese. This is why I love this recipe so much. My children love to eat this salad without any dressing. I however, feel that this salad pairs perfectly with my homemade pesto sauce which I detailed below or linked here "The Mighty Pesto". This pesto dressing perfectly adds a zesty flavor to the steak and pairs beautifully with the heirloom tomatoes and fresh mozzarella. To bulk up the recipe a bit for the adults eating this, I like to sneak in some hearty portobella mushrooms and some creamy avocado. I feel doing so truly takes this from a salad to a full-fledged meal!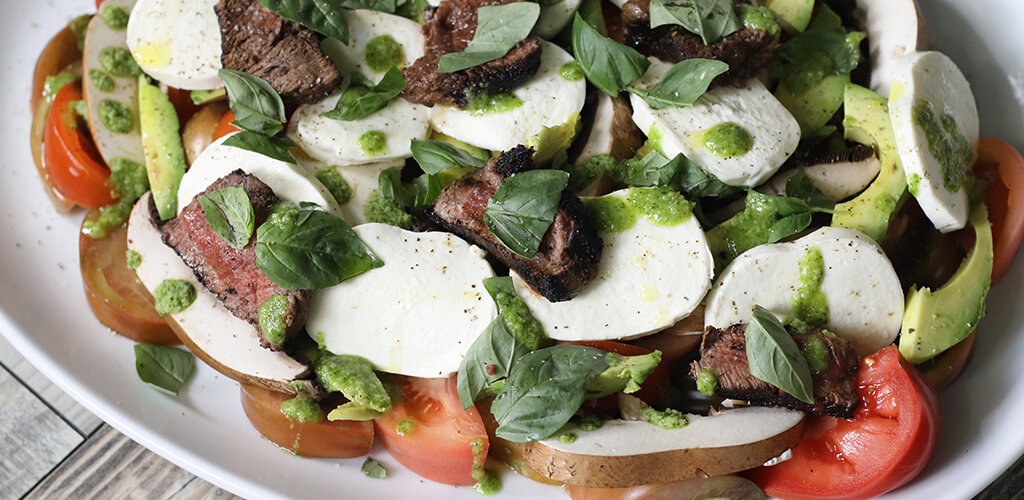 Steak Salad
Prep time: 10 minutes
Cook time: 8 minutes
Total time: 18 minutes
What You Need
For the Caprese:
1 pound any cut of steak, I used a filet mignon
2 pounds heirloom tomatoes, both regular and cherry, halved and quartered
½ shallot chopped finely
8 ounces fresh mozzarella cheese, torn into bite-size pieces
Kosher salt and freshly cracked black pepper
2 Portobella mushrooms, sliced lengthwise
2 avocados, sliced lengthwise
2 tablespoons freshly torn basil
For the Pesto:
2 packed cups fresh basil leaves
1 cup grated Parmesan
¼ cup pine nuts, toasted or not
½ teaspoon kosher salt
¼ teaspoon freshly ground black pepper
2 cloves garlic, smashed
¾ cup extra-virgin olive oil
What You Will Do
Make the Pesto Dressing:
In a high-powered blender or a food processor, combine the basil, garlic, olive oil, pine nuts, parmesan, pepper and salt.
Blend for until very smooth this may take a few minutes. I recommend checking after a few pulses to reach your desired consistency.
Season to taste with salt and pepper and place in a bowl to the side.
Make the Steak:
Remove your steak from the refrigerator prior to cooking. Allow to reach room temperature. This will take about 10-15 minutes and season generously with salt and pepper.
When you're ready to cook, heat a grill to medium high heat or if you are cooking indoors than use a cast iron skillet over medium-high heat. Add ½ teaspoon of olive oil and allow it to warm.
Place the steak on the grill or cast-iron skillet and cook until medium or medium rare, 3-5 minutes on each side, depending on your preference.
Remove the meat to a cutting board and let rest for 10 minutes covered with foil.
Make the Caprese:
Chop up the tomatoes and place on the bottom of a large serving platter or serving bowl.
Then slice the portobella mushrooms and place on top of the tomatoes.
Then halve and slice the avocadoes and place on top of the portobello mushrooms.
Then lay the mozzarella cheese on top.
Remove the steak from the tinfoil and slice the steak across the grain and nestle the slices onto the top of the Caprese salad.
Top with the freshly torn basil and drizzle the pesto dressing and serve immediately!
Recipe Tips:
If You have leftover pesto dressing you can store in an airtight container in the refrigerator for 3 days, or in the freezer in a Ziploc bag for up to 3 months.
Now the last thing you have to do as my daughter would say is Eat, Eat. Actually, as this is a recipe for my son, I should correct myself. Now the last thing you have to do as my son would say is "YAY MEAT"!!! Enjoy!
You may also like
California Tuscan Salad