The Mighty Pesto

My husband, being the eco conscious person he is, recommended we begin trying meatless Mondays. I was super excited because that meant I got to bring this pesto recipe into the rotation more and I loved it! But after week 2, my husband reverted back to his carnivore ways and asked if we could add meat back into the recipe. It was a rough two weeks for him apparently.
Anyway – back to the Pesto! For the carnivores - I added shredded rotisserie chicken to the recipe as it brings the savory aspects of this dish to a whole new level without taking away from the pesto flavor. I personally will eat this either way although my favorite is without the added chicken.
My kids love this because it's a fun color, and gives a little variety to their normal favorite, butter noodles.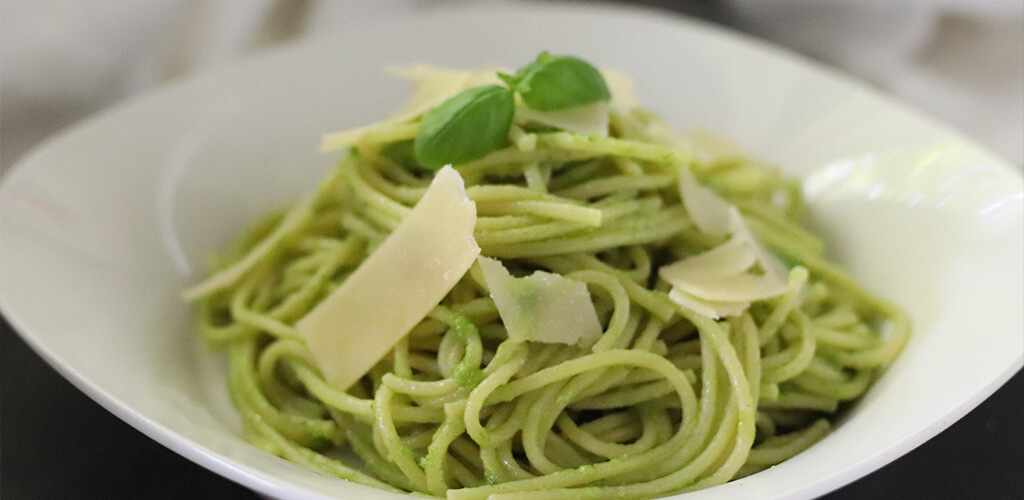 Pesto
Prep time: 20 minutes
Cook time: 8 minutes or to preference
Total time: 28 minutes
What You Need
2 packed cups fresh basil leaves
1 cup grated Parmesan
¼ cup pine nuts, toasted
½ teaspoon kosher salt
¼ teaspoon freshly ground black pepper
2 cloves garlic, smashed
½ cup extra-virgin olive oil
1 lb. penne or spaghetti pasta
Shredded Rotisserie chicken (only if you want to add meat)
What You Will Do
In a blender or food processor combine all of your dry ingredients- basil, pine nuts, garlic, salt, pepper and Parmesan.
Pulsate the blender or food processor to chop up and mix the ingredients together. The texture will still be pulpy.
Begin to slowly drizzle olive oil into the mixture 1 tablespoon a time.
Your pesto is done when it is smooth and tangy with a salty bite of garlic. Once done or to your liking, put it aside.
Fill a large pot with salted water** (about a tablespoon of salt is what I use).
Bring pot to a boil. Add pasta and cook to preference. If you are looking for a chewier more al dente noodle, then cook for around 8 minutes. If you want a softer noodle, then around 10 minutes.
Drain pasta, then place back in large pot or large serving bowl.
Pour the pesto sauce over the still warm pasta and toss until all the noodles are well coated.
If your husband has given up on reducing his carbon footprint, you may add your shredded rotisserie chicken now as well.
Sprinkle more Parmesan on top, then salt and pepper to your taste and serve!
**You should always salt your pasta water to add flavor to your pasta while it cooks. It allows your individual pasta noodles to all be flavored with salt as opposed to the one clump on top that would be salted after you remove from the water. Even when you try to mix it in, it never works. A few pieces of pasta will be salty and the rest would be bland. Save yourself the trouble a throw it in the water!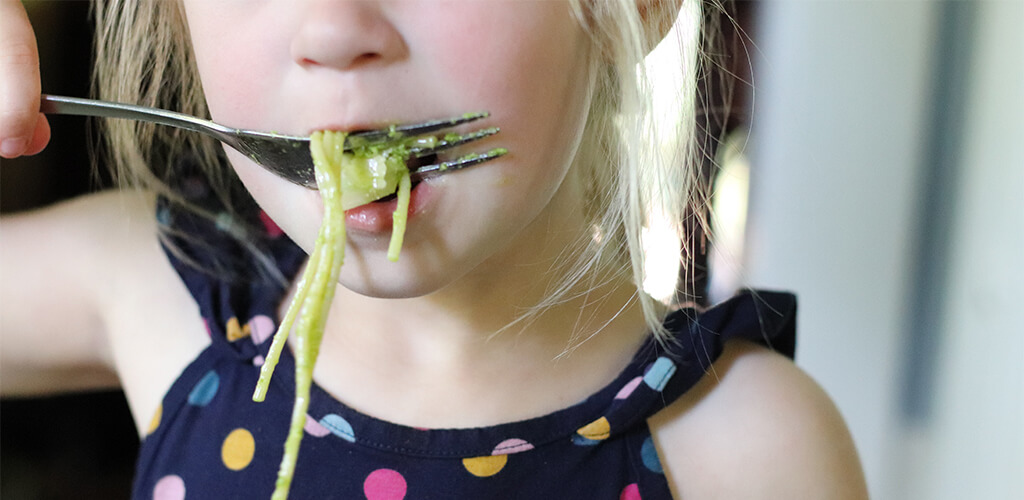 As my Daughter would say, Eat, Eat. My husband would first confirm this has some sort of meat and cheese in it, then once confirmed gives an "okay let's eat".
My son, on the other hand, would say "Daisy" to alert our dog he is about to begin, then proceed to eat without somehow using his hands. He is his father's kid.
You may also like
The Caprese Salad