Lazy Sunday Skillet with Eggs and Prosciutto

I call this dish a "lazy Sunday skillet," as I love to use my leftovers from a charcuterie board the night before and make it into a breakfast or brunch meal the next day. Or as my fiancé likes to call it, let's simply "Throw an Egg on it". This dish will look beautiful, and all it is an elevated version of bacon and eggs. If you would like some more breakfast options with eggs and prosciutto then you have to check out my Broken Eggs Skillet recipe.
Skillet with Eggs and Prosciutto
Prep time: 3 minutes
Cook time: 15 minutes
Total time: 18 minutes
What You Need
At least 1 lb of oven-roasted asparagus
3 eggs, poached
6 oz prosciutto, torn
1 avocado, cubed
2 shallots, finely diced
3 tablespoons of shaved parmesan cheese
3 tablespoons of extra virgin olive oil
1 tablespoon lemon juice
1 teaspoon of garlic powder
Kosher salt and black pepper to taste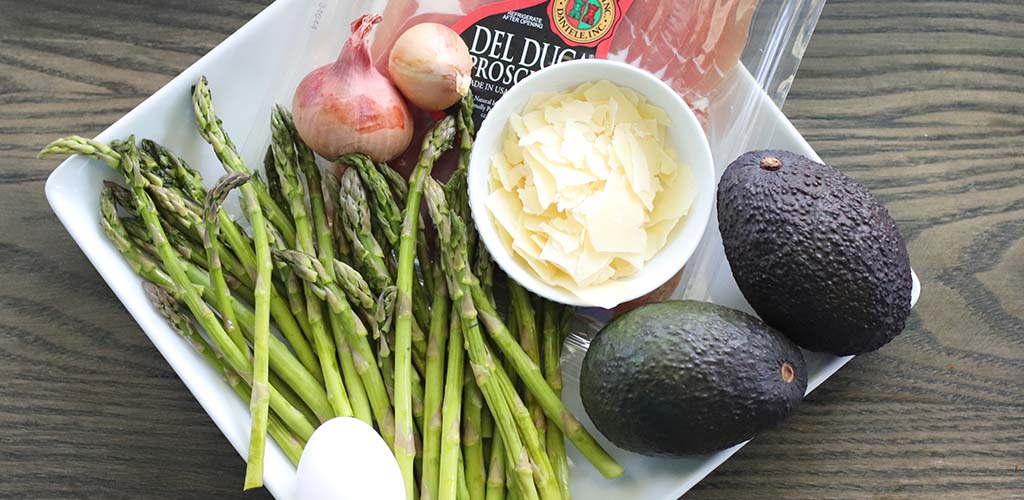 What You Will Do
Preheat the oven to 400 degrees.
Toss the asparagus and chopped shallot in the olive oil, salt and pepper, and garlic powder and place on a baking sheet. Roast for 15 minutes.
While the asparagus is roasting, bring a pot of water to a medium-low boil and stir the water in a circular motion. Crack an egg gently into the water, consistently softly stirring so the egg white wraps around the yolk. Each egg will take about 3 minutes to poach and you will remove them carefully with a slotted spoon. Repeat two more times and place to the side. If you want a more hands-off version without traditional poaching, please see my oven-poached eggs or fried egg tip below in the recipe tips.
Remove the asparagus and shallots from the oven and allow to cool.
Onto a plate place the roasted asparagus and shallots and top with the torn prosciutto, cubed avocado, and poached eggs.
Top with shaved parmesan and more salt and pepper to taste.
Serve Immediately.
Recipe Tips:
If you are uncomfortable with poaching eggs, a fried egg is a perfect substitute.
Oven Poached Eggs:
If you choose to follow this cooking option you will place these in the oven at the same time as the asparagus and shallots.
You will use a muffin tin to make these eggs.
In each muffin cup, add in 1 tablespoon of water. This is how you will poach the eggs and stop them from sticking to the pan.
Crack one egg into each muffin cup, for as many eggs as you would like to poach.
Bake for 11-13 minutes, depending on the level you like your eggs cooked to. At 11 minutes the yolks will be runny. At 13 minutes the yolks will be fully cooked through.
Now the last thing you have to do, as my daughter would say, is "Eat, Eat."
You may also like:
The Ultimate Avocado Toast