No Bake Gingerbread Energy Balls Recipe

Sweet enough to be dessert but healthy enough to be a perfect pre-workout snack, these no-bake protein balls are a festive way to enjoy the flavors of the holiday season without overindulging. And they're easier than traditional gingerbread cookies!
No-Bake Gingerbread Energy Balls
Prep time: 15 minutes
Cook time: 0 minutes
Total time: 15 minutes
Servings: 14
Serving size: 1 ball
Nutrition per serving:
Calories 120Fat 6 gCarbs 18 gFiber 2 gProtein 1 g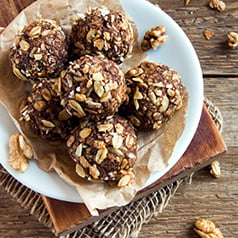 Ingredients
1 cup pitted dates (about 12)
1 cup pecans or walnuts
1 tbs molasses
1 tsp each cinnamon and ground ginger
1/4 tsp each nutmeg and ground cloves
1/4 tsp salt
1 tsp vanilla
Optional: Water or milk
Directions:
Check dates for pits (even pitted dates have an occasional pit or piece of pit left in them). Blend dates in food processor or blender until they are in tiny pieces or a paste.
Add the remaining ingredients and blend until well-combined.
If the final "dough" is too dry and won't form a ball easily, add a teaspoon of water or milk of your choice and blend.
Roll dough into 1-inch balls. Keep in refrigerator for up to 1 week or freeze for 1 month.
You may also like
Guiltless Pumpkin Cheesecake Cupcakes Recipe