Italian Lemon Shrimp and Bean Stew

As you may have seen in some of my previous recipes my daughter loves Shrimp. It is without a doubt her favorite food, so I make sure to put it in as many meals as I can. This recipe is no exception. My son loves it as well because of the cannellini beans, and everyone else will love it because of its perfectly-balanced flavors. With minimal prep and quick cook time, this shrimp stew feels elegant for such an easy weeknight meal. You can also take the dish in several directions, such as: substitute the shrimp with an equal amount of Italian sausage (for some added heat) or even seared scallops or stretch the dish into a meal for six or more by stirring in some cooked pasta, as I do for my youngest.
I call this recipe "Italian" because when I went to Venice on my Babymoon, I consistently had some version of this soup. Here is my take on this soup for you to enjoy: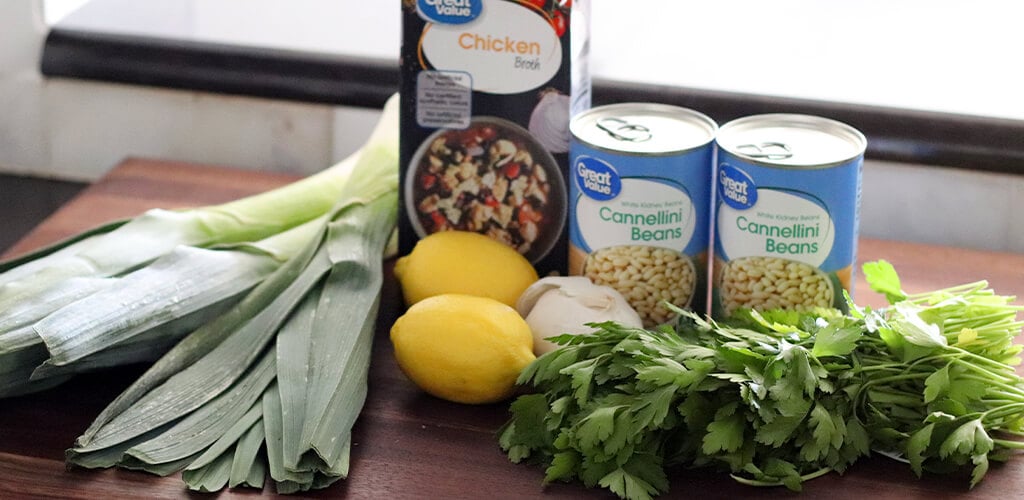 Italian Lemon Shrimp and Bean Stew
Prep time: 20 minutes
Cook time: 18 minutes not including toasted bread
Total time: 38 minutes
What You Will Need
1 teaspoon fresh lemon zest
2 tablespoons lemon juice
1 teaspoon paprika
2 garlic cloves, minced
Salt and black pepper, to taste
1 pound peeled, deveined large shrimp (tails removed) *
4 tablespoons salted butter (1/2 stick)
2 tablespoons extra virgin olive oil
2 large leeks, stems trimmed off, then halved lengthwise, white and light green parts sliced crosswise 1/2-inch thick
2 (15-ounce) cans cannellini beans, rinsed
4 cups chicken broth
2 tablespoons finely chopped fresh parsley
Freshly shaved parmesan for serving
Toasted bread, for serving**
* I use precooked to shorten the cooking time.
** I recommend an Italian or Cuban bread as they tend to be a larger choice which is more substantial for dipping.
What You Will Do
Combine lemon zest, paprika, garlic, 3/4 teaspoon salt and 3/4 teaspoon pepper in a medium bowl. Add shrimp and toss to coat.
In a large pot, melt butter over medium-high heat. When butter is foaming, add shrimp herb mixture and cook, only 2 to 3 minutes. This is only to coat the shrimp in the spices.
Using a slotted spoon, transfer shrimp to a plate; set aside.
In the same pot, you will then add olive oil and chopped leeks, season with salt and pepper, and cook over medium until leeks are soft and starting to brown on the edges, which is about 4 to 5 minutes, stirring occasionally.
Add beans and chicken broth, then bring to a boil using higher heat. Lower heat and simmer, 8 to 10 minutes. Turn heat off but leave the pot on the hot stove.
Sir in reserved shrimp and any juices from the plate, parsley and lemon juice, and season with salt and pepper, and a garnish of freshly grated parmesan and more fresh parsley, if desired.
Allow to cool for 10 minutes before serving, especially if this is being served to children.
Serve.
If you do want to serve with toasted bread. Here are my tips.
Preheat oven to 375° F as the chicken stock and beans are cooling on the stove.
Slice bread into slices (if not sliced) a little thicker than normal bread
Once the oven is heated, place the bread on a pan or if you don't mind directly on the oven rack for a little more grilling
Allow to bake for 5-10 minutes. You only want the bread to be warmed and toasted, not browned.
Remove from the stove.
I love to use a fresh garlic clove and rub the toasted bread to get the flavor of garlic without the heft of actual garlic pieces. Then add some butter spread.
Now the last thing you will have to do as my daughter would say is Eat, Eat. However, as my son would say BEANNNNNNSSSSSSSS. Your choice of adjective for your dinner party
Italian: Mangia!
English Translation: Eat up!
Trust me, everyone will!
You may also like
Shrimp and Avocado Bites