Shrimp Summer Rolls with Zucchini Noodles

This recipe is the best kind of salad because it's one you can hold in your hand. I love summer rolls but find them to be carb-heavy. Subbing in zucchini noodles eliminates that guilt for me, and it also amps up the nutritional value!
As I may have mentioned before, my daughter is obsessed with shrimp. It's her favorite food and I'm honestly so proud of the little foodie genes coming through in her. She will eat shrimp cooked any way. Vegetables on the other hand … now, that's a bit of work on my part to sneak them into her food. This is why I love these rolls.
Summer rolls are a fun and tasty way to get my family to eat their veggies and incorporate some of their favorites, like shrimp. They are just as rewarding to make, as they are to eat.
Just see the photos of my children enjoying these!
Shrimp Summer Rolls with Zucchini Noodles
Prep time: 20 minutes
Cook time: 20 minutes
Total time: 40 minutes
What You Will Need
Summer Rolls:
12 spring roll wrappers
1-pound cooked, peeled and deveined shrimp with tails removed
2 large zucchinis
1 cup shredded carrots
1 bunch Thai basil leaves
½ teaspoon salt
2 tablespoons extra virgin olive oil
1 teaspoon garlic powder
½ teaspoon cayenne pepper
Peanut Sauce:
¾ cup creamy peanut butter
¼ cup rice vinegar
⅓ cup soy sauce
3 tablespoons agave or honey
1 ½ teaspoons grated fresh ginger
1 clove of garlic, minced
2 tablespoons water
Toppings: chopped peanuts and freshly torn Thai Basil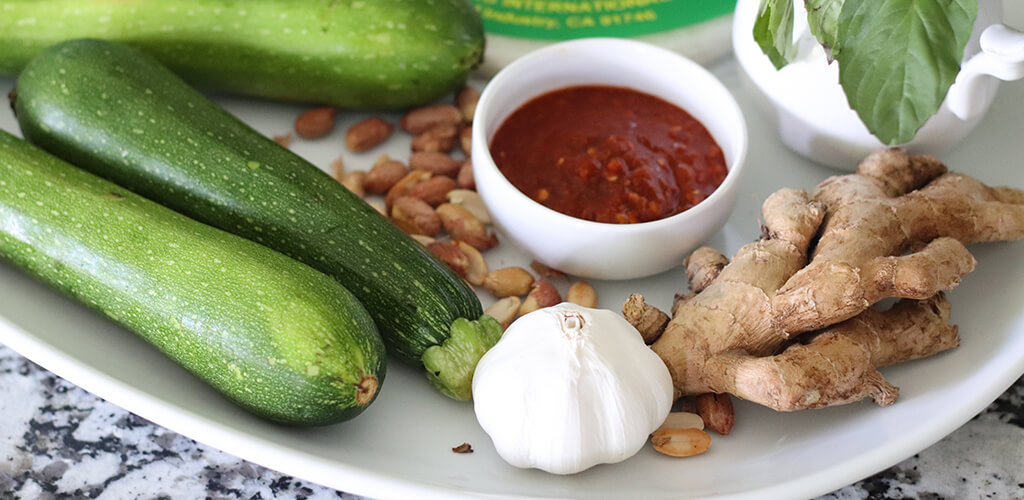 What You Will Do
Summer Rolls:
Bring a medium sized sauté pan to heat, over medium high heat. Place in the 1 tablespoon of olive oil and warm. Next add in half of the garlic powder, salt and cayenne powder and stir to warm.
Place the shrimp into the sauté pan and cook until the shrimp are just pink, this takes only 2-3 minutes total. Pour the cooked shrimp into a bowl and place aside.
Using a vegetable peeler, peel the 2 zucchinis. Then using whatever tool, you have available spiralize the zucchini into long or short noodles. As an example: I use my food processor with my vegetable cutting blade attachment.
Using the same sauté pan as before, warm 1 more tablespoon of extra virgin olive oil and warm. Add in the other half of the garlic powder, cayenne powder and salt and warm together while stirring. Add in the zucchini noodles and sauté for 5 minutes. I like to simply warm the zucchini through and make a softer texture of the vegetable. Place zucchini aside.
Fill a shallow pan (this could be a cake pan or sauté pan) with warm water. This is water that is comfortable enough that you can rest your hands in. To maintain the warmth of the water you may place on the stove on the lowest setting possible.
One at a time, dip the spring roll skins into water. Hold them in the water for 10 seconds, then lay them out flat onto a cutting board and top with the zucchini noodles, a few carrots, 2-3 shrimp, and then 2 basil leaves.
Fold one end (the shorter sides of each roll are the ends) of the spring roll wrapper over the filling, then the other side. Pull tight and roll, tucking the wrapper under as you roll. Place on a plate and repeat.
Serve immediately. You may dip in soy sauce, chili garlic sauce, or make my quick peanut sauce I have listed below!
Homemade Peanut Sauce:
In a 2-cup liquid measuring cup or medium-sized mixing bowl, whisk together the ingredients until well blended. If your peanut butter is particularly thick, you may need to use the full 4 tablespoons of water (as opposed to the 2 tablespoons I stated above) to thin out the mixture.
I also always top with chopped peanuts and freshly torn basil as I love that little bit of a crunch and freshness to eat bite!
That's it! Now serve!
Recipe Tips:
I thoroughly recommend Thai Basil as opposed to traditional Italian basil as Thai Bail processes more of a mint flavor that enhances the Asian cooking influence of these rolls.
Other ways you can make the zucchini noodles is to slice thinly with a chef's knife. You may also use a pasta maker with a spiraling function.
I recommend cooking your zucchini as that makes the texture similar to that of the rest of the roll and the temperature will be the same. I find this to be more pleasing for all who are eating the summer rolls.
Now the last thing you have to do as my daughter would say is Eat, Eat!
You may also like
Simple Shrimp Tacos