Father's Day "Fall Off the Bone" Pork Shoulder

A super tender slow cooked marinated pork shoulder just screams summer cooking to me, especially for Father's Day. Oven cooked slow roasted meat is one of my go-to options for casual Sunday dinners or entertaining a large group. You just set it and forget it. There is only one simple tip that I have when it comes to roasting meat in the oven. The best way to cook pork, or any large roast you may have, is to cook it upside down so the fat bastes the entire meat while it cooks and lets it slow cook in the oven for ages at a very low temperature until it practically falls apart. My fiancé loves cooking as well, especially when we do it together, and so this meal was truly a special one for us. I hope you enjoy this recipe as much as my family and I do.
Father's Day "Fall Off the Bone" Pork Shoulder
Prep time: 20 minutes
Cook time: 6-8 hours (this varies depending on the size of the pork shoulder)
Total time: 6 hours 20 minutes
What You Need
2 tablespoons garlic powder
2 teaspoons kosher salt
1 teaspoon freshly ground pepper
2 tablespoons chili powder
2 tablespoons cumin
3 cups chicken broth
1 6-pound boneless pork shoulder trimmed of excess fat and tied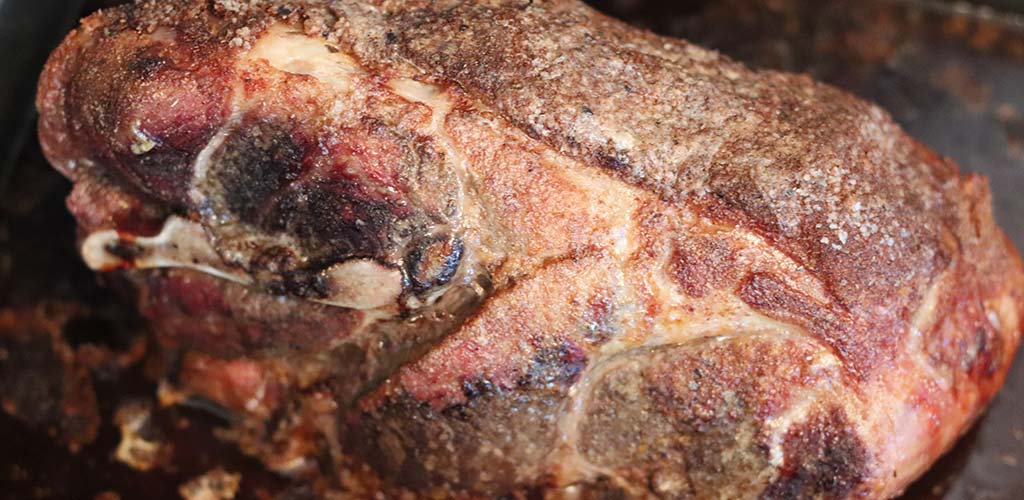 What You Will Do
Preheat the oven to 475°F.
While the oven is preheating, remove the pork from the refrigerator and allow to reach room temperature.
Place the pork in a shallow roasting pan fat side up.
Combine all of the spices and seasonings together into a bowl and mix together. Pat the seasoning onto the pork shoulder.
Into the bottom of the shallow roasting pan pour 1 cup of the broth to cover the bottom of the pan.
Place the pork into the oven, uncovered, for 30 minutes, until the top starts to brown a bit.
Turn the heat down to 250°F, remove the pork and cover in tin foil. Place back into the oven and continue to cook, checking each 2 hours to see if you need to pour in more broth.
Cook for 6 to 8 hours until the middle of the roast registers 180 degrees on a meat thermometer or when the meat can easily be shredded with a fork.
Remove from the oven and let sit for about 10 minutes still covered in the tinfoil.
Finish by shredding the pork and pouring the drippings over to keep moist.
Recipe Tips:
This will last in the refrigerator for up to 5 days in an airtight container.
Now the last thing you have to do, as my daughter would say, is Eat, Eat.
You may also like:
Make Ahead Meal: Slow Cooker Pulled Pork Recipe