Roasted Sweet Potatoes

I don't know about you but shopping in the grocery store has become a serious extracurricular activity for me. Upon entering the store, I see what is available and think on the spot what I can make with what I find. Today I found sweet potatoes and steak which easily pair perfectly together, with a few tweaks of course.
My roasted sweet potatoes have a crispy caramelized exterior and a soft irresistible interior. The seasoning mix adds a perfect accent to these potatoes without masking their natural sweetness or flavor. I pair these sweet potatoes with my fantastic flank steak as I find the sweetness and smokiness (due in part to the spice mix below) pair very well with a robust red meat. You may also serve these in the morning with eggs or as a main dish itself. Simply sprinkle your own favorite fresh herbs (mine is dill) and devour!
Roasted Sweet Potatoes
Prep time: 15 minutes
Cook time: 35 minutes
Total time: 50 minutes
What You Need
2 pounds sweet potatoes (1 bag if buying bulk) peeled and cut into 1/2-inch pieces
4 tablespoons olive oil
3/4 teaspoon fine sea salt or kosher salt
1/4 teaspoon freshly cracked pepper
1/2 teaspoon ground chili powder
1/2 teaspoon paprika
1/2 teaspoon ground cumin
1/2 teaspoon garlic powder
1/2 tablespoon light brown sugar, lightly packed
¼ teaspoon ground cinnamon
What You Will Do
Preheat the oven to 425° F.
Peel and cube the sweet potatoes into 1/2-inch pieces. As per instructions below.
Peel the sweet potato: for the best flavor and texture, I recommend peeling the sweet potato first as the skin becomes tough.
Cut your sweet potatoes into rounds and then cube as per my photos.
Add all of the sweet potatoes to a large sheet pan and add the olive oil, salt, pepper, chili powder, paprika, cumin, brown sugar, cinnamon and garlic powder on top. Toss to coat all the sweet potatoes and then spread out to arrange in an even layer.
You don't want any potatoes overlapping or you'll end up with steamed potatoes instead of roasted potatoes. Steamed potatoes are completely soft including the outside, as opposed to a crisp exterior of roasted.
Flip every 10-15 minutes cooking for a total of 27-35 minutes. (I flip every 10 minutes and bake around 30 minutes) as my children don't like their potatoes too crispy.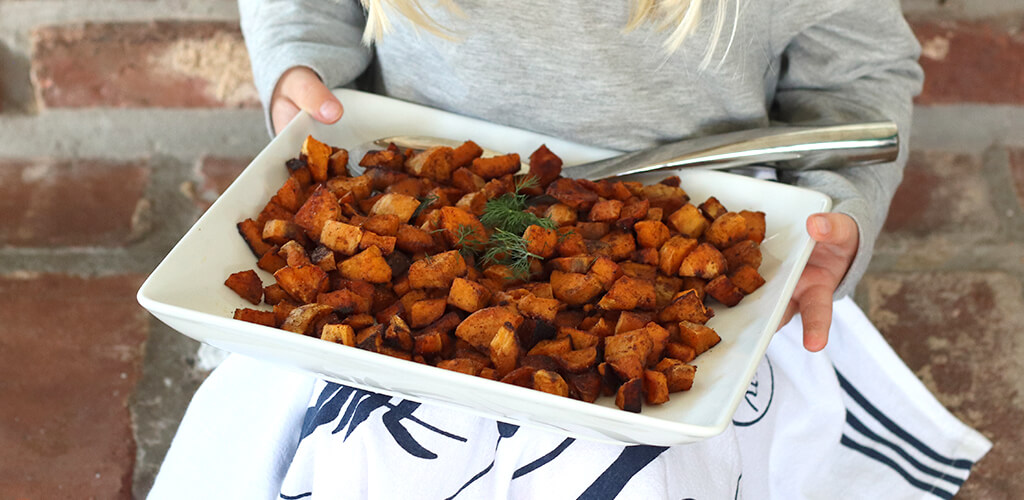 Recipe Tips:
You may mix up the spices I chose. You may use chipotle chili powder and/or smoked paprika for a smokey flavor.
If you want to make your sweet potatoes even spicier, add 1/4 to 1/2 teaspoon cayenne pepper.
If you want your sweet potatoes even sweeter, increase your ½ tablespoon of brown sugar to 1 full teaspoon.
Now the last thing you have to do as my daughter would say is Eat, Eat!
You may also like
Sweet Potato Pancakes