Greek Inspired Stuffed Zucchini Boats

Zucchinis actually make the perfect vegetable boat for ground turkey, garlic, kalamata olives, diced red peppers, pine nuts, basil, shallots and Parmesan cheese. Altogether, this zucchini boat serves as the perfect Greek-inspired take on a pretty traditional stuffed zucchini recipe.
Most zucchini boat recipes are intended to hide or mask the flavor of the actual zucchini. This is done with heavy cheese toppings or robust sauces. However, here, I actually wanted to make sure to highlight the flavor of the zucchini. As a matter of a fact, even after scooping out the zucchini flesh, I mince it back up to stuff back into the boat. This way, even if someone isn't a fan of zucchini flavor, they will get all of the nutrients back into the stuffing without the taste. The flavor of the turkey sausage comes through, too, so they think they are eating a fun weekend food and not a healthy dinner. This is the secret to how I get my children to eat these, as the fun shape of these boats are also a plus, along with the flavor.
This dish is so fresh and has such an amazing abundance of flavor its sure to be a winner in your house. The best part, this is extremely filling and all you are eating is protein and vegetables!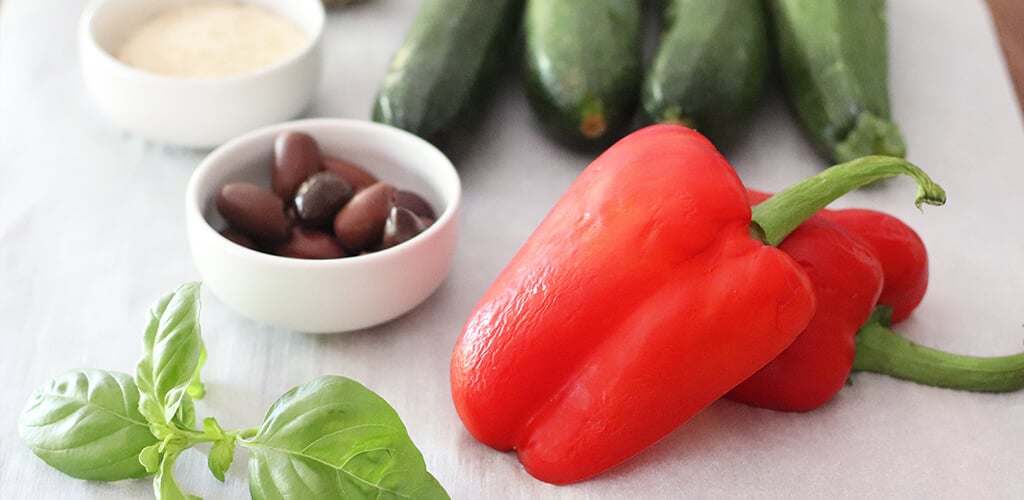 Greek Inspired Stuffed Zucchini Boats
Prep time: 20 minutes
Cook time: 45 minutes
Total time: 1 hour 5 minutes
What you need
4 medium zucchinis
2 tablespoons extra virgin olive oil
1 pound ground turkey
2 tablespoons dried oregano
1/2 teaspoon cumin
1/4 teaspoon red chili flakes
1/2 teaspoon chili powder
1 teaspoon kosher salt
1/2 teaspoon freshly ground black pepper
1 large shallot, minced finely
4 garlic cloves, minced finely
1 cup bread crumbs
1/2 cup pitted kalamata olives, halved
1/2 cup chopped fresh red bell pepper
1/2 cup chopped fresh basil, divided
1/4 cup pine nuts
1/4 cup freshly grated Parmesan cheese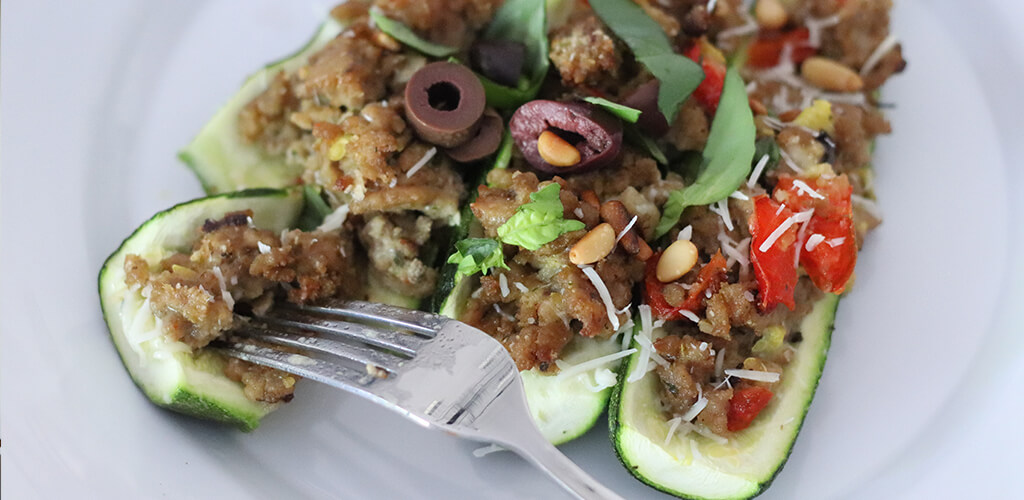 What You Will Do
Preheat the oven to 375° F.
Line a baking sheet with parchment paper.
From stem to stem, slice the zucchini in half lengthwise. Scoop out the pulp, mince, and set aside.
Place the cleaned and chopped zucchini onto the parchment lined baking sheet and place aside
In a large skillet, heat the oil over medium-high heat. Add the shallot and garlic and season with the oregano and the red chili flakes. Cook for 3 minutes until the garlic becomes fragrant. Add in the chopped red bell pepper and minced zucchini pulp and cook for 3 more minutes.
Add the ground turkey and cook for 5 minutes, stirring and breaking it up into smaller pieces. Season with the cumin, chili powder, kosher salt and freshly ground black pepper. Continue to break up the turkey until it is cooked through so no pink can be seen. This may take an additional 5 minutes.
Remove the pan from the heat and stir in the bread crumbs, olives, pine nuts, and half of the Parmesan cheese. Toss and mix well in the warmed skillet.
Spoon the stuffing into the zucchini boats that are ready on the parchment lined baking sheet. Sprinkle with the remaining Parmesan cheese. Cover tightly with foil and bake for 30 minutes. Uncover and bake for 10-15 more minutes or until the zucchini are fork tender.
Remove from the oven and allow to cool for 5 minutes.
Top with the freshly torn basil and serve.
Recipe Tips:
You may use any ground protein of your choosing. However, if you use ground beef make sure to strain thoroughly as not to add too much extra fat to the dish.
You may try sun dried tomatoes instead of red bell pepper.
Switch out the Parmesan cheese for feta cheese to be a truly authentic Greek dish. However, minimize the amount of salt you use to season the meat with if you choose to use this cheese.
As a serving reminder, 2 "boats" which is (one full zucchini) is extremely filling for an adult. My children each share one.
Now the last thing you have to do as my daughter would say is Eat, Eat.
You may also like
Chorizo and Cauliflower Rice Stuffed Peppers