Thanksgiving Special: Roasted Portobello Mushroom Polenta

Happy Thanksgiving BowFlex Family! The #1 food holiday of the year!
This is the part of the Holiday season that the fun with food truly begins. I have another fun spin on a recipe for you all whether you are celebrating Thanksgiving or just serving a hearty meal to your family. This recipe may seem intimidating, but I assure you it is very easy.
Fun Fact, Polenta is just corn grits and as easy as can be to cook, just boil and add in any flavoring you like! Sweet, savory or spicy, Polenta is the perfect partner.
Polenta only takes 5 minutes to cook and partners perfectly with salty parmesan and meaty portobello mushrooms. This is the perfect side dish to my Thanksgiving Miracle: Too Easy Turkey or my Feast of Kings: Roasted Duck with Figs and Potatoes.
This recipe only takes 25 minutes from start to finish and makes the perfect savory and filling side to any meal! You must give this a try.
Roasted Portobello Mushroom Polenta
Prep time: 5 minutes
Cook time: 20 minutes
Total time: 25 minutes
What You Need
Mushrooms:
2 portobello mushroom caps cut into 1-inch slices
5 sprigs of thyme, plus extra leaves for serving
4 garlic cloves, smashed
1 tablespoon Italian seasoning
1 teaspoon garlic powder
1/4 cup extra virgin olive oil
1 pinch of kosher salt
Polenta:
1 teaspoon kosher salt
3 cups water
1 cup polenta
1 cup Parmesan, finely grated, for mixing
Topping:
3 teaspoons shaved parmesan
2 sprigs of thyme crushed
Kosher salt and black pepper to taste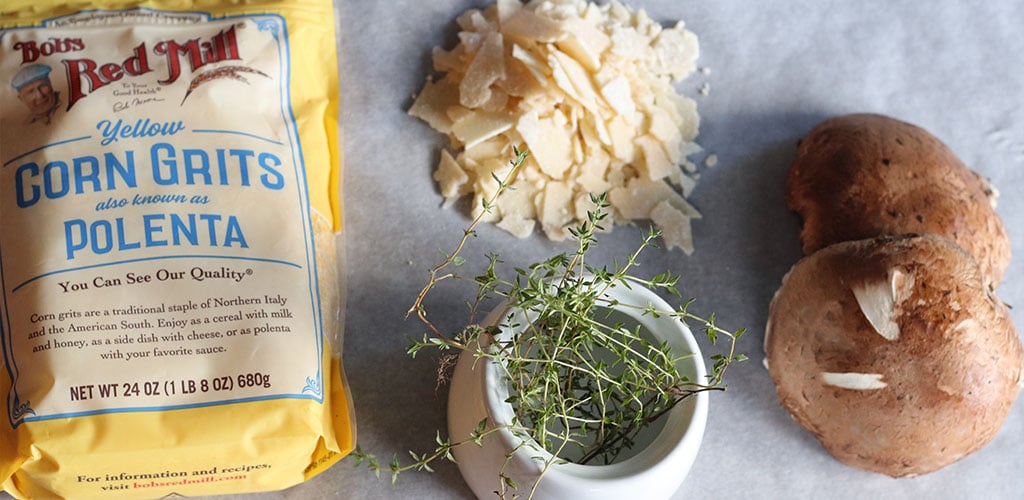 What You Will Do
Place the rack in middle of the oven.
Preheat the oven to 350° F.
On a baking sheet combine the portobello mushrooms, sprigs of thyme, Italian seasoning, garlic powder, salt and smashed garlic.
Season generously with kosher salt and drizzle with extra virgin olive oil. Toss to coat mushrooms, then spread out in an even layer. (Make sure not to crowd the mushrooms on the baking sheet). Transfer to upper rack in oven and let mushrooms roast while you prepare polenta. This will take about 15 to 20 minutes.
Bring 3 cups water to a simmer in a large ovenproof saucepan over medium-high heat. Add a generous pinch of kosher salt.
Gradually add the 1 cup of polenta, stirring with a spoon constantly.
Once the polenta is completely mixed, stir in the 1 cup of shredded parmesan and stir to combine.
Place the polenta aside to cool.
Check the oven as your mushrooms should be complete. Remove and allow to cool to slice. This will take about 3 minutes.
Slice the mushrooms into 1-inch slices.
Place all of the polenta into a serving dish and top with mushrooms, thyme leaves, sea salt, and more Shaved parmesan. I also love to spoon some of the juices from the mushrooms over the top of the polenta dish.
Serve immediately!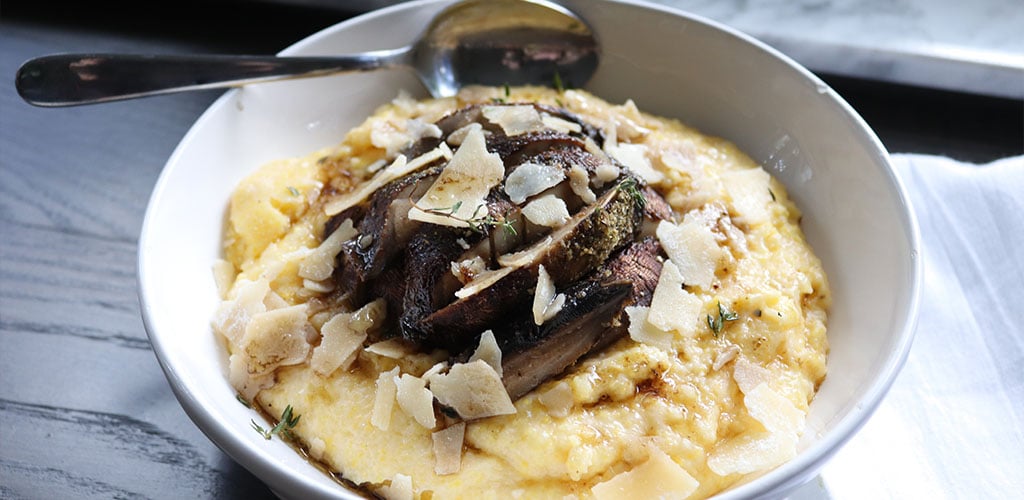 Recipe Tips:
I love to use shaved parmesan on the top of this dish as its thicker then shredded parmesan and has a bit more bite to it.
This will last for 24 hours in your refrigerator in an airtight container.
To reheat, use a saucepan and reheat over medium low heat. Make sure to add 1 tablespoon of water, olive oil, or butter to ensure that the polenta remains creamy and doesn't separate.
Now the last thing you have to do as my daughter would say is Eat, Eat.
You may also like
Have a Fun and Active Thanksgiving!