Italian Sausage Stuffed Mushrooms

In case you were wondering what it looked like for children (and adults for that matter) to devour food without using their hands like a pack of wild hyenas, make these. My children love the filling, so much so they don't actually pick up the mushrooms they just lean over and eat the tops off, like some sort of twisted bobbing for apples competition. I can typically sneak it past them so they end up eating 1 or 2 of the mushroom bottoms. Reminding them that Santa is coming soon and he pays attention that children are good eaters helps too. #Parentlife
This is my go-to recipe on Thanksgiving Day, mainly because people really love them! I make them first thing in the morning so everyone can snack on them as I finish putting the meal together. This saves my sanity and everyone is happy! I recommend adding this to your Thanksgiving appetizer menu.
Italian Sausage Stuffed Mushrooms
What you need
16 extra-large white mushrooms, caps and stems separated
5 tablespoons good olive oil, divided
3/4-pound mild or spicy Italian sausage, this is your preference. I use spicy for the adults and mild for the kids
2 teaspoons minced garlic (2 cloves)
1 teaspoon kosher salt
1/2 teaspoon freshly ground black pepper
2/3 cup Italian breadcrumbs
8 ounces Italian mascarpone cheese
1/3 cup freshly grated Parmesan cheese
What you will do
Preheat the oven to 325 degrees.
Trim the mushroom stems and chop them finely. Set aside. Place the mushroom caps in a shallow bowl and toss with 3 tablespoons of the olive oil and the salt and pepper. Set aside.
Heat the remaining 2 tablespoons of olive oil in a medium skillet over medium heat. Add the sausage, crumbling it with a wooden spoon.
Cook the sausage for 8 to 10 minutes, stirring frequently, until it's completely browned. Add the chopped mushroom stems and cook for 3 more minutes.
Stir in the garlic, salt, and pepper and cook for another 2 to 3 minutes, stirring occasionally.
Add the bread crumbs, stirring to combine with the other ingredients.
Finally, swirl in the mascarpone and continue cooking until the mascarpone has melted and made the mixture creamy.
Take off the heat, stir in the Parmesan and season to taste. Cool slightly.
Fill each mushroom generously with the sausage mixture. Arrange the mushrooms in a baking dish large enough to hold them all in a snug single layer. Bake for 50 minutes, until the stuffing is browned and crusty.
Let cool for 5 minutes prior to serving. Then as my daughter would say "Eat, Eat!" But pretty sure no one will need the prompting.
I do find that whenever I make these stuffed mushrooms, there tends to be a lot of the filling leftover. You can always use more in your mushrooms, but I save the filling to make a pasta dish later in the week. It's pretty simple, I just boil some noodles till done, combine noodles + filling, and then bake it all the oven at 325 degrees until the top becomes slightly browned, about 10 minutes.
This extra filling also makes a great breakfast hash by simply heating in a skillet over medium heat and combining with some scrambled eggs. After cooking so much for one day, it's always nice to have a few quick and different leftover meals ready to go. Enjoy!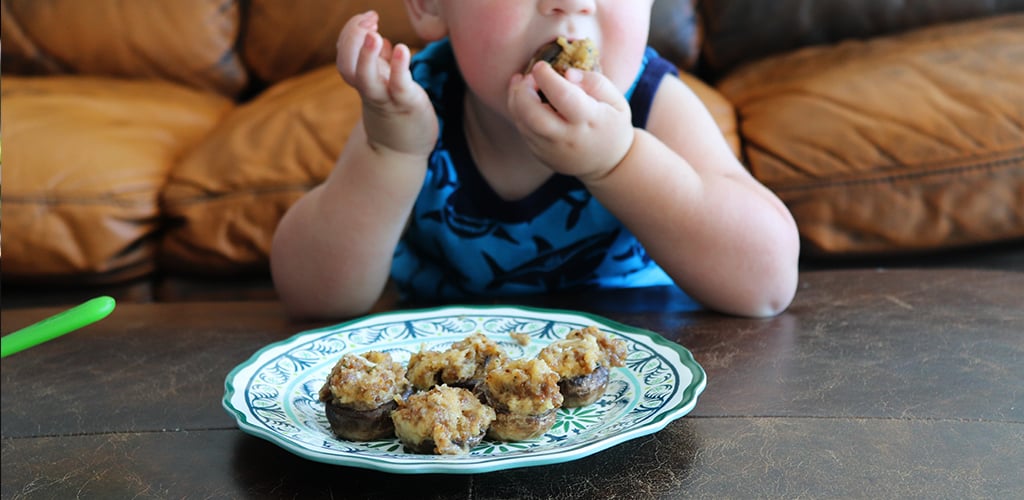 You may also like
Chorizo & Spinach Stuffed Mushrooms Recipe