Date Night Dinner: Pesto Salmon Salad

Recently I went on a trip to New York. While I was there, I saw that a Niçoise Salad was on almost every menu at every restaurant I went to. Yes, I did order it a few times. While I love the traditional salad, I wanted to come home and put my own spin on it.
I've taken the classic Niçoise salad and changed it to my liking, of course. Swapping in Dijon-roasted salmon for the traditional tuna and replacing the vinaigrette for the Pesto dressing, I love to use my classic The Mighty Pesto as a dressing to top everything. Hopefully as you can see by the photos this plates beautifully and is a perfect party dish! It is just simply, Perfect.
Pesto Salmon Salad
Prep time: 10 minutes
Cook time: 13 minutes
Total time: 23 minutes
What You Need
For the Pesto:
2 packed cups fresh basil leaves
1 cup grated Parmesan
¼ cup pine nuts, toasted
½ teaspoon kosher salt
¼ teaspoon freshly ground black pepper
2 cloves garlic, smashed
½ cup extra-virgin olive oil
For The Salmon:
1 lb (at least) center-cut skinless salmon fillet
1 tablespoon Dijon mustard
Kosher salt and freshly ground pepper, to taste
2 tablespoons extra-virgin olive oil
For The Salad:
1 lb green beans, trimmed
1 head butter lettuce, stemmed and leaves separated
1 cup, assorted olives (I like to use kalamata and Spanish olives)
1 lb asparagus
6-8 small cherry tomatoes
1/2 cup chickpeas rinsed
1/2 cup sugar snap peas
1/2 cup artichoke hearts, halved
Flaky sea salt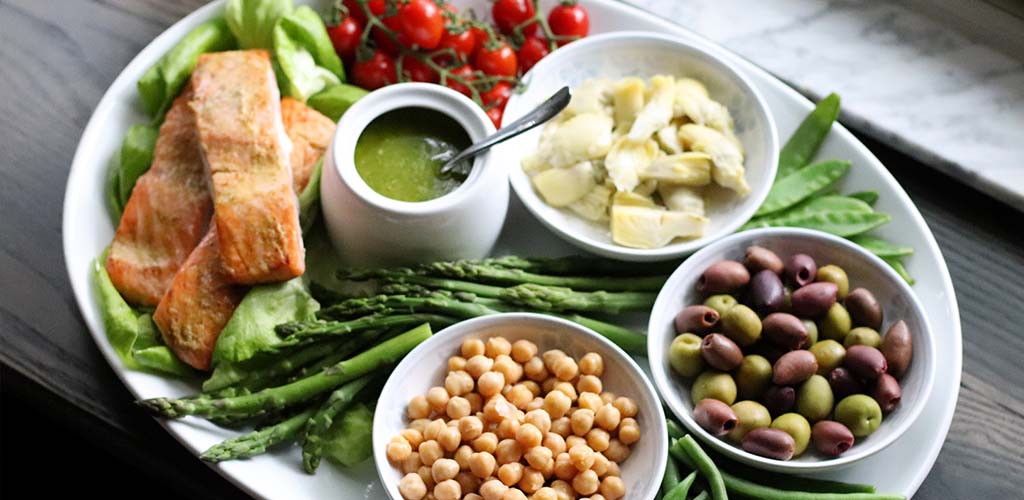 What You Need to Do
For The Salmon:
Preheat an oven to 400°F (200°C).
To make the salmon, pat the salmon dry with paper towels. Place on a tin foil lined baking sheet and brush with the mustard. Season with kosher salt and pepper, then drizzle with the olive oil. Roast until the salmon is opaque throughout, about 13 minutes for medium. Then set aside.
For The Pesto:
In a blender or food processor combine all of your dry ingredients- basil, pine nuts, garlic, salt, pepper and Parmesan.
Pulsate the blender or food processor to chop up and mix the ingredients together. The texture will still be pulpy.
Begin to slowly drizzle olive oil into the mixture 1 tablespoon a time.
Your pesto is done when it is smooth and tangy with a salty bite of garlic. Once done or to your liking, place aside.
For The Salad:
Meanwhile, bring a large pot of salted water to a boil over high heat. Add Asparagus, Green Beans and sugar snap peas and blanche (boil) for 3-5 minutes, just to soften the vegetables slightly. Strain and place to the side.
Arrange all of your ingredients on a serving platter. Break the salmon into large chunks if you like (which is more traditional) or leave whole and place on top of the butter lettuce leaves. This allows for easy removal from the platter.
Pour the pesto into a small serving dish so others may spoon out enough to their preference.
Recipe Tips:
This will stay for 3 days in an airtight container in the refrigerator.
Now the last thing you have to do, as my daughter would say, is Eat, Eat.
You may also like
Toasted Chickpea and Avocado Toast