Thanksgiving Side Dish Special: Brussels, Bacon, and Balsamic

This wonderful Thanksgiving side dish has only seven ingredients, is easy to prepare, and is delicious! It will go well with just about any other item you have on your Thanksgiving menu. Enjoy!
Brussels Sprouts, Bacon, and Balsamic Side Dish
Prep time: 5 minutes
Cook time: 30 minutes
Total time: 35 minutes
What You Need
1½ pounds Brussels sprouts
3 tablespoons olive oil (*I recommend a robust extra virgin olive oil)
¾ teaspoon kosher salt
½ teaspoon freshly ground black pepper
½ teaspoon garlic powder (do not use fresh garlic as it will burn)
1 pound of bacon cooked and cut or crumbled in 1-inch pieces
2 tablespoons balsamic glaze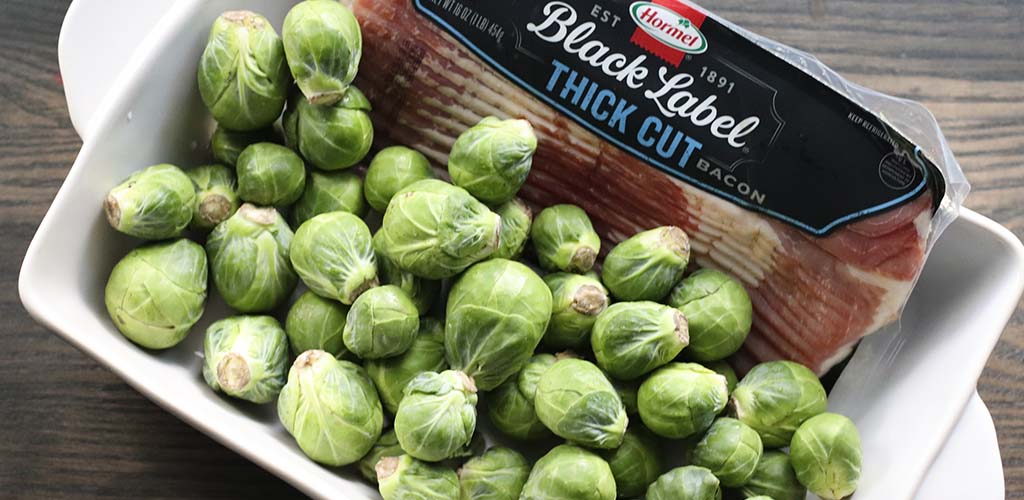 What You Will Do
Preheat oven to 400° F.
Cut off the ends of the Brussels sprouts and pull off any yellow outer leaves.
Cut each Brussels sprout in half. This allows the olive oil to penetrate to the center.
Mix them in a bowl with the olive oil, salt, garlic powder, and pepper.
Once mixed to your liking, transfer everything to a sheet pan.
Roast in the oven for 20-30 minutes or until crisp outside and tender inside. Shake the pan from time to time to brown the Brussels sprouts evenly.
Sprinkle with salt and freshly ground pepper to taste.
While the Brussels sprouts are cooking, warm a large skillet to medium-high heat.
Place the cut bacon into the skillet and cook until crispy. This will take about 8-10 minutes.
Remove the bacon from the skillet and lay onto a paper towel lined plate and place to the side.
Into a large serving dish, place the Brussels sprouts and bacon and toss to combine.
Drizzle with the balsamic vinaigrette and toss again.
Garnish with fresh thyme for serving (optional).
Serve immediately.
Recipe Tips:
If you hate the smell of broccoli or Brussels sprouts cooking (like my children do), it's because of the sulfur being released from the vegetable. Instead of immediately transferring the Brussels sprouts to the sheet pan to cook, you can marinate them in a sealed plastic bag for at least an hour. This allows the gasses to be released prior to cooking and should limit the smell. You will actually see the bag expand. This will also soften the Brussels sprouts and help remove the bitterness that you may find distasteful. Then, continue on to cooking as instructed above.
Now the last thing you have to do, as my daughter would say is, "Eat, Eat."
I would also like to wish you a happy and healthy holiday season from my family to yours! Happy Holidays!
You may also like:
Parmesan Roasted Brussels Sprouts