Grill Season Special: Pesto Burgers

After reading some of my previous posts, I think you get the idea. Our family is a ground turkey household! It's safer for the kids, lighter in flavor yet still can hold robust seasonings very well, it is an excellent source of protein, less calories, and lastly KIDS EAT IT!
As the weather warms up, I start really getting into the grilling season. Not only because this means my husband does half the cooking (win!) but I can also incorporate a ton of interesting flavors into the grill staples such as burgers, chicken, and steak.
One of my favorite sauces to play with is Pesto. It's light but still hearty with a nice nutty flavor and adds a sweet zest to all foods, thanks to the fresh basil and garlic. My previous post was about how to make fresh pesto sauce. I always save the leftovers to use later, ergo where the inspiration for this recipe came from.
Here is one of my grill time favorites, with help from my husband of course: Grilled Pesto Turkey Burgers. I like to give two options of pesto toppings for the burgers: traditional pesto, or a pesto mayonnaise. This recipe will make roughly 8 burgers.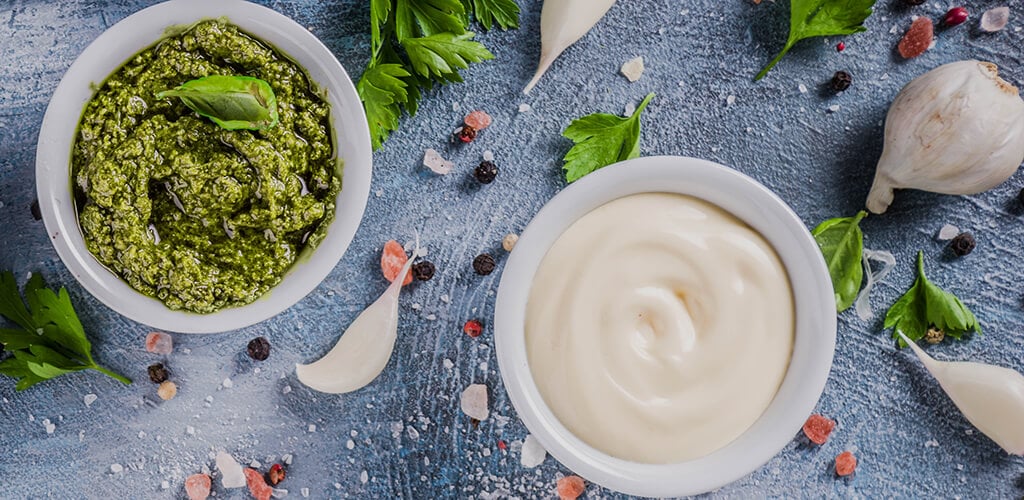 Pesto Burgers
Prep time: 20 minutes
Cook time: 10 minutes
Total time: 30 minutes
Servings: 8
What You Need
For the Burgers:
3 pounds ground turkey
1 1/2 teaspoons kosher salt
1 tablespoon Worcestershire
¼ teaspoon garlic powder
¼ teaspoon chili powder
1/2 teaspoon freshly ground black pepper
Your cheese of choice, my favorites for burgers are Havarti or Muenster as they melt evenly don't overpower the dish
Eight 3-inch-square pieces of tomato cut 1/4in thick
Your bread of choice, or 8 hamburger buns
For the Pesto Mayonnaise:
1/2 cup mayonnaise (or sour cream or Greek yogurt if you like a thicker consistency)
1/4 cup fresh pesto
For the Pesto:
2 packed cups fresh basil leaves
1 cup grated Parmesan
1/4 cup pine nuts
1/2 teaspoon kosher salt
1/4 teaspoon freshly ground black pepper
2 cloves garlic, smashed
1/4 cup extra-virgin olive oil
What You Will Do
For the Burgers:
Place a grill pan over medium-high heat or preheat a gas or charcoal grill. In a large bowl, knead the salt and pepper, Worcestershire sauce, garlic powder, and chili powder into the turkey burger. Form eight 4-inch-diameter patties, each about 3/4-inch thick. Grill for 5 minutes. Flip the burgers and grill for about 5 more minutes until the burgers are cooked through. Muenster and Havarti melt quickly, so put the cheese on only about a minute before pulling burgers off the grill. Allow the burgers to rest for 5 minutes.
For the Pesto:
Please see previous week's post.
For the Pesto Mayonnaise:
In a small bowl, combine the mayonnaise (or again you can substitute sour cream or Greek yogurt) and pesto until smooth.
To assemble the Burgers:
Drizzle the cut side of the bread with olive oil and grill until lightly toasted (I do this for the adult burgers- however not for the children's), 1 to 2 minutes. Plate the buns then place the burgers on top of the bread and add tomato slices. Add 1 dollop of pesto or pesto mayonnaise on top. Add the top halves of the bread and serve.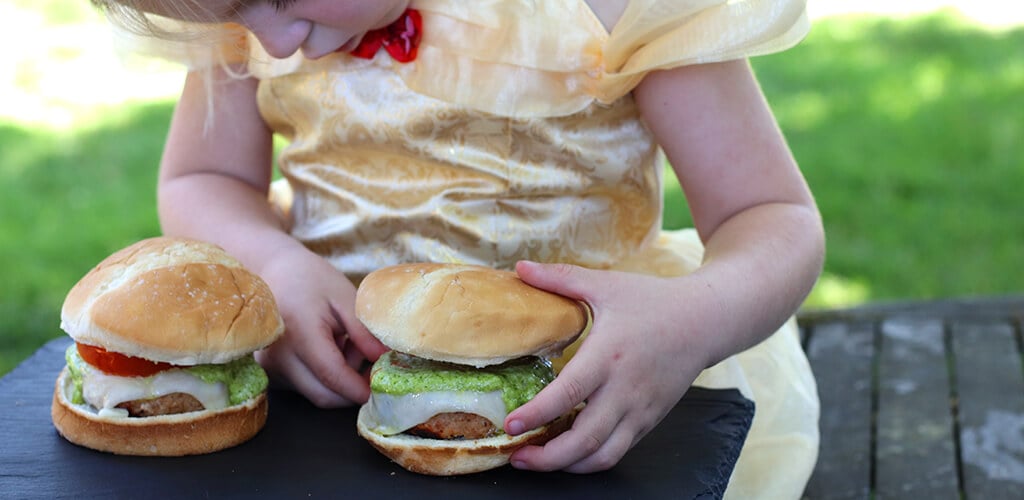 Now all you have to do as my daughter would say is Eat, Eat! In her fanciest princess dress as you can see. My son will say "big truck" which I translate into "mom you are an amazing chef". #Momlife
You may also like
The Caprese Salad