Simple and Sweet: The Caprese Salad

My husband and I have been able to go to Italy twice. Each time I took full advantage, eating a Caprese Salad EVERY SINGLE DAY. This salad is as easy as it is beautiful. I mean it's the same colors as the Italian Flag, what's classier than that? Probably not the fact that I am making this while decked out in my yoga pants. #momlife
You will notice in this recipe I use balsamic glaze as opposed to standard balsamic vinegar. I have found that balsamic vinegar is too acidic with the tomatoes in this dish and has an extremely bitter effect. In Italy, it's very common to either use no balsamic or to make a balsamic reduction. This is an extra touch we found in the fancier restaurants, and really enjoyed it. My advice is to save yourself and your family the time and tears it would take to make a reduction, and buy yourself the simple glaze from your local grocery store.
This salad has a lot of flavor and only uses a few ingredients, which also means it's extremely fresh, easy, and cost effective! Pretty much a triple threat and a win in my book.
Caprese Salad
Prep time: 10 minutes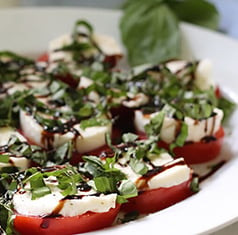 What you need
At least 3 vine-ripe tomatoes, 1/4-inch thick slices*
½ lb sliced Mozzarella cheese
20-30 leaves of Basil (fresh)
At least 2 tablespoons Balsamic glaze
At least 2 tablespoons olive oil
Salt and pepper to taste
*The tomatoes that I recommend are called Campari. They are extremely sweet and uniform in shape. If those are not available (as they were not for this recipe), I choose tomatoes on the vine. These are larger, but less sweet, than the Campari. Do not use Beef Steak tomatoes as they are more water based and have a very bland flavor.
What you will do
First slice the tomatoes into three or four discs, depending on the size of tomato. Place on serving platter with the edges touching, as seen in the photo.
Slice Mozzarella and fit them to each tomato slice.
For the basil: DO NOT CUT WITH A KNIFE. This tears the leaf and it begins to wilt quickly. Instead roll your leaves as you would a beach towel and cut with kitchen shears over the top of your tomato and mozzarella.
Glaze concoction slowly. Your only goal here is to make sure each individual salad bite has some Balsamic glaze on it.
Drizzle with olive oil in the same manner as the Balsamic glaze: slowly and make sure a little olive oil touches each salad bite.
Salt and pepper to taste.
Your goal is to make each bite bright, sweet, juicy and savory.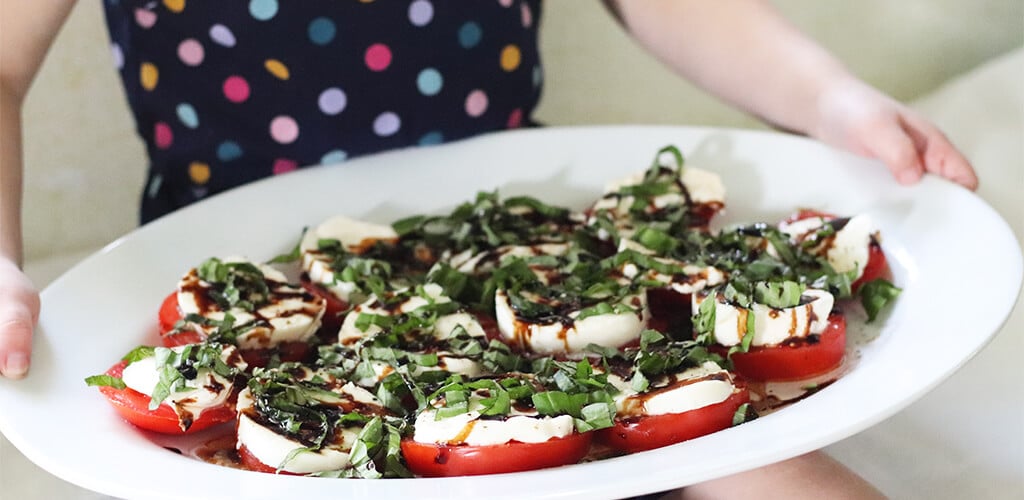 I like to allow my daughter to help make this salad in order to get her a little more excited about fruits and vegetables. Also, I like to live dangerously- so challenge accepted. She loves to help me drizzle the glaze over the tomatoes. I figure it's a creative outlet for her as she gets to go Jackson Pollock style with it. Now of course all you have to do, as my daughter would say, is …Eat, Eat!
You may also like
Herbs Galore