Fresh Peach Pico De Gallo Recipe

Since embarking upon a very restrictive diet, I've replaced salad dressings and sauces with exploring the world of salsas. Pico de gallo is by far my favorite and adding a little fruit, such as peaches or mango, makes for a low-calorie delicious and colorful topping for salads, chicken, pork loin, or fish. Simple yet versatile, I love having a batch of fresh pico in my fridge to pull out throughout the week.
This keeps for up to one week in the fridge (but it never makes it past day 5 in my house!)
Peach Pico De Gallo
Prep time: 20 minutes
Cook time: 0 minutes
Total time: 20 minutes
Servings: 8
Nutrition per serving:
Calories 65Fat 2 gCarbs 12 gFiber 3 gProtein 1 g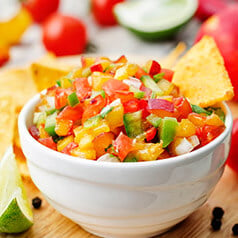 Ingredients
1 lb. tomatoes, diced
1 bell pepper, seeded and finely diced
2 jalapenos, seeded and finely diced
1 medium onion, finely diced
1 1/2 lbs. peaches, diced
1/2 bunch cilantro, chopped
3 tbsp. lime juice
1 tbsp. olive oil
1 tsp salt
1/2 tsp freshly ground black pepper or to taste
Directions:
Dice all vegetables and place in a large mixing bowl.
Pour lime juice and olive oil over.
Sprinkle with salt and pepper; stir to combine.
Store in a covered container in the fridge.
Be sure to check out our other recipes for more delicious and healthy meals.
Try this recipe next
Grain-Free No-Sugar Added Peachy Crisp