New Year's Pasta Primavera

As much as I want to deny it, my children have pretty basic palettes and are not too adventurous in what they will eat. Butter noodles are always high on their list as a crowd pleaser. I think every mom knows that all kids will eat this and is a favorite go to when nothing else will work.
This Pasta Primavera is essentially just an elevated version of butter noodles. According to my daughter it's "red noodles" because of the bright red bell pepper pieces she sees on her plate. My son calls this "moodles" which is just "noodles" in toddler language, however I am taking it as I love you mom and you are the best cook in the world. Anyway, back to the recipe! This dish is bright and colorful. I love the light flavor and that it is a great way to mix ground turkey and vegetables together. I consistently serve this in the first few months of the year when we as a family are trying to get back to a cleaner diet and away from the heavy comfort foods we all consumed during the holiday season. I actually call this New Year's Pasta Primavera because I always make a variation of this typically the day after New Year's. I always have a ton of vegetables left over that I did not use for holiday parties so I am always looking for a way to use them pretty quickly.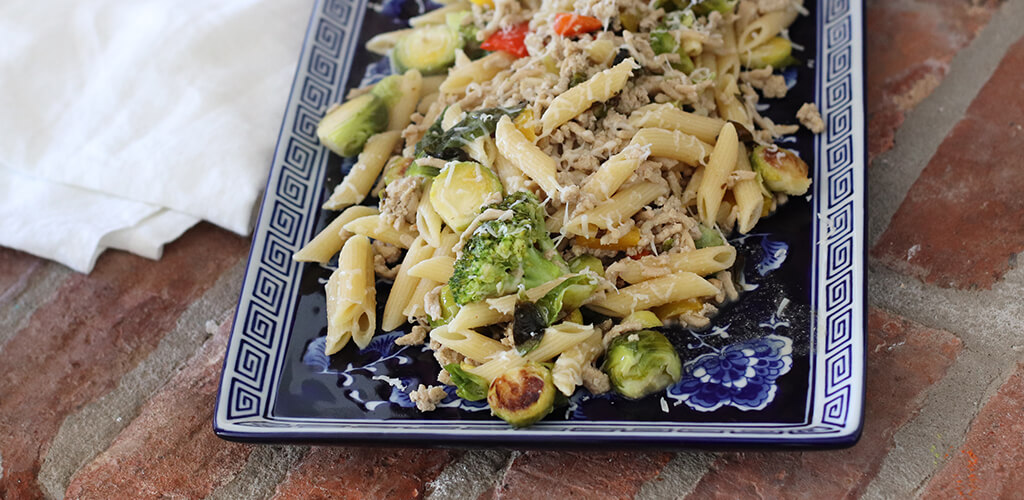 Pasta Primavera
Prep time: 20 minutes
Cook time: 25 minutes
Total time: 45 minutes
What You Will Need
1 garlic clove, thinly minced
1 tablespoon freshly juiced, lemon juice
1 yellow bell pepper, cut into thin strips
1 red bell pepper, cut into thin strips
1/4 cup extra virgin olive oil, split
2 teaspoons Kosher salt
Fresh ground black pepper to taste
1 tablespoon dried Italian seasoning
1/4 teaspoon red pepper flakes
1-pound farfalle (bowtie pasta) or 1lb penne
1/2 cup grated Parmesan
2 cup chicken stock
1.5 lb. Brussels sprouts
1 head of broccoli chopped into florets
1 lb. ground turkey
What You Will Do
You will want to first cook the Brussels sprouts or get them going. Follow this recipe for the Brussels. Once done remove and set aside.
Place your pasta in a large pot of boiling salted (1 teaspoon) water until al dente, tender but still firm to the bite, about 8 minutes or very soft if you are cooking for children, this takes about 10-12 minutes. Place aside.
In a large pan add 1 teaspoon of olive oil to coat the pan and warm over medium heat.
Sauté the garlic, Italian seasoning and red pepper flakes, if you can smell garlic cooking it is ready.
Add in and sauté the ground turkey, breaking it up and stirring as it cooks thoroughly. Add a pinch of salt and pepper as you are cooking it for more flavor.
Once the ground turkey has been browned remove from heat and place aside.
Use the same pan and add the bell peppers and broccoli and sauté on medium heat. This is just to soften the peppers so cook for 5 minutes max.
Take vegetables and pan off of the heat, then add chicken stock and lemon juice and allow to warm.
Toss the freshly cooked and hot pasta with the ground turkey and vegetables. Mix in a large bowl to combine. Toss the pasta with salt and pepper, to taste.
Add the garlic roasted Brussels Sprouts at this time if you like as well.
Continuously sprinkle freshly grated Parmesan cheese and serve immediately. Unless you are serving to children. You must allow the dish to cool for at least 5 minutes prior to serving.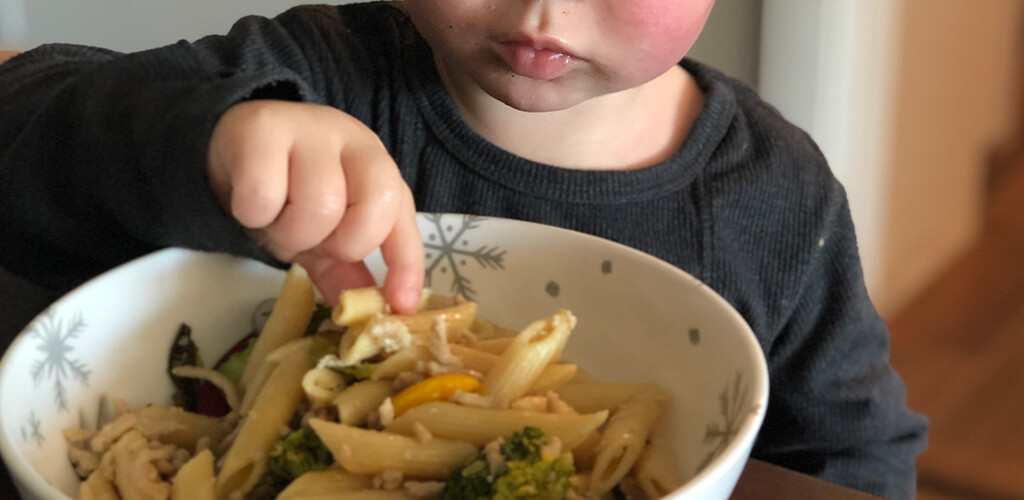 I would like to add, as you see in my recipe, I am using dried white pasta. I understand that this may not match with everyone's dietary needs. Because of this, I would like to recommend some alterations you can perform to this recipe. A great substitute that I would recommend is whole wheat or gluten free pasta, as this will not alter any flavor or taste of the dish. However, if you are low carb or do not eat pasta at all, I recommend serving with zucchini noodles or serving atop cauliflower rice. Both are an excellent partner to this dish. If you do choose to use zucchini noodles, be aware that these will retain a lot of moisture. These noodles (made at home from scratch or purchased in your grocery section) can be boiled in hot water just as you would traditional pasta noodles. However, this is just to soften and warm the noodles. You can also pan fry them with some butter to help release some of the stored moisture.
Because of the noodles ability to retain water (as it is a vegetable) I recommend reducing your chicken stock in the recipe down to 1 cup or else your sauce will be extremely runny, and lack the necessary flavor desired. If you serve atop cauliflower rice, I recommend adding 1 teaspoon of extra salt to your entire dish to balance out the blander flavor that cauliflower tends to yield.
Lastly, all you have to do as my daughter would say Eat, Eat and my son "moodles". Enjoy!
You may also like
The Caprese Salad