Kid Friendly Greek Chicken Meatballs

These Kid-Friendly Greek Chicken Meatballs are a family favorite. They are amazing hot or cold, as a full meal at home or in your lunch box, with sauce or served plain. These are sure to be a hit in your household.
I love to serve these with my Greek Momma Goddess Dip. These meatballs are filling and full of flavor. Not only is it a fun and new spin on a traditional meatball they are also amazingly easy!
You just have to give these a chance.
Kid-Friendly Greek Chicken Meatballs
Prep time: 5 minutes
Cook time: 20 minutes
Total time: 25 minutes
What You Need
Greek Momma Goddess Dip:
½ cup packed fresh dill
½ cup packed fresh mint
½ cup packed fresh parsley
⅓ cup packed fresh basil
2 garlic cloves, chopped
1 ½ tablespoons freshly squeezed lemon juice
Pinch kosher salt, more to taste
½ cup extra virgin olive oil
½ cup crumbled feta cheese
½ cup Greek yogurt
Greek Salad:
6 Campari Tomatoes, halved
1 heirloom tomato, chopped
2 cups diced green peppers
½ cup feta cheese
½ cup arugula
½ cup freshly torn basil
¼ teaspoon kosher salt
¼ teaspoon ground black pepper
Greek Chicken Meatballs:
1 lb ground chicken
2 eggs, whisked
½ cup almond flour
1 cup Italian breadcrumbs
1 teaspoon kosher salt
1 teaspoon freshly chopped oregano
1 teaspoon freshly chopped basil
1 teaspoon freshly chopped dill
½ teaspoon onion powder
1 teaspoon garlic powder
½ teaspoon ground black pepper
1 tablespoon freshly chopped mint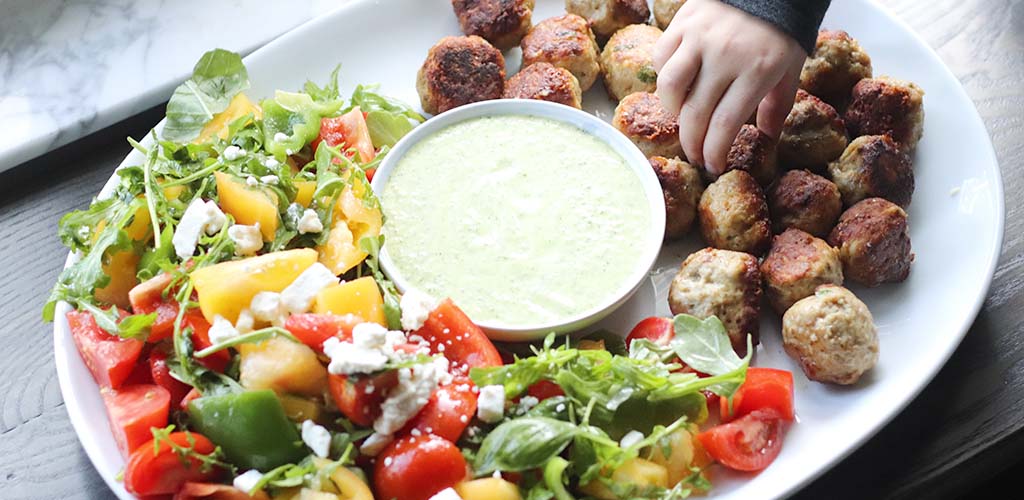 What You Will Do
Greek Momma Goddess Dip:
Place dill, mint, parsley, basil, garlic, lemon juice and salt in a food processor and process until finely chopped.
You will need to use a spoon to push the herbs back down and pulsate.
With motor running, drizzle in the olive oil until fully incorporated.
Add feta and process again until smooth; pulse in yogurt.
Taste dip and add more salt, if desired.
If you like a creamier, richer dip, more traditional dips will add mayonnaise and pulse to combine. I am not a fan of mayonnaise, and so I use an extra 2 tablespoons of olive oil to smooth out the consistency.
Greek Chicken Meatballs:
Combine ground chicken, eggs, almond flour, Italian breadcrumbs, salt, oregano, basil, dill, onion powder, garlic, pepper and mint in a medium mixing bowl. Stir to fully combine or use your hands to fully combine.
Using your hands and a spoon, scoop out 1 1/2 tablespoons of meatball mixture, forming a ball, and place on a large plate. Continue until all of the meatball mixture is separated.
Bring a large cast iron skillet to warm over medium-high heat. To the skillet add a tablespoon of extra virgin olive oil and use a spatula to spread evenly to coat the pan.
Take the chicken meatballs and add to the pan and sear on all sides, about 3-5 minutes.
Turn down heat and continue cooking, about 10-15 minutes or until fully cooked, this is when there is no pink left on the inside. Or if you like to make sure and use a meat thermometer insert into a meatball and make sure that the inside reaches 165 degrees.
Greek Chopped Salad:
Chop up the tomatoes and green peppers and toss with the arugula, feta and basil.
Top with the freshly ground pepper and kosher salt. Toss all of the ingredients to combine.
To Serve:
Place the meatballs and the Greek Chopped Salad onto a large serving platter with a serving dish full of the Greek Momma Goddess Dip.
Serve immediately!
Recipe Tips:
These meatballs will stay in an airtight for up to 4 days in the refrigerator so you can easily make ahead of time. These will also stay for up to 3 months in the freezer after they are fully cooked.
Now the last thing you have to do, as my daughter would say, is Eat, Eat!
You may also like
Lunchbox Lemon and Arugula Pasta Salad