Parmesan Roasted Brussels Sprouts

As you may have seen from some of my previous recipes, you may be wondering how many times you can create a recipe with Brussels Sprouts. This would include such recipes as my Crisp Gnocchi with Brussels Sprouts or my Pumpkin and Brussels Sprouts Brunch and lastly my first recipe ever on the BowFlex website, Kid Approved Garlic Roasted Brussels Sprouts.
Brussels Sprouts are a key vegetable in my house because of my son's love for them. This Brussels sprouts recipe is also perfect for your holiday dinners and super healthy for your everyday meals. You can even make an extra batch because these roasted Brussels sprouts are simply addictive. As a matter of a fact these are so filling, I simply eat them as a meal and forgo cooking anything else!
Parmesan Roasted Brussels Sprouts
Prep time: 10 minutes
Cook time: 40 minutes
Total time: 50 minutes
What You Need:
1 1/2 pounds Brussels sprouts
3 tablespoons robust extra virgin olive oil
3/4 teaspoon kosher salt
1/2 teaspoon freshly ground black pepper
1/2 teaspoon garlic powder (do not use fresh garlic as it will burn)
1 teaspoon Italian seasoning
1/2 teaspoon cumin
1/2 cup freshly shaved parmesan cheese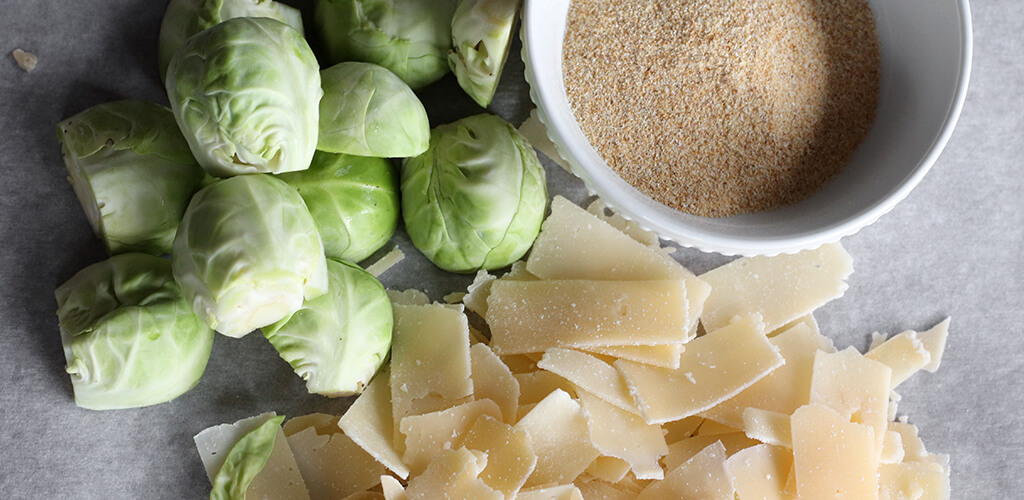 What You Will Do:
Preheat the oven to 400° F.
Cut off the ends of the Brussels sprouts and pull off any yellow outer leaves.
Cut each Brussels sprout in half. This allows the olive oil to penetrate to the center.
Mix them in a bowl with the olive oil, salt, garlic powder, cumin, Italian seasoning, and pepper.
Once mixed to your liking, transfer everything to a sheet pan.
Roast in the oven for 20-30 minutes or until crisp outside and tender inside. Shake the pan from time to time to brown the Brussels sprouts evenly.
Remove the baking sheet from the oven and top with the parmesan cheese. Place back into the oven and roast for 5-10 minutes longer, checking to make sure the parmesan cheese turns golden brown but does not burn.
Remove from the oven again and allow to cool for 5 minutes and then serve.
Now the last thing you have to do, as my daughter would say, is Eat, Eat. However, more importantly as my son would say "Momma I want my Sprouts".
You may also like
Chickpea Noodle Soup