Pumpkin and Brussels Sprouts Brunch

Even though we are now in December, pumpkins and squash are still readily available at the store and make a great winter meal. This recipe really came to mind when I purchased a few too many pie pumpkins for my daughter's virtual school science project. As a woman who hates to waste food, I wanted to come up with a fun way to use them. Voila! My Pumpkin and Brussels Sprouts Brunch was born.
This dish is filling and satisfying, and extremely low in carbohydrates, so you can devour this guilt-free. Though you might be a little pumpkined out at this time of year, this new recipe may have you pulling them out to enjoy in the later holiday season.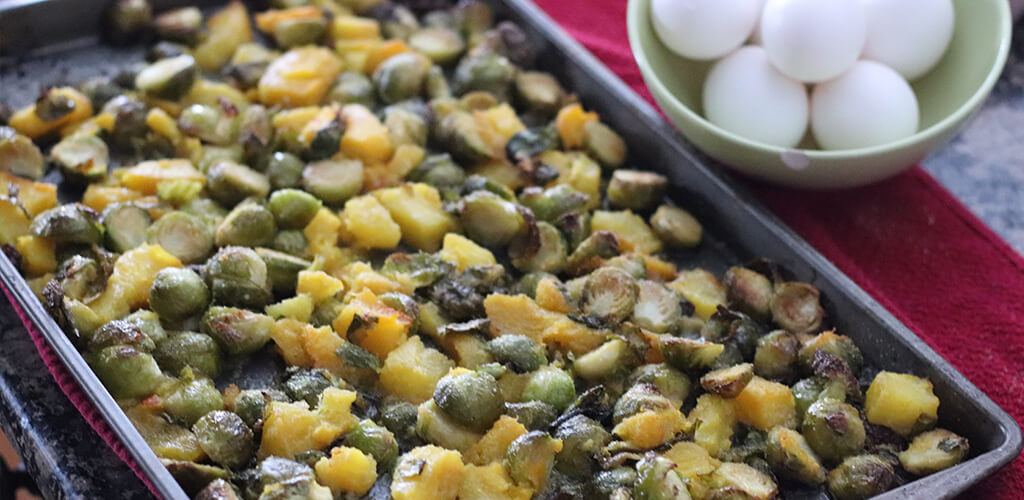 Pumpkin and Brussels Sprouts Brunch
Prep time: 20 minutes
Cook time: 36 minutes
Total time: 56 minutes
What You Need
1 medium pie pumpkin (about 3 pounds) peeled and cubed
1-pound fresh Brussels sprouts, trimmed and halved lengthwise
2 tablespoons garlic powder
½ cup olive oil
1 tablespoon sea salt
½ teaspoon coarsely ground pepper
6 large eggs (this varies based on servings needed)
What You Will Do
Preheat the oven to 400° F.
Prepare the pumpkin
I find it easier to peel pumpkins if I cut them in half and remove the seedy part first with a spoon, making the pumpkin easier and safer to grip.
Place the pumpkin halves-cut side down, on a microwave safe dish with a ½ teaspoon of water in it. Microwave your pumpkin until the skin can be sliced away easily (no more than 3 minutes on high). Let the pumpkin cool enough so it won't burn your finger while peeling.
Once the pumpkin has cooled use a vegetable peeler or a pairing knife and remove the skin.
Cube up the pumpkin and place into an air tight container (large Tupperware bowl) and place aside.
Prepare the Brussels sprouts
Cut the ends of the Brussels sprouts and pull off any yellow outer leaves.
Cut each Brussels sprout in half. This allows the olive oil to penetrate to the center.
Place the Brussels sprouts into the airtight container (large Tupperware bowl) that the cubed-up pumpkin is resting in.
Toss with olive oil, salt, garlic powder and pepper.
Once mixed to your liking, place a lid on the container and allow to rest covered for 10 minutes to allow the vegetables to marinate.
After 10 minutes then transfer vegetables to a baking sheet and roast in the oven for 20 to 30 minutes or until you see the pumpkin just begin to brown and the Brussels sprouts start to have a crisp outside and tender inside.
Pull the baking sheet out of the oven and make 6 nests in the Brussels sprouts and pumpkin and crack an egg into each. Season with salt and pepper. Cover and cook until the whites are set and the yolks are still runny, 4 to 6 minutes.
Remove out of the oven and allow to cool on the baking sheet for 5 minutes, transfer to each individual plate and then serve.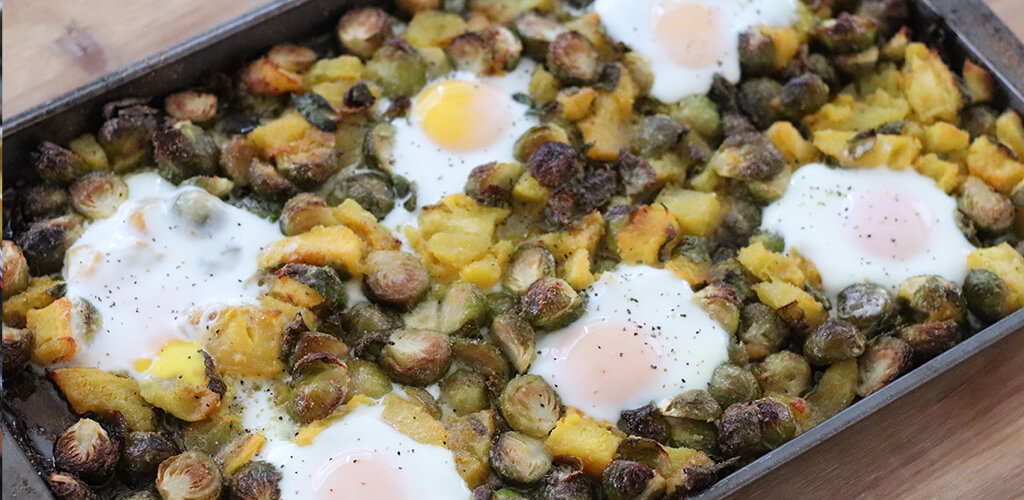 Recipe Tip: For this dish, I was serving for a large group of people. However, while lower in calories, it is very filling. Only use 1 egg per person as a serving size.
Now all you have to do as my daughter would say is "Eat, Eat." Or you can yell, as my son would, "Pumpkin!!!" … Honestly, I understand his energy.
You may also like
Good Egg: Better For You Benny Recipe