Oven Roasted Lemon Cod

When you think of Cod you may not think of anything, heathy but rather the famous, and fried, fish and chips recipes. Though delicious, I wanted to give you another way to cook Cod that is tasty but light leaving you feeling refreshed vs weighted down. Cod is a great lean protein, one 5oz cod fillet contains 9 grams of protein, and is easy to cook. It is a nice meaty fillet that can be a great substitution for other protein and a nice change to your normal routine. Bonus for me, my kids love this!
Oven Roasted Lemon Cod
Prep time: 5 minutes
Cook time: 20 minutes (at max)
Total time: 25 minutes
What You Need
4 - 5oz cod fillets
3 lemons
¼ cup chicken stock
2 tablespoons olive oil
2 sprigs thyme
1 sprig sage
Salt and pepper to taste
1 clove garlic minced
1 tablespoon cold buttered, quartered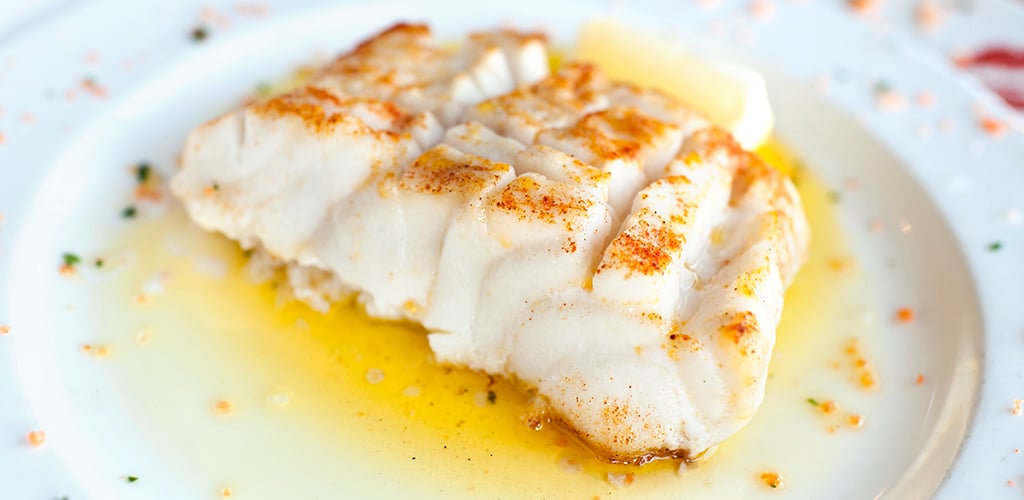 What You Will Do
Preheat oven to 350° F.
In a small bowl whisk together the juice of 1 lemon, chicken stock, olive oil, garlic, salt, and pepper.
Pour half of the mixture onto either a foil-lined baking sheet or into a ceramic nonstick baking dish.
Place the cod fillets onto the baking sheet and pour the remaining mixture over the top.
Place fresh herbs (thyme and sage) on top of and surrounding the cod filets. Place 1 tab of (quartered cold butter) on each cod filet. Place sliced lemons slices on top of each filet.
Place fish into the middle of the oven and roast uncovered for 15-20 minutes, only cooking until the fish becomes opaque and easily flakes with a fork.
Remove from oven and allow to cool for 5 minutes. Top with more salt and pepper and serve immediately.
Recipe Tips:
You may make the marinade ahead of time and marinate the fish for longer if desired. The marinade can be done up to 24 hours before use, simply keep it in the refrigerator in an airtight container. I would suggest marinating the fish only for an hour, and the lemon can start to cook the fish. Make sure to keep refrigerated.
If you need help with a side suggestion, this dish pairs really well with my Spinach Bake. Now the last thing you have to do as my daughter would say is Eat, Eat.
You may also like
Parmesan Roasted Cauliflower