Batch Cooking: One-Pan Roasted Sausage and Veggies

With the New Year comes a focus on meal planning and prepping in my family. This idea doesn't just apply to dinner as a lot of things start back up and schedules get fuller. I need to make sure to plan lunches for the kids as they return to preschool, meals for my husband to take to work, and of course food for me. He has recently been wanting to bring in more lunches to work and focus on eating a little healthier while getting better at meal prepping during the week. With all this happening, I came up with this dish that is simple but great to make in bulk.
I love this dish because not only is it easy, it's also flavorful. This meal is perfect for anyone that meal preps because it refrigerates and heats up well through the week. You can basically use whatever veggies you have on hand or need to use up as this dish is pretty forgiving. The one vegetable that has precise instructions are the red potatoes — you want them chopped pretty small if they are going to bake in the same time as everything else. When I make this recipe, we usually use turkey sausage since we love it and its lighter in calories and fats, but feel free to use whatever sausage you like best. My only advice would be if you use pork sausage, make sure you taste the end product prior to salting. Pork sausage tends to have a high salt content and flavor so you don't want to overdo the seasoning!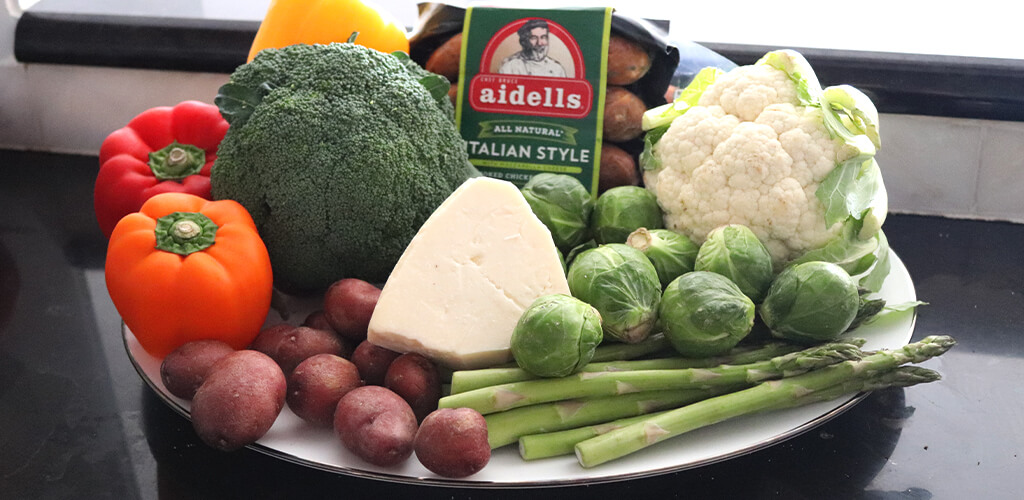 One-Pan Roasted Sausage and Veggies
Prep time: 30 minutes
Cook time: 30 minutes
Total time: 60 minutes
Ingredients
2 cups (1 small) red potato (or multiple fingerling potatoes as I used)
1 large head of broccoli
1 large head of cauliflower
2 cups chopped Brussels sprouts
1.5 cups chopped asparagus (or 1 bunch end removed)
1.5 cups chopped bell peppers 2 large or 6-7 mini sweet bell peppers
9 ounces smoked sausage I use turkey or chicken, not ground sausage
6 tablespoons olive oil
1/4 teaspoon red pepper flakes (optional)
1 teaspoon paprika
1/2 teaspoon garlic powder
1 tablespoon dried oregano
1/4 teaspoon salt
1/4 teaspoon pepper
Freshly grated Parmesan cheese
Directions
Preheat the oven to 400° F.
Line a large sheet pan with tin foil or parchment paper. If you do not have either you MUST spray your baking sheet pan with cooking spray.
Prep the veggies: chop the red potatoes (pretty small pieces here so they will be tender in time), chop the broccoli and cauliflower, chop of the ends of your brussels sprouts and cut in 4ths, chop the peppers into thick squares, and coin (this means chopping each piece of sausage to look like a large coin) the sausage in thick slices.
Place all the veggies and sausage on a sheet pan. Pour the olive oil and all the spices on top. Toss to evenly coat all the veggies and meat.
Bake 15 minutes, remove from the oven and flip/stir all the veggies around. Return to the oven and bake for another 10-15 minutes or until vegetables are crisp tender and sausage is browned.
If desired, sprinkle freshly grated Parmesan cheese over the veggies and sausage as soon as they come out of the oven. Let rest for 10 minutes prior to serving, especially to children.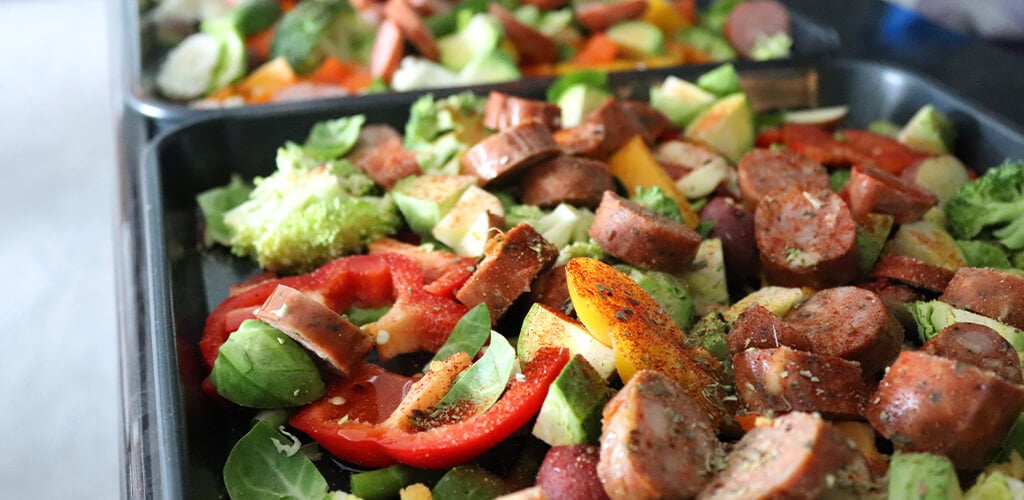 My top tip for roasting vegetables:
Use a LARGE sheet pan: the more space the vegetables (aka the less crowded they are) the better they roast. When vegetables are overlapping, they end up steaming instead of roasting which greatly affects the end taste and texture. They will tend to be softer and lose their crunch if they steam so if possible spread them out. If you do not have a large baking sheet, you can use 2 regular sized ones, as that will give you the same effect. I have a tendency to do this most often, cook with the two sheets mainly due to the varying tastes in my household. My husband wanted his dish to be spicier than the children's, so this was an easy way to make 2 batches in one, with no extra work on my part.
On my husband's sheet pan I used all of the same vegetables. However, I used spicy Turkey Italian Style Sausage and red pepper flakes. For the sheet pan my children and I would be eating I used the same veggies and a Turkey Kielbasa with no red pepper flakes.
You may also enjoy this meal with rice, cauliflower rice, penne pasta or quinoa if you want to stretch the meal out further. I personally like this as one of my lower carb meal options to start off the week! I typically serve this as a Sunday or Monday dinner for the family and then portion out lunches for my husband and children throughout the week.
Now all you have to do as my daughter would say is to Eat, Eat.
You may also like
Stop Overlooking Cauliflower