Navigating the Family BBQ

When it comes to navigating the family BBQ, the toughest part for many of us about trying to eat healthy is feeling deprived at social gatherings, especially during family gatherings. Sure, you could always stay home, but let's face it, who wants to give up their social life with friends and family?
That said, you also don't want to invite unhealthy habits into your life if you can avoid it, right? So make the best choices available.
Most BBQs will have some variation of the following foods: hamburgers, hot dogs, BBQ chicken, potato salad, corn on the cob, deviled eggs, beer, cocktails, chips, veggie tray, watermelon, strawberry short cake.
As a personal trainer and bikini competitor, I would choose the following options: Chicken (remove the skin with the BBQ sauce), corn on the cob (skip the butter), veggie tray items, and watermelon for dessert.
Here's why I chose those items: Let's start with the chicken. BBQ sauce tastes awesome because one of the key ingredients is sugar. From a healthy eating standpoint, it's best to remove the skin coated in sauce. Also, a chicken breast with the skin has more fat (9g) and calories (228) versus skinless which only has 1g of fat and 124 calories.
Corn gets a bad rep because it's starchy and has carbs, but carbs are a necessary part of a healthy diet. A medium ear of corn is about 99 calories, but if you opt for a smaller cob (about 6 inches) it's only 85 calories. Now if you add 1 TBSP of butter, that puts an additional 102 calories to your meal, so skip it. If you miss the flavor, try a butter substitute spray that typically tastes good and has zero calories for 5 sprays. This option is preferable to potato salad which is made with mayonnaise, and a typical 1 cup serving is 357 calories.
Choosing veggies over chips is a no-brainer. In either scenario though, avoid the dip. A typical container of ranch dip has 360 calories and 37 g of fat. Not that I ever hypothetically ate an entire container of dip by myself… but still. Enough dips can pack on sneaky calories you weren't expecting with eating healthy food, right?
For dessert, go for the watermelon over the cake. Watermelon tastes great, is loaded with nutrients, and is only 85 calories for a slice, versus strawberry shortcake which has about 123 calories.
If you really, really love strawberry shortcake and want a lower-calorie version that tastes great, here is a recipe I came up with:
Low-cal Strawberry Angel Food Cake
Prep time: 15 minutes
Cook time: n/a
Total time: 15 minutes
Servings: 1
Serving size: 1 bowl
Nutrition per serving:
Calories 74Fat 0.3 gCarbs 11 gFiber 0.8 gProtein 1 g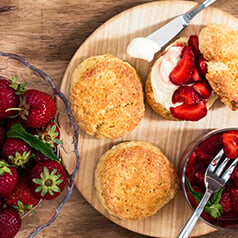 Ingredients
1 slice angel food cake
4 cups strawberries, sliced
Sugar-free vanilla whipped cream
4 bowls
Directions
Put 1 cup strawberries in each bowl
Put 2 TBSP of whipped cream on top
Divide the slice of angel food cake into quarters. Place ¼ of cake on top of each bowl
After you eat your meal, burn off those calories with your kids! If you are looking for an all-purpose way to exercise (without labelling it as "exercise") here is a HIIT (high intensity interval training) game that gets your heart pumping and is ridiculously silly and fun. As an added bonus, it also ties in nicely with July 4th celebrations/fireworks.
Explosion Tag
Explosion Tag is like regular tag, but the person who gets tagged has to "explode" before they become "It". So let's say my daughter is It. Everyone has to run away from her as she chases after them. (Sprinting is not only great for cardio, but is also a power move as you push off your legs to move quickly.)
As I am not particularly fast, she tags me. I then "explode" by squatting low to the ground and then jumping as high as I can, reaching my arms above my head as I say, "Ba-ba-ba-BOOM!" Now I'm It and will pursue the next person.
Kids can get really creative with their explosions. I've seen triple spins, cartwheels and boom noises that could rival sirens.
If you want to go hardcore with it, every time a kid tags an adult, the adult has to do 10 burpees. The adults might not like this rule, but I guarantee that the kids will LOOOOVE it. This rule will also ensure that the adults run faster than would be expected at a typical BBQ game.
Enjoy your holiday weekend!
Read this next
Healthy Grilling Tips