Mother's Day Baby Beet Salad

I love to call this a Mother's Day salad because it's done in 5 minutes and you can eat it all day, which is all I want to do on Mother's Day! Also, I tend to be a bigger fan of beets than my family. What could be a more perfect time to request that this salad be made for me. It is so simple to throw together my kids actually love to help make it. If you love beets and would like another salad option there is my Spring Time Beet and Burrata Salad which is on a base of arugula as opposed to a bed of spring mix. Even if you have someone who isn't a fan of beets and they may be eating this, I can swear by my fiancés testimony that the gorgonzola cheese, bacon and the beets perfectly balance each other and he ate a full serving! Lastly, you can always use fresh beets, but I choose to use canned. They are so easy to strain and serve immediately.
Baby Beet Salad
Prep time: 5 minutes
Cook time: 0 minutes
Total time: 5 minutes
What You Need
For The Salad:
2 lbs. of baby beets, either fresh or canned
1/2 cup chopped up cooked bacon
3 cups of assorted lettuce
2 cups assorted baby carrots
2/3 cup crumbled gorgonzola cheese
2 shallots finely chopped
For The Vinaigrette:
2 cloves of garlic finely chopped
1/4 cup extra virgin olive oil
1/4 teaspoon Dijon mustard
1 teaspoon champagne vinegar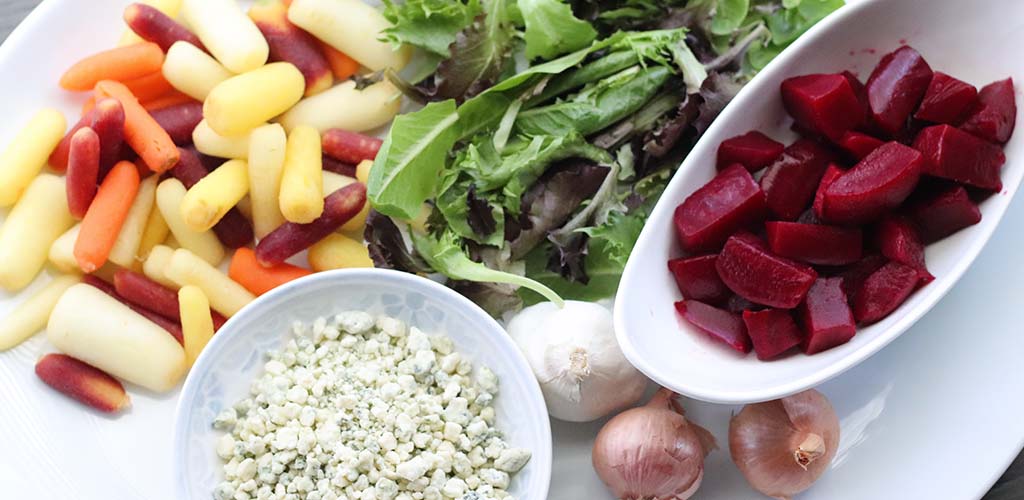 What You Will Do
For the Salad:
Preheat the oven to 400° F.
Onto a baking sheet, lay down 5-6 pieces of thick cut bacon and place into the oven.
Allow to cook for 15 minutes until crispy.
Remove the bacon from the oven and place to the side to cool. Once the bacon has cooled crumble and place to the side.
Chop up the shallots and place to the side.
Bring a pot of heavily salted (2 tablespoons) water to a boil.
Place the carrots in the water and boil for 3 to 5 minutes until soft. Strain and place to the side to cool.
Onto a large serving platter, lay down the bed of mixed spring greens.
On top of the greens, place the carrots followed by the beets and gorgonzola cheese.
Sprinkle the bacon on top of the salad and garnish with any herb you prefer. I love basil.
Drizzle the Vinaigrette over the top of the salad and serve immediately.
For The Vinaigrette:
Place all of the vinaigrette ingredients into a small mixing bowl and whisk together. That's it!
Recipe Tips:
This will last in the refrigerator in an airtight container for up to 3 days.
Now the last thing you have to do, as my daughter would say, is Eat, Eat.
You may also like:
Mother's Day Stone Salad