Mother's Day Stone Salad

This salad is as delicious as it is unique. I love this salad beginning around May when plums, nectarines and corn are in season and available everywhere. If I could, I would make this almost every day. It's a casual, family-style appetizer, but honestly, I like it so much I'd make it my lunch and dinner! It's everything I love about fresh spring and summer food. The bright colors and sweet balsamic will entice everyone to try this amazing dish.
This salad is perfect for a fun and bright Mother's Day brunch that anyone can assemble! There is very minimal cooking, too, as all you do is boil some corn for a few minutes to soften. The rest is simply combining all of the ingredients in a large serving bowl and voila, you are done!
Stone Fruit Salad
Prep time: 10 minutes
Cook time: 5 minutes
Total time: 15 minutes
What You Need
3 small ripe nectarines cut into wedges
3 small ripe plums cut into wedges
4 ears of sweet yellow corn shucked and silk removed, and boiled to soft
8 ounces fresh burrata drained and patted dry
1/3 cup chopped fresh basil
2 teaspoons white balsamic vinegar
1 tablespoon extra-virgin olive oil plus more as needed
1/2 teaspoon kosher salt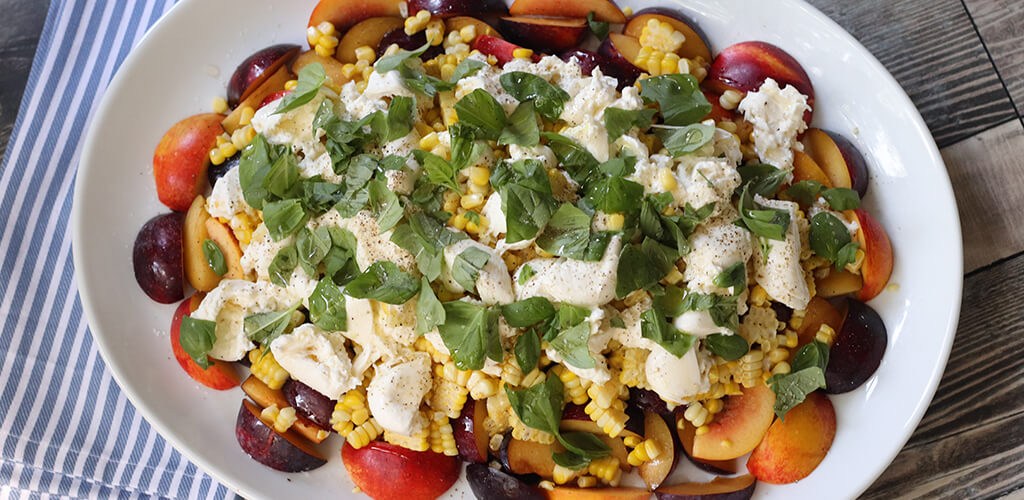 What You Will Do
Bring a medium pot full of heavily salted (2 tablespoons) water to a boil.
Place the cleaned corn into the boiling water and boil for 5 minutes, just to soften the kernels. You will know the corn is done when it starts to take on a deeper golden color. Run the pot under cool water and allow to cool before slicing.
Once the corn has cooled, using a sharp knife slice the kernels off of the corn and place aside.
In a large bowl or platter lay down a bed of the cut plums and nectarines, then top with the corn kernels. Next, tear the burrata with your hands and arrange them over the salad.
Next top with the freshly torn basil.
Drizzle the 2 tablespoons of balsamic vinegar all over the top of the salad, followed by the 1 tablespoon of olive oil.
Lastly, sprinkle with Kosher salt to taste.
Serve immediately.
Recipe Tips:
This recipe does well with any stone fruit in season, you can sub in peaches easily for either ingredient.
You may substitute mozzarella for burrata if you like.
This dish is also amazing as a bruschetta on top of some toasted ciabatta bread.
Now the last thing you have to do as my daughter would say is Eat, Eat.
You may also like
How To Show Mom Appreciation All Month Long