Lemon and Parmesan Oven Roasted Asparagus

I always try to come up with some grand way to jazz up asparagus such as my Zucchini and Asparagus Clean Spring Salad or my Mushroom, Asparagus, Snap Pea and Edamame Stir Fry. However, I realized I never just created a simple Asparagus recipe that can be ready super-fast and with very little prep. Those are the best kind of recipes, right? This recipe will make the perfect side dish to any meal you are having.
Lemon and Parmesan Oven Roasted Asparagus
Prep time: 5 minutes
Cook time: 10-15 minutes
Total time: 20 minutes
What You Need
2 lbs of freshly trimmed asparagus
1/4 cup extra virgin olive oil
1/4 cup freshly shaved parmesan cheese
2 tablespoons garlic powder
4 tablespoons lemon juice freshly squeezed from 2 lemons
Salt and pepper to taste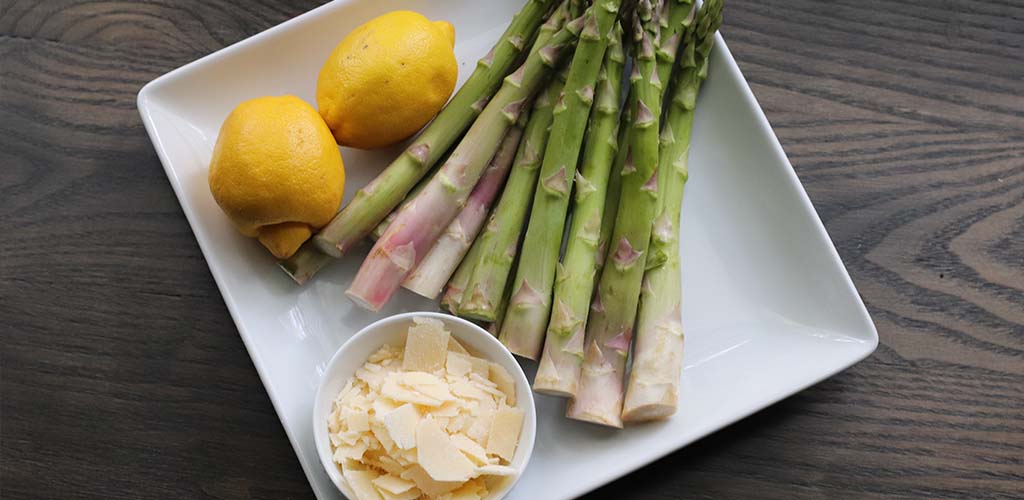 What You Will Do
Preheat the oven to 425 degrees.
Trim the ends off of the asparagus and place onto a baking sheet.
Drizzle the olive oil over the asparagus.
Season with salt and pepper and toss.
Place the baking sheet into the oven and bake for 10-12 minutes.
Remove the baking tray from the oven and sprinkle the parmesan cheese over the top and place back into the oven.
Bake for 3-5 minutes longer until the parmesan is brown and bubbly.
Once done, remove the asparagus from the oven and drizzle with the freshly squeezed lemon juice and allow to cool.
Once cooled, top with any fresh herb you like (I chose Basil) and serve.
Recipe Tips:
When eating asparagus, you must remove the bottom fibrous ends. This is because no matter how long you cook it, it will remain hard.
This will stay in the refrigerator for 2 days in an airtight container.
Now the last thing you have to do, as my daughter would say, is Eat, Eat.
You may also like:
Lemon and Herb Roasted Cauliflower