Zucchini and Asparagus Clean Spring Salad

I feel life, and especially food, is all about balance. Many families, mine included, during the holidays probably indulge a little bit more, as we should. Food is an amazing way to bond with our loved ones.
However, after the holidays I need a clean, and most importantly a no hassle, quick salad to help me reset. This salad is just that. Fresh zucchini, asparagus, toasted pine nuts, shaved parmesan, fresh dill and a zesty lemon vinaigrette hits the spot.
Zucchini and Asparagus Clean Spring Salad
Prep time: 5 minutes
Cook time: 5 minutes
Total time: 10 minutes
What You Need
For The Salad:
2 zucchinis, with the ends trimmed and shaved
1 lb. asparagus, chopped, and ends trimmed and removed
3 tablespoons toasted pine nuts
For The Vinaigrette:
1/4 cup extra virgin olive oil
2 tablespoons lemon juice
1/2 Shallot, finely diced
1/2 teaspoon salt
1/4 teaspoon freshly ground black pepper
1/4 teaspoon coarse brown mustard
1/2 teaspoon champagne vinegar
1/4 teaspoon light amber agave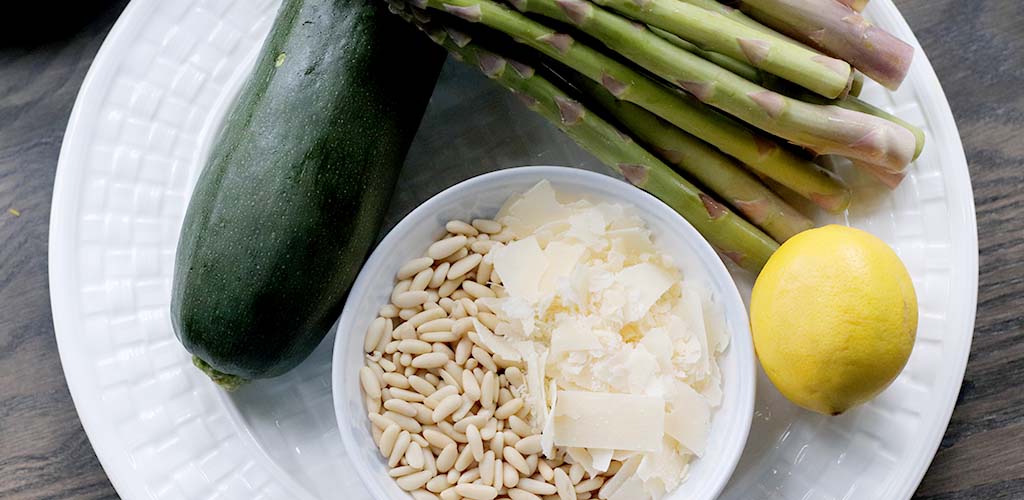 What You Will Do
Place the oven on Broil, High. Allow to reach that desired temperature before moving forward.
Place the 3 tablespoons of pine nuts onto a baking sheet and place in the oven.
Allow the pine nuts to toast for only 2-3 minutes. While watching them. This is all it will take to bring the pine nuts a toasted brown color.
Remove the pine nuts immediately and place to the side.
Chop up the asparagus, in 1-inch sections, discarding the bottom fibrous section.
Bring a small pot of salted water (1 tablespoon) to a boil.
Place in the asparagus and allow to boil for about 3-5 minutes. You don't want to cook the asparagus all the way through, you just want to soften the vegetable slightly. Once done, which you will know when the asparagus becomes deeper in green color, remove and strain and place aside.
Using a vegetable peeler, shave the zucchini into long thin strips. First removing the skin and discarding. Thinly slice the asparagus on a diagonal. Toss the slices together and place the salad on a large serving platter or bowl.
Place the asparagus on top of the zucchini strips.
In a small bowl, combine the olive oil, lemon juice, shallot, brown mustard, champagne vinegar, agave, salt, and pepper. Stir to combine and drizzle over the vegetables.
On top place the shaved parmesan, toasted pine nuts, dill and extra salt and pepper. If you would like, toss to combine.
Serve immediately.
Recipe Tips:
When eating asparagus, you must remove the bottom fibrous ends. This is because no matter how long you cook it, it will remain hard.
I also always blanch my asparagus as I find eating raw asparagus to be extremely bitter.
Now the last thing you have to do, as my daughter would say, is eat, eat.
You may also like
Chicken Fajita Salad