Lunchbox Lemon and Arugula Pasta Salad

Repeat after me, carbs are not the enemy. Well, in moderation of course.
Anytime I cook a pasta dish I love it to be purely multifunctional. Dinner the night before served hot, as a snack, cold or packed away for my family's lunches the next day. This is reminiscent of my Italian Antipasti Salad a salad served all day and in all ways.
The balance of flavors in this dish is truly amazing. The sweet agave balances out the peppery arugula. The bright flavors of lemon balanced against the salty and hearty parmesan cheese. I know I say this a lot, but I think this dish is perfect!
Lemon and Arugula Pasta Salad
Prep time: 5 minutes
Cook time: 10 minutes
Total time: 15 minutes
What You Need
Lemon Basil Vinaigrette:
1/2 cup extra virgin olive oil
1/4 teaspoon Herbs De Provence
2 tablespoons freshly squeezed lemon juice
3 tablespoons freshly torn Basil
2 tablespoons light amber agave
1/4 teaspoon kosher sea salt
Pasta Salad:
1 16 oz package Fusilli pasta
1/2 cup toasted pine nuts
Freshly torn Basil, for topping
Shaved parmesan, for topping
3 cups fresh baby arugula
What You Will Do
Bring a large pot of heavily salted (at least 2 tablespoons) water to boil.
Pour in the Fusilli pasta and cook until, Al Dente. Normally I say to follow package directions, however you should add 2 minutes to that time as you will be serving cold you want the pasta to stay soft.
Drain and allow the pasta to come to room temperature. If you want to serve this dish hot for the first time as I did, then swap this step to last.
Place the oven on Broil, High setting. Allow the oven to reach that desired temperature before moving forward.
Place the 3 tablespoons of pine nuts onto a baking sheet and place in the oven.
Allow the pine nuts to toast for only 2-3 minutes. While watching them. This is all it will take to bring the pine nuts a toasted brown color.
Remove the pine nuts immediately and place to the side.
Chop up the basil very fine and bruise it a little to help release the flavors. Place to the side for the next step.
In a mason jar, add all of your ingredients for the vinaigrette, especially the freshly chopped basil, place a cap on top and shake until the dressing is combined.
In a large bowl, combine the pasta, baby arugula, toasted pine nuts, and toss with the vinaigrette until thoroughly combined. Top with shaved parmesan, more freshly torn basil, kosher salt to taste and serve immediately.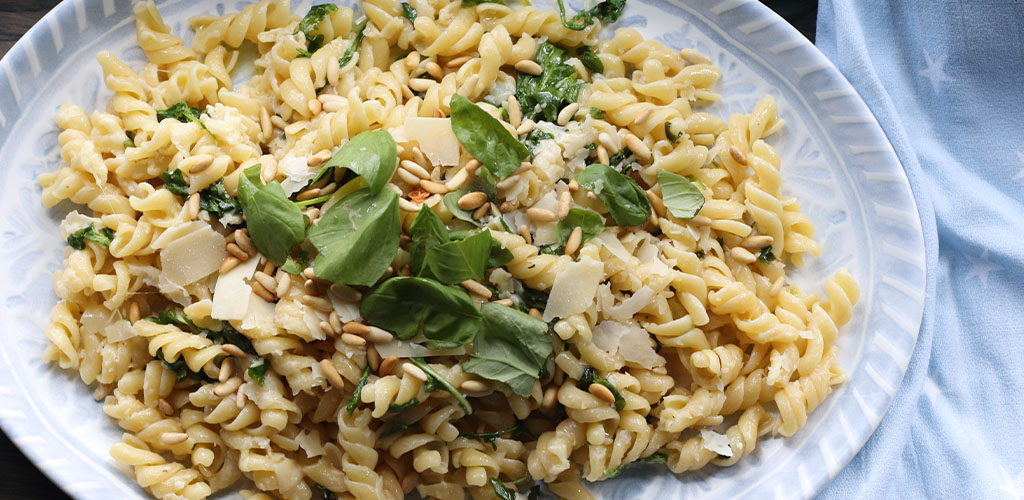 Recipe Tips:
I do not use any pepper in this recipe as you will find that the arugula adds a spicy bite.
This will last in the refrigerator for 3 days in an airtight container, this can also be reheated easily on the stove or in the microwave or served room temperature.
Now the last thing you have to do, as my daughter would say, is Eat, Eat
You may also like
Chicken Fajita Salad