Italian AntiPasti Salad

Tell me you love a charcuterie board, without telling me you love a charcuterie board. Sorry I just had to!
I love this salad because it combines the fresh flavors of basil, tomatoes, fresh vegetables and lemon with the zesty kick of an Antipasti platter! However, my favorite thing about this dish, is that there's no cooking required! This is perfect for summer.
This salad is perfect in every way imaginable. This salad doesn't even have to stay as a salad. You can even toss this with pasta for a hearty dish. That is typically the most common way I use any leftovers! Bingo- Two meals in one!
Italian Antipasti Salad
Prep time: 20 minutes
Cook time: 0 minutes
Total time: 20 minutes
What You Need
For the Salad:
12 oz fresh Burrata
2 1/2 cups cherry tomatoes, halved
8 medium compari tomatoes, or 4–5 vine ripened tomatoes
1 cup green olives, I like to use Castelvetrano, pitted and halved
12 oz artichoke hearts
12 oz jarred mushrooms
1 green pepper chopped
4–5 small sweet peppers chopped
5 ounces prosciutto
5 ounces dry Italian salami, such as Genoa, cut into half-moons, as I like to call them
1 cup fresh basil, torn
For The Dressing:
3 tablespoons lemon juice, from 1-2 lemons, depending on size
2 tablespoons extra virgin olive oil
¼ teaspoon Dijon mustard
¼ teaspoon agave
1 teaspoon kosher salt
¼ teaspoon red pepper flakes, optional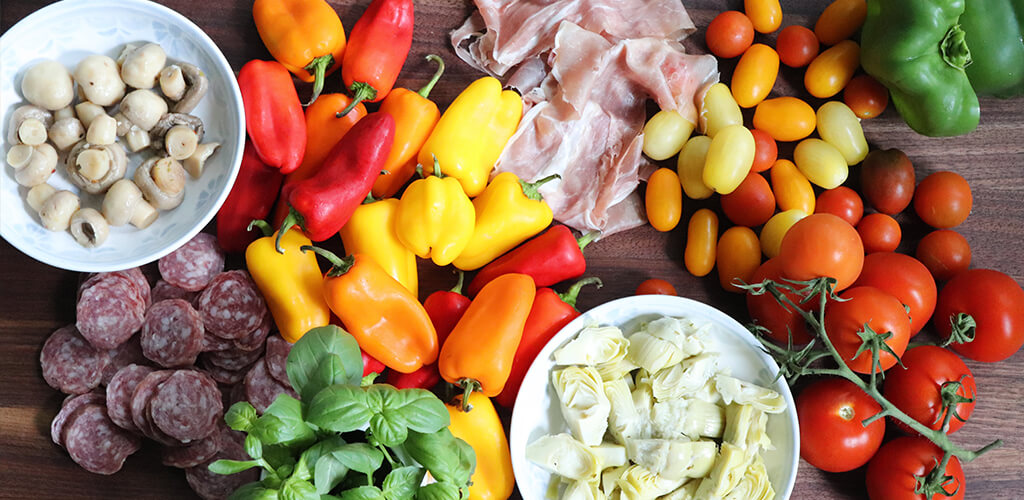 What You Will Do
In a small mixing bowl, whisk together the lemon juice, olive oil, Dijon mustard, agave, kosher salt and red pepper flakes until the vinaigrette is completely emulsified. Then set aside.
Strain and rinse the green olives, artichoke hearts, and mushrooms and place aside.
Using a large serving platter, add the tomatoes, green pepper and sweet peppers, artichoke hearts, mushrooms, and Genoa salami. Next tear the burrata cheese over the top of the salad, top with the green olives, and freshly torn basil.
Pour the dressing you had placed aside over the salad mixture, and toss!
Season again with salt and pepper to your liking and serve immediately.
Recipe Tips:
If you have leftovers or are storing, cover and refrigerate for up to 4 days.
If you would like a more traditional salad, please reference my recipe for Simple and Sweet: Caprese Salad.
Now the last thing you have to do as my daughter would say is Eat, Eat. Or today let's say Mangia, Mangia!
You may also like
Steak Salad: Picky Eater Approved