Kid-Friendly Kielbasa Pasta

Kielbasa and Dijon Mustard is a super classic combination that almost everyone, except my fiancé apparently, loves. My fiancé says that the mustard always overpowers the flavor of the kielbasa and he wished it was less potent. I took it upon myself to prove that he could love it, and I wanted to make it a meal for the entire family. So, I decided to turn it into a cozy pasta dish and mix up the flavors a little bit.
You can use whole wheat or gluten free pasta and your children and family won't notice the difference! I used a gluten free penne and my children gobbled this up just as if I used a normal white pasta.
Kielbasa Pasta
Prep time: 5 minutes
Cook time: 15 minutes
Total time: 20 minutes
What You Need
1 tablespoon olive oil
12 ounces of kielbasa, sliced
1 shallot, finely chopped
3 cloves of garlic, finely chopped
1 and ½ teaspoons thyme, removed from stem
½ cup heavy cream, or any other milk alternative you like
2 tablespoons Dijon mustard
2 tablespoons salt
¼ cup freshly grated Parmesan cheese
10 ounces gluten free or whole wheat penne or other short pasta you like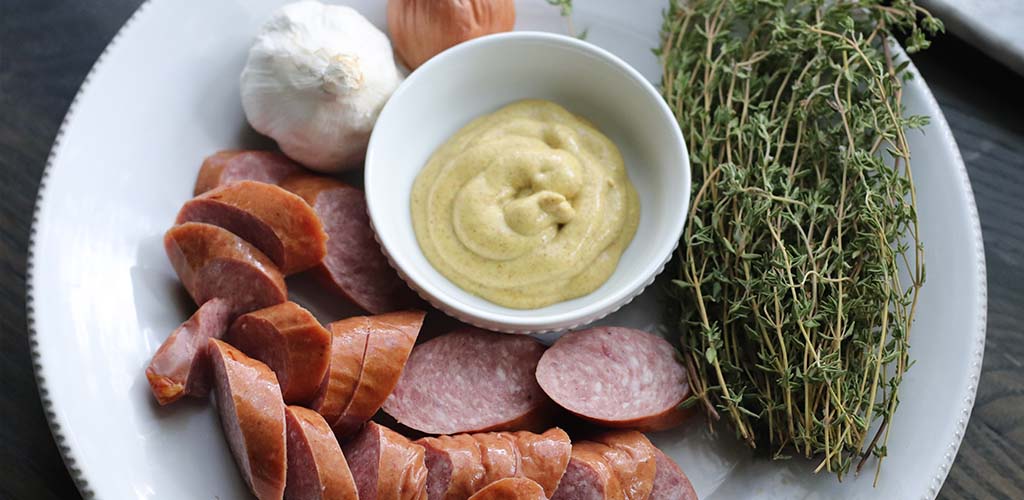 What You Will Do
Bring a pot of heavily salted (2 tablespoons) water to a boil and cook the pasta according to package instructions.
Heat the olive oil over medium heat in a large skillet.
Into the skillet, add in the thyme, chopped shallot and garlic and warm through, this will only take about 2-3 minutes. When you can smell the garlic and shallot cooking move on to the next step.
Add the sliced kielbasa and sauté until it starts to brown and crisp on each side this will take about 5 minutes.
Into the same pan pour in the heavy cream and Dijon mustard and stir to combine until it starts to bubble.
Add the parmesan cheese and stir to combine all together, allow to simmer on low for a few minutes.
Add the cooked pasta to the mustard cream sauce and stir to combine. Allow to cool for 5 minutes.
Top with a few fresh pieces of thyme to serve.
Recipe Tips:
Dijon has a strong bite to it. So, if you are unsure of the flavor follow the recipe but use 1/2 tablespoon at a time to get to your desired flavor.
If the consistency is too thick for your liking, reserve the pasta water and pour in 1 tablespoons of water to the pasta dish and stir.
This will stay in an airtight container in the refrigerator for 3 days.
To reheat, use a saucepan on the stove and you may add 1/4 cup of chicken stock to thin out the sauce as it would have thickened up in the refrigerator overnight.
Now the last thing you have to do, as my daughter would say, is "Eat, Eat."
You may also like:
Batch Cooking: One-Pan Roasted Sausage and Veggies