Winter White Beans and Kale

I love how the flavors change when we transition from Summer to Fall and Winter. Kale is the perfect cooked superfood. I love to partner Kale with robust flavors such as a hearty protein, or simply to serve by itself.
I think you will find that this is so filling you may even just eat this as your full meal. This would make an excellent partner to my Easy Roasted Lamb, which can be served this time of year as well.
This recipe takes a total of 15 minutes to cook from start to finish, it's definitely worth a try!
Winter White Beans and Kale
Prep time: 5 minutes
Cook time: 10 minutes
Total time: 15 minutes
What You Need
8 oz Cannellini beans, 1 can
16 oz freshly torn kale, chopped
1 shallot, chopped finely
4 cloves garlic peeled and chopped
1/2 cup extra-virgin olive oil
2 teaspoons kosher salt
1/2 teaspoon red pepper flakes
1/2 cup freshly shaved Parmesan cheese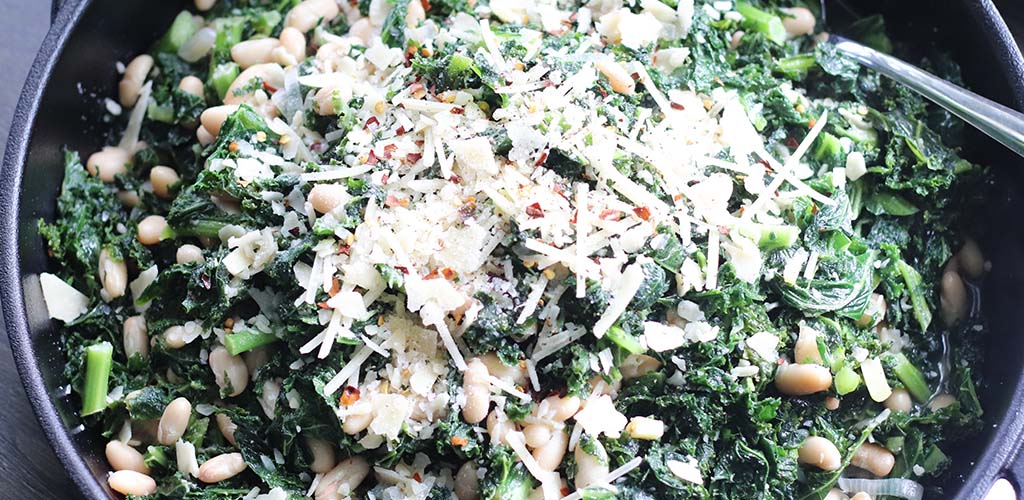 What You Will Do
Open the can of cannellini beans and rinse and drain, place to the side to dry.
Add 1/4 cup of olive oil in a large pot and warm.
Add your chopped garlic and shallot and sauté for 1 to 2 minutes. Once you can smell the garlic and shallots aroma, it's ready.
Begin to add your kale handfuls at a time with 2 tablespoons of extra virgin olive oil with each batch and cook until it wilts over medium-high heat, about 5-10 minutes, depending on how fast you can throw your kale in.
Stir in the can of cannellini beans and stir to warm, just for a few minutes (2-3 minutes at most).
Remove from heat and pour into a large serving platter or skillet.
While the dish is still warm top with the shaved parmesan cheese, red pepper flakes and salt and pepper to taste.
Serve immediately.
Recipe Tips:
This will stay in your refrigerator for 3 days in an airtight container.
If you'd like the dish to have more of a sauce, you can add in ½ cup of chicken broth or vegetable broth as you are sautéing the kale, I tend to do this from time to time. This also allows the kale to wilt and cook faster. The more moisture that kale is cooked with, the softer it becomes.
Now the last thing you have to do, as my daughter would say, is Eat, Eat! Enjoy!
You may also like
Winter Fruits and Veggies