Husband Favorite: Bacon Arugula Pasta

Normally, my recipes focus on what my children's favorite foods are, and though they do like this one, it's more my husband's favorite. It could just be because there is bacon in it, but he really loves it – so much so he asked me to cook this 3 times in one week! I of course did, but now that I am thinking about it, I don't know if that is love or just enabling an addict…
Anyway! Here is my bacon and arugula pasta. I am sure it will become one of your family's favorites as well.
Bacon Arugula pasta
Prep time: 10 minutes
Cook time: about 20 minutes
Total time: about 30 minutes
What You Need
1 ½ tablespoons Kosher salt
12 ounces dried spaghetti
1 package bacon, finely diced
1/4 cup extra-virgin olive oil
3 tablespoons (about 4 big cloves) minced garlic
1 teaspoon red pepper flakes, plus more to taste
2 teaspoons freshly ground black pepper, plus more to taste
1/4 cup fresh lemon juice
1 1/2 cups freshly grated Parmigiano-Reggiano cheese, plus more for serving
3 cups baby arugula
2 cups chicken broth
What You Will Do
In a large pot of heavily salted boiling water, cook the spaghetti to al dente according to the package directions. This is normally 8-10 minutes long.
Meanwhile, in a large skillet, cook the bacon over medium-high heat until crisped, 7 to 9 minutes. Remove and place to the side.
Drain the excess bacon grease from your pan.
Combine the olive oil, garlic, red pepper flakes, and black pepper in the pan you just cooked the bacon in and cook until fragrant, about 1 minute. This will also help to break up the browning from the bacon on the bottom of your pan and add some extra flavor.
Add lemon juice to the mixture in the skillet, mix for 1 minute.
Throw in the drained pasta and toss to coat.
Add the bacon and Parmesan then toss, adding in the chicken stock a couple of tablespoons at a time, just to help the cheese coat the pasta.
Add the arugula last and mix in until it wilts, about 1 minute.
Season to taste with additional salt, lots of black pepper, and red pepper flakes (if you like it spicy: I do this for my husband not for my children).
Serve with more Parmesan. We use so much Parmesan in ours it starts to stick together and create these "cheese balls" that my daughter just loves.
Serve immediately!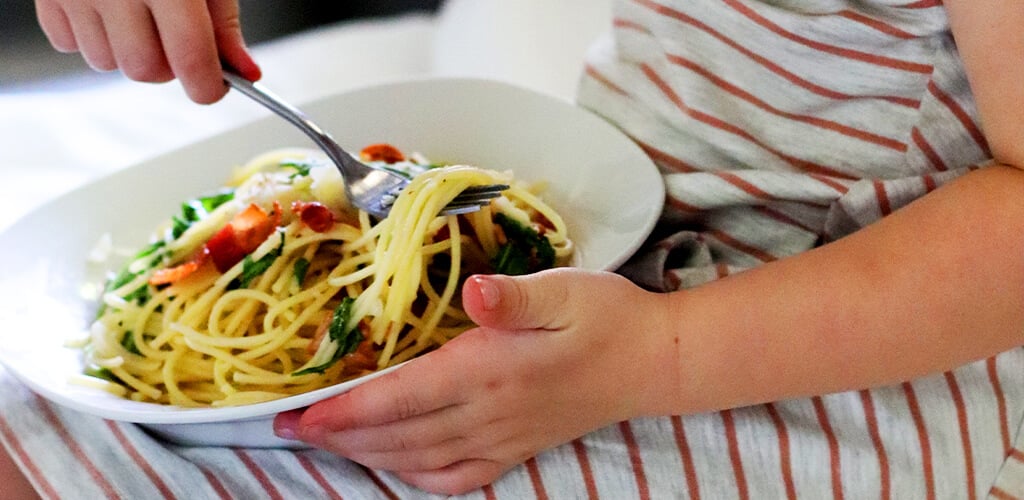 As always as my daughter would say. Eat, Eat! My husband and son can't say anything because they are devouring all of the bacon in this pasta dish.
You may also like
The Caprese Salad