On-the-Go High Protein Mug Muffin

High protein breakfast. Between what the research says, clients' experience, and my own personal diet, high protein breakfasts work. They offer multiple benefits, including keeping you fuller longer, help control hunger levels throughout the day (even at night) more than a high carb breakfast, and aid in maintaining lean muscle mass, which is something we all want no matter what our age or fitness goals are.
Here come the dilemmas: high carb breakfast (think cereal, oatmeal, bagel, etc) are quicker and I don't know about you but I get burnt out on eggs, even when I mix things up with different omelet concoctions and egg bakes. We all need a little variety and this dietitian needs a muffin now and then! I don't like overly sweet stuff that tastes more like dessert though. How excited I was to stumble upon pre-made microwaveable high protein high fiber muffin in a mug products: mix in water, stir, and microwave for 60 seconds. And they keep me full, offer variety, and satisfy my desire for a baked good now and then.
They're pricey though. And my kids want them now too so I set out to develop the best homemade muffin-in-a-mug recipe. After several attempts, fails, and recipe alterations I came up with one my entire family enjoys and I hope you do too!
High Protein Mug Muffin
Prep time: 12 minutes
Cook time: 60–90 seconds
Total time: About 13 minutes
Servings: 1
Serving size: 1 mug
Nutrition per serving:
Calories 345Fat 15 gCarbs 23 gFiber 6 gProtein 29 g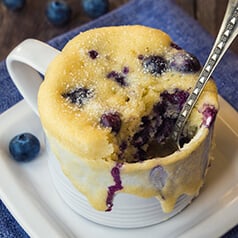 Ingredients
½–1 scoop whey protein powder (15g)
2 tbsp. oat flour (grind oats in blender to make flour)
¼ tsp. baking powder
1 tsp. cinnamon
1 whole egg
1 tbsp. nut butter
2 tbsp. milk of your preference or water
¼ tsp. vanilla extract
Dash of salt
Optional: ¼ cup berries, 1 tsp. sweetener of your choice
Directions
Coat coffee mug with cooking spray.
Place all ingredients in mug and mix until well combined. Make sure no dry ingredients are left at the bottom.
Microwave on high for 60-90 seconds.
Let sit for 2 minutes to cool. Enjoy!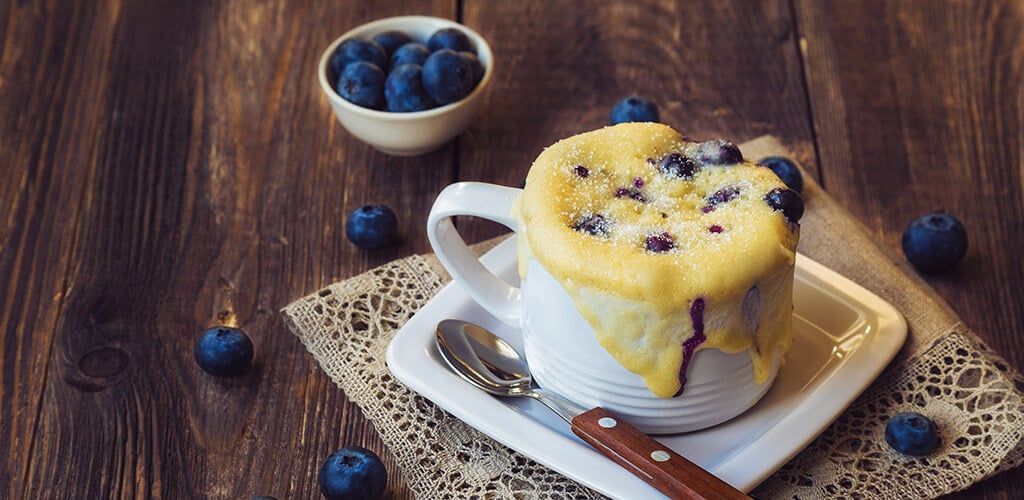 Be sure to check out our other recipes for more delicious and healthy meals.
You may also like
Breakfast To Go: Breakfast Burritos