Breakfast to Go: Breakfast Burritos

No time to lose in the morning? Need a portable breakfast option that can be ready to go at a moment's notice? Check out these grab-and-go breakfast burritos!
Freezer Breakfast Burritos
Prep time: 12 minutes
Cook time: 8 minutes
Total time: 20 minutes
Servings: 8
Serving size: 1 burrito
Nutrition per serving:
Calories 330Fat 18 gCarbs 28 gFiber 5 gProtein 20 g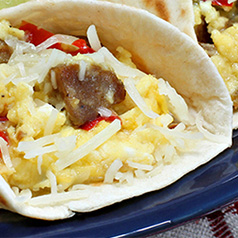 Ingredients
2 tablespoons olive oil
1/2 onion, finely chopped
1 medium red bell pepper, chopped
1 cup fresh spinach
5 small mushrooms, sliced
4-6 slices Canadian bacon
10 large eggs
1/3 cup milk
1 cup shredded cheddar cheese
8 whole wheat tortillas
Directions:
Heat oil in a large skillet over medium heat. Add onion, pepper, and mushrooms. Saute for 5 minutes or until tender.
Add spinach and cook for 1 minute. Remove cooked vegetables from pan and set aside.
Whisk the eggs and milk together until well combined. Heat remaining oil in pan and add the eggs. Stir occasionally.
Add cooked scrambled eggs to vegetables and stir to combine
Place each of the tortillas on a piece of plastic wrap.
Add a scoop of egg/vegetable mixture to tortilla and top with cheese.
Roll tortillas up, wrapped in plastic and place in freezer Ziploc bag.
To reheat, place one burrito on a plate and cook in microwave for 90 seconds to 3 minutes, or until heated thoroughly.
Tip: Pull out burrito the night before you want to eat and let thaw in refrigerator to decrease cook time for the next morning.
Try this recipe next
Give Your Breakfast Some Color: Rainbow Omelet Recipe