Healthy Pumpkin Spice Latte Recipe

I'm the first one to admit guilt for loving everything pumpkin. Come October (or maybe even mid-September!), I've got pumpkin on my mind. From hot frothy pumpkinny lattes to pumpkin bread and pumpkin-pie smoothies, these Fall-time treats can still be healthy and delicious. Save money AND calories with this deliciously indulgent, yet lower-calorie version of the one and only Pumpkin Spice Latte.
Slimmed-Down Pumpkin Spice Latte
Servings: 1
Serving size: 2 cups
Nutrition per serving:
Calories 105-190Fat 3.5 gCarbs 20-38 gFiber 1 gProtein 2.5 g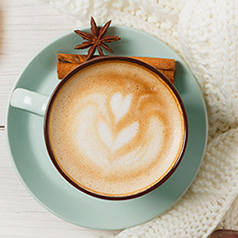 Ingredients
1 cup (8-10oz) hot coffee
1-2 tbsp. pumpkin puree (not pumpkin pie filling)
½ tsp. cinnamon
¼ tsp. pumpkin pie spice
½ tsp. vanilla
1 cup hot milk of your choice
1 tbsp. maple syrup or agave syrup (or other liquid sweetener)
Directions:
Combine all ingredients except hot milk with hot coffee and stir thoroughly.
Pour in hot milk.
Adjust spices and sweetener to your taste preference.
Pour into a mug and enjoy!
Tip: Start with a pumpkin spice coffee for extra pumpkin flavor.
Try this recipe next