Creamy Pumpkin Pasta

I love a savory sauce – not too sweet and not too salty. The combination of pumpkin with garlic and mascarpone does just that. This is a great spin on my seasonal favorite ingredient, pumpkin!
I know you may have read the title and thought to yourself "Oh no, not another pumpkin recipe." However, I promise you that the pumpkin flavor does not come through. The flavor is more that of a butternut squash and the pumpkin puree is not sweetened. If my children love it then I think its easy to say that you will too!
Creamy Pumpkin Pasta
Prep time: 10 minutes
Cook time: 20 minutes
Total time: 30 minutes
What You Need:
12 ounces Bucatini or any pasta you prefer
1 tablespoon unsalted butter
2 cloves garlic minced
1/4 cup nonfat milk
1 cup pumpkin puree (not pumpkin pie filling)
3 ounces mascarpone cheese
1/2 teaspoon kosher salt
1/4 teaspoon black pepper
1/8 teaspoon ground nutmeg
1/4 teaspoon red pepper flakes
1 teaspoon cranberries for topping
2 tablespoons chopped fresh basil leaves for topping
2 tablespoons freshly toasted pine nuts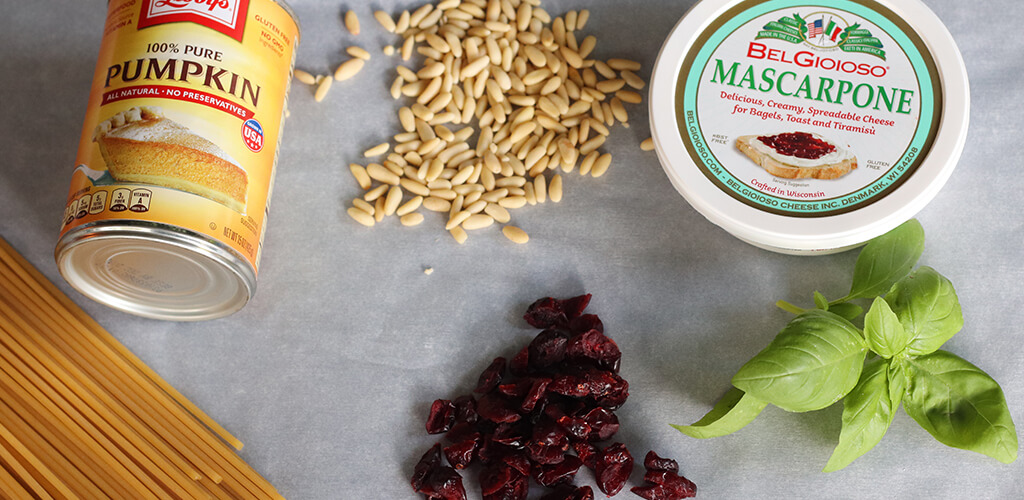 What You Will Do:
Bring a large pot of salted water to a boil and cook the pasta to al dente, according to package instructions this will take about 8-10 minutes as Bucatini is a thicker pasta. Drain the pasta, and set aside.
Add one tablespoon of olive oil in a large saucepan over medium heat. Once hot and sizzling, Add the garlic and cook for 30 seconds.
Add in the pumpkin puree, nutmeg, and red pepper flakes and sauté to warm, followed by the mascarpone cheese. Stir consistently.
Slowly pour in the milk a few splashes at a time, then let cook, stirring constantly, until the sauce bubbles and thickens, this will take about 5 minutes - 8 minutes.
Add the cooked pasta to the pan and gently toss to combine. Thin the pasta with a bit more nonfat milk as needed if it seems too thick.
Serve immediately, topped with cranberries, fresh basil, toasted pine nuts and salt and pepper if you like.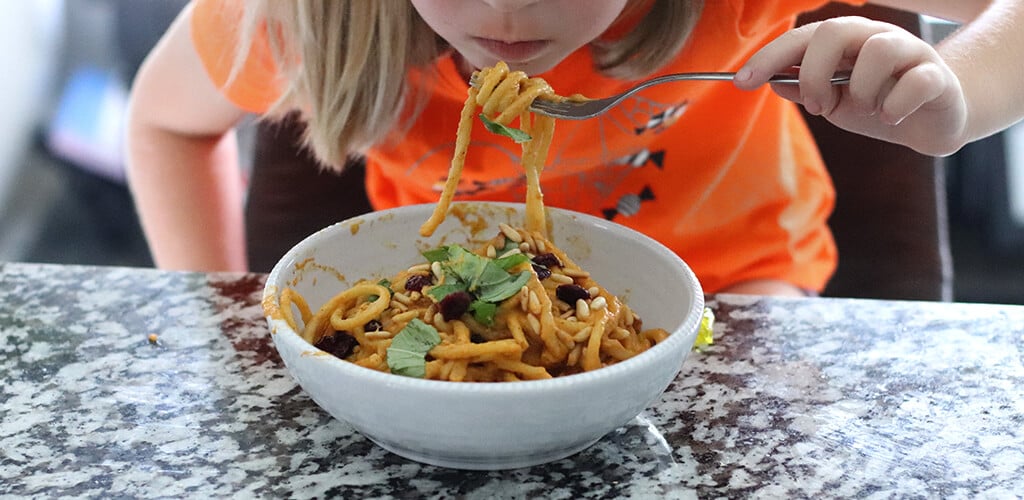 Recipe Tips:
The reason not to use pumpkin pie filling is because that is sweetened prior to canning and will make the sauce too sweet.
This will stay in an airtight storage container in the refrigerator for up to 4 days.
If you would like to reheat leftovers, I recommend warming slowly in a sauce pan over medium heat.
Now the last thing you have to do as my daughter would say is Eat, Eat.
You may also like
Almond Flour Pumpkin Pancakes