Weeknight Wonder: Turkey Meatballs

This recipe is a Monday night favorite for the kids and I. I think it's the healthy comfort food we all need on a rough start to our week, and let's be honest, who doesn't have hectic Mondays. What makes this recipe extra easy is that there is no browning of the meatballs required as there is normally with the traditional beef version. This is because the turkey, with the whisked egg, binds extremely well and with the use of a slow cooker, allows the meatballs to stay in shape yet cook through. The browning process was why I used to hate making meatballs, it was always a bit of a mess and felt to be a bit of a production. Well, not anymore. Once you have your meatball mixture ready, simply drop the formed balls into the sauce and let the slow cooker do its job!
You can fully prepare this the night before, then stick it in the fridge overnight using the slow cooker for storage. Then in the morning, pull it out, turn it on and you go about your day, knowing you'll have some perfectly delicious meatballs awaiting you! You can serve these with roasted vegetables, some crusty bread, or with a side of pasta which is the way my kids love it. Honestly, my favorite is just to eat them by themselves! With the holidays in full swing, this recipe is also a great appetizer – if you have a few extra family members over, or something you can throw together to give yourself a break after all the holiday cooking.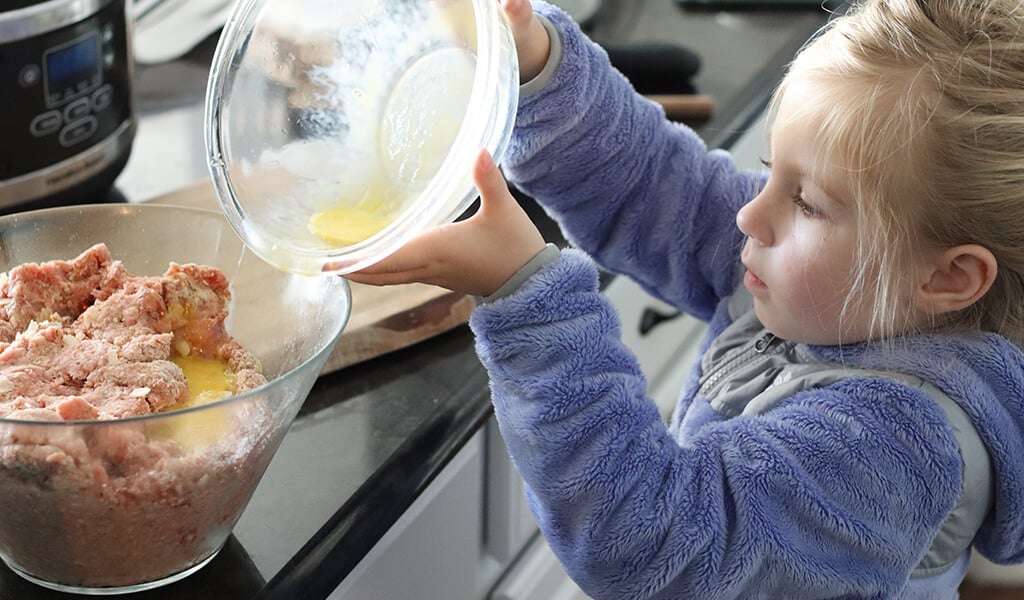 Turkey Meatballs
Prep time: 20 minutes
Cook time: 5 1/2 hours
Total time: 5 hours 50 minutes
What You Need
For the Sauce:
1 ½, 30 oz cans tomato sauce (this totals 45 ounces) you may use more to your liking
2 teaspoons dried oregano
1 teaspoon kosher salt
1/2 teaspoon freshly ground black pepper
2 cloves Fresh minced garlic
1/4 tablespoon chili powder
1/4 teaspoon cayenne powder
1/2 tablespoon Italian seasoning
1/4 teaspoon Red pepper flakes
For the Meatballs:
1 cup Italian breadcrumbs
½ cup grated Parmesan cheese
3/4 teaspoon kosher salt
½ teaspoon freshly ground black pepper
1 large egg, whisked
½ teaspoon garlic powder
1-pound ground turkey meat
1-pound mild Italian sausage
What You Will Do
For the Sauce:
In the slow cooker pot, add the cans of tomato sauce, dried oregano, salt, pepper, chili powder, cayenne powder, Italian seasoning, red pepper flakes, and minced garlic. Stir to combine and set aside.
For the Meatballs:
In a large bowl, combine the breadcrumbs, Parmesan, salt, pepper, egg, and garlic powder. Using a wooden spoon, stir till blended together.
Add the ground turkey and sausage meat. Using your fingers, gently mix all the ingredients until thoroughly combined. Using a small ice cream scoop (or your hands), form the meat mixture into balls (this will make 24 to 26 meatballs). I personally use my hands and make larger meatballs (10-12 meatballs) as my children find the larger size more fun to eat.
Add the meatballs to the slow cooker with the tomato mixture. If you need to make a second layer of meatballs, gently press on the first layer to slightly flatten and fully cover in the tomato sauce and then add the next layer on top. It's okay if they aren't fully covered in sauce, they will still all cook evenly.
Cover with lid and cook for 5 hours on high. After the 5 hours, remove the lid and cook an additional 30 minutes on high to reduce the sauce slightly. Serve with freshly grated parmesan and some crusty bread (it is Monday after all).
Recipe Tips:
You may substitute in spicy Italian sausage for the mild Italian sausage if you would like a little more spice added to your meal.
Cooking Time: If you plan to be at work or away from the crockpot for longer than 5 hours, this is an easy switch. Simply place your slow cooker on low and plan to cook for 7 1/2 hours.
Now all you have to do as my children would say is Eat, Eat.
You may also like
Weeknight Special: Shell-less Taco Salad