Fourth of July Firecracker Ribs

Happy Fourth of July and cheers to the biggest grilling day of the season! I'm bringing my own twist on this delicious holiday food for you though. I have another traditional outdoor grill item that I will be cooking in the oven for you! I love to cook these sticky ribs in the oven so I can free up my grill space for a ton of other options such as my Grill Season Special: Pesto Burgers or my Kid Approved Garlic Roasted Brussels Sprouts which are perfect outdoors!
These ribs are delicious, sticky and surprisingly light thanks to all of the zesty herbs and pallet cleansing ginger. Also, with all of the flavors they need no other seasonings or heavy sauces! These simply are the best!
Fourth of July Firecracker Ribs
Prep time: 10 minutes
Cook time: 1 hour 20 minutes
Total time: 1 hour 30 minutes
What You Need
2 lbs pork ribs, separated
2 Tablespoons Extra Virgin Olive oil
3 garlic cloves, minced
2 tablespoons of fresh ginger, peeled and sliced, about 3 slices
1 teaspoon dried chili flakes
1 teaspoon chili powder
¼ teaspoon ground clove
4 tablespoons agave
¼ cup soy sauce
2 tablespoons rice vinegar
5 green onions, sliced
1 small shallot, chopped finely
2 tablespoons chives, minced
2 cups chicken stock
1 teaspoon Sea salt
1 teaspoon black pepper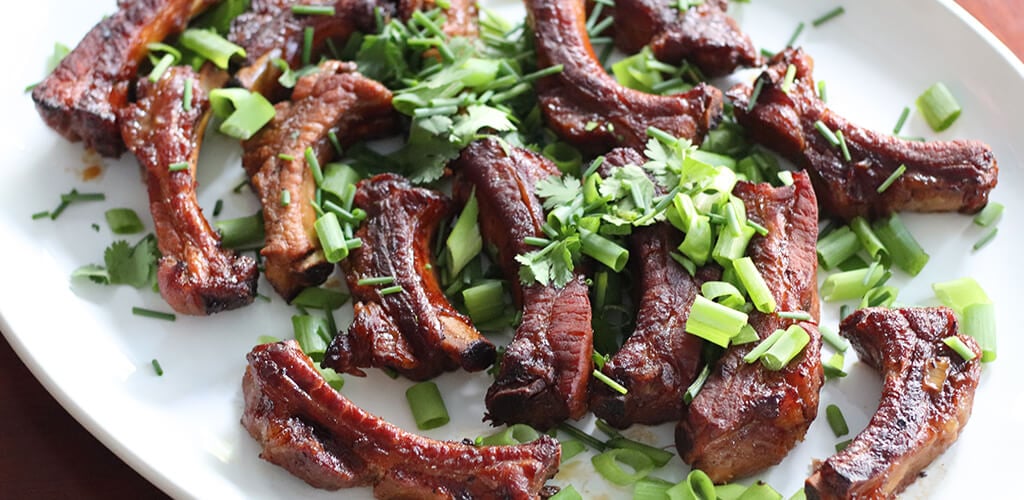 What You Will Do
Preheat the oven to 350° F.
Heat a roasting pan on the stove burner to medium high heat. Add the extra virgin olive oil and allow to warm.
Season the ribs with half of the salt and pepper and place into the roasting pan on the stove. Roast the ribs for 5-10 minutes until they start to become brown, turning so each side has browned.
Add the garlic, ginger, chili flakes, chili powder, ground clove, and agave and continue to cook over the heat for 2 minutes until the agave begins to caramelize, meaning starting to take on a very deep color.
Add the soy sauce and rice vinegar and bring to a boil, simmering for 2 minutes. Taste and adjust the flavors, adding more vinegar and salt and pepper, if necessary.
Add the chopped shallot and chicken stock and bring to a boil, allow to boil for 2 minutes.
Place the roasting dish UNCOVERED in the preheated hot oven and cook for 1 hour until tender, turning the ribs halfway through at 30 minutes to make sure each side cooks equally in the roasting liquid.
Remove the pan from the oven and test the ribs level of doneness. You should be able to easily shred the meat with a fork from the bone at this point. If you cannot, place the ribs back in the oven and continue to roast checking each 15 minutes.
Once fully done remove the ribs from the oven and allow the ribs to cool in the pan and absorb more of the juices for 10 minutes.
Remove the ribs and place on a large serving platter or in a large bowl and top with freshly minced chives and chopped green onions.
Recipe Tips:
If you don't have a roasting tray that can be used on a stovetop burner, you can brown the ribs in a sauté pan or cast-iron skillet and then transfer to a roasting pan for the oven.
You may pour the roasting liquid into a large serving bowl or gravy boat to be served with the ribs, if people would like to add more sauce onto the plate.
Now the last thing you have to do is Eat, Eat! Sorry, the last, last thing you have to do is Have a Happy Fourth of July everyone!
You may also like
How to throw a Foolproof Family BBQ