Fall Citrus Chicken and Vegetables

Chicken and vegetables are a simple and continuous mainstay in pretty much all households. However, this dish takes a new spin on those flavors adding bright zest and a large variety of textures. When I think of Fall foods I think of savory dishes with complex overlapping flavors. This dish fits just that criteria. This lunch or dinner meal only takes 20 minutes from start to finish and will be truly delicious. You have to give it a try.
Fall Citrus Chicken and Vegetables
Prep time: 10 minutes
Cook time: 10 minutes
Total time: 20 minutes
What You Need
2 Valencia or Navel oranges
3 tablespoons extra-virgin olive oil
4 boneless, skinless chicken breasts
Kosher salt and pepper
2 cloves garlic, thinly sliced
1 shallot finely chopped
1/2 cup chicken broth
1 pound asparagus, cut into 2-inch pieces
2 cups fresh snap peas
1 cup fresh or frozen edamame
1 tablespoon fresh lemon juice
2 tablespoons chopped fresh dill
What You Will Do
Juice the 2 oranges into a bowl and place aside. Slice the oranges into slices and also place aside.
Heat oil in a large skillet on medium-high heat.
Place the chicken breasts in the skillet and season with salt and pepper, to taste and cook until golden brown on each side. This takes about 3 minutes per side. Turn chicken, reduce heat to medium, add chopped garlic and chopped shallot and cook, stirring the garlic and shallots and chicken in the pan constantly.
Add orange juice and cook for 2 minutes, then add in the chicken broth and bring to a simmer.
Add the chopped-up asparagus, sugar snap peas, and edamame and cook, covered, until vegetables are tender, about 2 to 3 minutes.
Fold in the oranges slices and the lemon juice to the dish, toss to combine and remove from the heat and allow to cool.
Pour the entire meal onto a large serving dish and top with fresh dill and any other fresh herbs you prefer.
Serve immediately!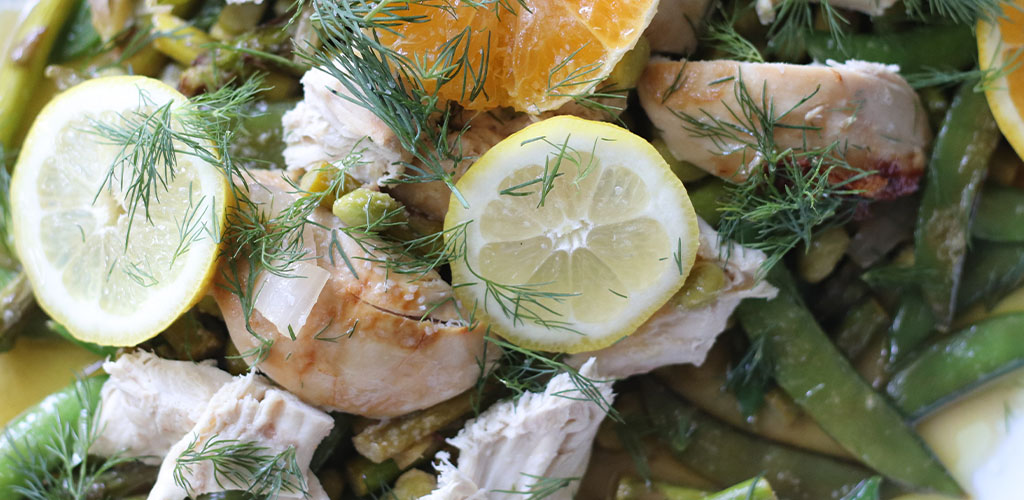 Recipe Tips:
You can also use any type of orange you would like. Even mandarin oranges may be used. I have tried this and love the sweetness is provides. If you do use mandarin oranges increase the lemon juice to 2 tablespoons.
This recipe will last in an airtight container in the refrigerator for 3 days.
Now the last thing you have to do as my daughter would say is Eat, Eat.
You may also like
Chicken and White Bean Lettuce Wraps