End Of Summer Corn and Avocado Salad

Warm weather normally means moving on to fresh exciting and palate cleansing recipes. Or Thursday as we call it here in always humid Florida.
This simple salad takes just minutes and dresses up any meal. With its bright colors and filling nature makes it an easy salad to take to any BBQ or party. It also pairs perfectly with ribs, grilled chicken and pork, as well as darker meats such as grilled steaks!
This salad, as well as my Caprese, is my go-to side dish when I am hosting a party or heading to my friend's BBQ. I like how easy it is to throw together yet is different from the normal side salad by offering new zesty flavors. I also love the fact that they are cheap, easy, and kid friendly. So that's a win, win, win I suppose!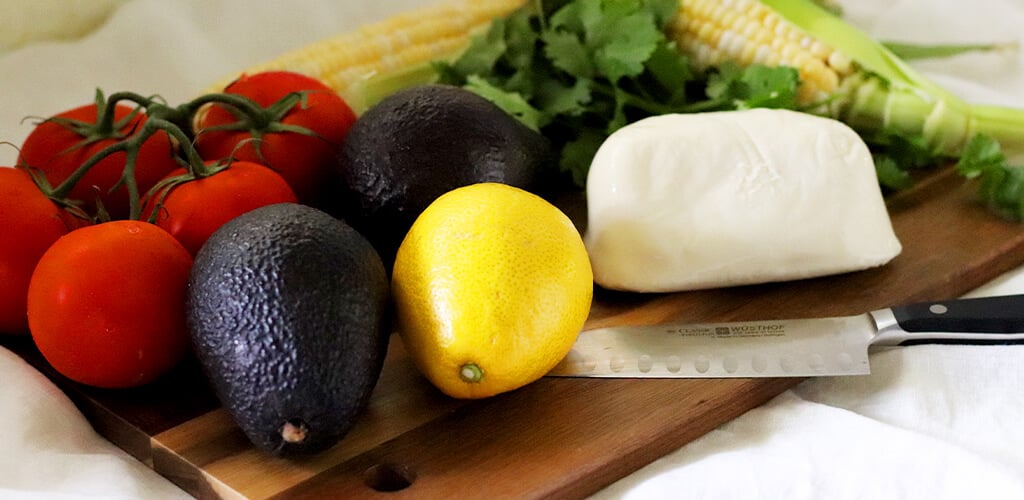 Corn and Avocado Salad
Prep time: 20 minutes
Cook time: 10 minutes
Total time: 30 minutes
Ingredients
4 ears of corn, shucked, OR 2 cans sweet corn (if fresh is not available).
4 ripe avocados, peeled, pits removed, and 1/2-inch diced chunks
Juice of 1 lemon or half of a cup
6 Campari tomatoes, cut in fourths
1 lb mozzarella cheese, cubed
1 bunch cilantro, finely minced
¼ cup extra virgin olive oil
½ teaspoon freshly ground black pepper
1 clove minced garlic
¼ teaspoon ground cayenne pepper
Salt to taste
Directions
For fresh corn: In a large pot of boiling salted water, cook the corn for 3 minutes until the starchiness is just gone. An easy way to tell when it's done by how quickly it dries when you lift a cob (with tongs) out of the water. A cooked cob is a hot cob, and it will steam dry within just a few seconds. You shouldn't need to cook fresh corn longer than 5 minutes.
Drain, then immerse the corn in ice water to stop the cooking.
When the corn is cool, cut the kernels off the cob, making sure to get as much of the whole kernel as you can, and place them in a large bowl.
If you are using canned corn. Simply drain the 2 cans of corn and pour into large bowl. You may rinse it, however I have never found the flavor of canned corn to be distracting in any way.
Add diced mozzarella and avocados.
Slice and add the tomatoes to bowl.
Whisk lemon juice, olive oil, 2 pinches kosher salt, black pepper, and garlic together in a small bowl and pour into the large bowl holding the other ingredients. Toss well.
Add finely minced cilantro and add to your bowl. Toss well once again.*
Lastly, sprinkle cayenne powder over the top of the salad. This allows the heat from the cayenne powder of the salad to be seen. Not only does this make for a beautiful presentation it allows me to give my husband his need for spice while also being able to serve it to my children by spooning them a portion from the bottom.
*Whenever you are cooking with cilantro make sure it is the last item you add to a fresh dish. Once you have chopped or minced cilantro (as well as basil) it begins to wilt very easily. While the cilantro will still have the same flavor, the presentation is just not as pleasant.
Please enjoy!
As my son and husband (to be honest) would say "nom nom nom." All you have to do now as my daughter would say is "Eat, Eat."
You may also like:
The Caprese Salad