Pesto Quinoa Summer Salad

I know what you may be thinking, "I don't want to read about another healthy salad that has quinoa in it." I would agree with that sentiment. I find quinoa by itself exceptionally bland and has no flavor, therefore you have to use a lot of dressing to jazz it up. I find the best way to cook quinoa is in vegetable or chicken broth. This really adds a nice saltiness and well-rounded bite to the quinoa. Then I make a simple pesto sauce that I drizzle over the top of the salad with seasonal ripe vegetables. This salad is truly delicious!
Pesto Quinoa Salad
Prep time: 10 minutes
Cook time: 10 minutes
Total time: 20 minutes
What You Need
For the Salad:
2 cups cooked quinoa
4 cups of vegetable or chicken broth
2 cups halved cherry tomatoes
2 cups spring mix
1 cucumber, chopped
2 corns on the cob, kernels removed
1 can chickpeas, rinsed
1 lb asparagus, chopped
½ lb green beans, chopped into thirds
1 bell pepper (any color you like), chopped
For the Pesto:
2 cups of freshly packed basil leaves
1 cup of freshly grated Parmesan cheese
¼ cup pine nuts, toasted
½ teaspoon kosher salt
¼ teaspoon freshly ground black pepper
2 cloves garlic, smashed
½ cup extra-virgin olive oil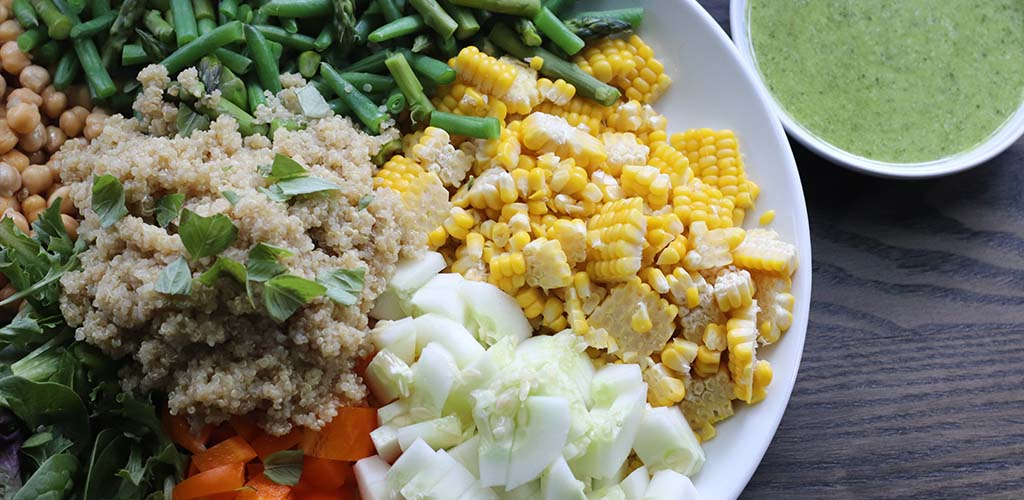 What You Will Do
For The Pesto Dressing:
In a blender or food processor combine all of your dry ingredients – basil, pine nuts, garlic, salt, pepper, and Parmesan.
Pulsate the blender or food processor to chop up and mix the ingredients together. The texture will still be pulpy.
Begin to slowly drizzle olive oil into the mixture 1 tablespoon a time.
Your pesto is done when it is smooth and tangy with a salty bite of garlic. Once done or to your liking, put it aside.
For the Quinoa:
Measure out 2 cups of quinoa and rinse.
Into a saucepan pour in 4 cups of vegetable broth or chicken broth and bring to a boil.
Dump the quinoa into the pot and bring to a rolling boil.
Once the quinoa is boiling, lower the heat and let it simmer with the lid on for approximately 15 minutes. You will know it is done when all of the liquid has evaporated and the quinoa is soft to the bite.
Remove the pan from the heat and let it rest uncovered for 5 minutes and place to the side.
Fluff the quinoa with a fork.
Bring a pot of heavily salted water to a boil. Add in the asparagus, corn and green beans and boil for 3 minutes, just to remove the starchiness of the vegetables.
Strain the vegetables and allow to cool.
Remove the kernels from the corn on the cob with a paring knife.
Chop the cucumber, bell pepper, asparagus and green beans into small bites.
Lastly toss all of the ingredients together and drizzle the pesto over the top!
Recipe Tips:
This recipe will last for 3-5 days in the refrigerator in an airtight container.
Now the last thing you have to do, as my daughter would say is, "Eat, Eat."
You may also like:
4th of July Salad